Faith Congregational Church, a vibrant, inclusive Christian community working for social justice through service to God, each other and our neighbors.
Welcome to the Faith Congregational Church website. You will find exciting videos, articles, and information designed to lift your spirit and feed your desire for helpful information. Faith Church is a diverse worship community, an inclusive, justice-minded and unapologetic about our faith and our witness. We celebrate diversity, we celebrate community and we celebrate Jesus Christ. It's that simple, but be clear that there is so much more.
We invite you to explore the many ways we seek to be a faithful church in these challenging days. Ask us your questions, we like questions. Our church may be old, in fact, it is the oldest predominately black church in the city of Hartford, but our thinking is not old at all. We are affiliated with the United Church of Christ, the first mainline church in America to speak out against slavery, the first mainline church to ordain a woman and the first church to ordain a gay person into ministry in our nation. We stand on the side of justice because we want to always seek to be on the right side of history and besides that to do what we believe Jesus our elder brother and head of the church commands.
If you are in the Greater Hartford area, come worship with us. Whoever you are, you are very welcome at Faith. Now explore the website fully, come back to it often and know that we seek your prayers as we go forward in faith.
Pastor Steve
Who We Are – Where We Are Going – What We Believe!
We Celebrate Diversity
We are a church that welcomes all (and we do mean all)! No matter who you are and where you may be on life's journey, you are welcome at Faith Congregational Church. We work toward celebrating all people, young and old, Black, Brown, and White, gay and straight, rich and poor; whomever God sends we will seek to embrace.
We Celebrate Community
We are a church faith community that embraces the wider community and seeks to serve in ways we can. Faith Church is a place where the community can come to talk, to work, to grow. We will be part of the solution,  seeking to address community concerns. We will work for justice, not just us.
We Celebrate Jesus
We will celebrate the presence of Jesus Christ in our lives. We will never apologize for our love of Jesus Christ but will celebrate the faith of others and even those with no faith. For us, Jesus is the way, the truth, and the life. We will invite others to know Jesus and will share the love of Christ whenever and wherever we can.
Monday – Wednesday 9:00 – noon        860-547-0820
2 After Jesus was born in Bethlehem in Judea, during the time of King Herod, Magi from the east came to Jerusalem 2 and asked, "Where is the one who has been born king of the Jews? We saw his star when it rose and have come to worship him."
3 When King Herod heard this he was disturbed, and all Jerusalem with him. 4 When he had called together all the people's chief priests and teachers of the law, he asked them where the Messiah was to be born.5 "In Bethlehem in Judea," they replied, "for this is what the prophet has written:
6 "'But you, Bethlehem, in the land of Judah,
    are by no means least among the rulers of Judah;
for out of you will come a ruler
    who will shepherd my people Israel.'"
7 Then Herod called the Magi secretly and found out from them the exact time the star had appeared. 8 He sent them to Bethlehem and said, "Go and search carefully for the child. As soon as you find him, report to me, so that I too may go and worship him."
9 After they had heard the king, they went on their way, and the star they had seen when it rose went ahead of them until it stopped over the place where the child was. 10 When they saw the star, they were overjoyed. 11 On coming to the house, they saw the child with his mother Mary, and they bowed down and worshiped him. Then they opened their treasures and presented him with gifts of gold, frankincense, and myrrh.12 And having been warned in a dream not to go back to Herod, they returned to their country by another route.
Ephesians 3:1-12
3 For this reason I, Paul, the prisoner of Christ Jesus for the sake of you Gentiles—
2 Surely you have heard about the administration of God's grace that was given to me for you, 3 that is, the mystery made known to me by revelation, as I have already written briefly. 4 In reading this, then, you will be able to understand my insight into the mystery of Christ, 5 which was not made known to people in other generations as it has now been revealed by the Spirit to God's holy apostles and prophets. 6 This mystery is that through the gospel the Gentiles are heirs together with Israel, members together of one body, and sharers together in the promise in Christ Jesus.
7 I became a servant of this gospel by the gift of God's grace given me through the working of his power. 8 Although I am less than the least of all the Lord's people, this grace was given me: to preach to the Gentiles the boundless riches of Christ, 9 and to make plain to everyone the administration of this mystery, which for ages past was kept hidden in God, who created all things. 10 His intent was that now, through the church, the manifold wisdom of God should be made known to the rulers and authorities in the heavenly realms, 11 according to his eternal purpose that he accomplished in Christ Jesus our Lord. 12 In him and through faith in him we may approach God with freedom and confidence.
From the Pastor's Study
Dear Faith Family and Friends:
We are not having New Year's Eve services this year. Be safe out there.
I have been invited by Rabbi Cantor's  Congregation B'nai Tikvoh-Sholom,  180 Still  Road,  Bloomfield, CT  to make a presentation on Saturday, January 19th at 11:30 a.m. All are invited to attend.
I have also been invited by Rabbi Pincus to participate in the Sunday Soup Supper for the Soul Honoring MLK at Congregation BethIsrael,, 701 Farmington Avenue, West Hartford. The event is on Sunday, January 20 with supper at 5:30 p.m. and presentations at 6:30 p.m. You are invited there as well.
We are having our 9th Annual MLK celebration this year on Monday, January 21, 2019, at 3:30 p.m.  Our special guest preacher is Rev. Dr. Lilton J Marks Sr from Smithville VA. Invited guests include Rev. Dr. Joel Lohr, the new president of Hartford Seminary, Rev. Paul Fleck from the sanctuary movement in Ct, Hartford Public School Supt. Dr. Leslie Torres-Rodriguez and others.
Tuesday Bible study will resume January 29, 2019.
Thanks to all who participated in the coat and toy drives. We provided many individuals and families with coats and toys this holiday season.
Don't forget our Annual Meeting on Sunday, February 3 after worship. All reports should be in the church office by the end of the year. 
 Be blessed… Pastor Steve

Want a CD of the service? See Bruce MacCullagh.
Need a ride to church? See Deacon Pam Walters for details and to schedule a pickup.
Know someone in need? Leave a message for Pastor Steve, or with Patricia Gray or Deacon Pam.
Need stewardship envelopes? See Alice Lumpkin, Olga Callender or Barbara Wiggins -or contribute online using the "Donate" button.
Need more information?  Call the church office  860-547-0820 Monday through Wednesday mornings. Sunday service begins at 10 am.
 @ Faith Church
MEN OF FAITH  Men's Ministry Monday evenings @ 5:30 p.m.   Bible Study, Food and Fellowship! All men are welcome. Call Deacon Al Strother or church office for more information.
Don't forget, GIRL SCOUT TROOP 10003 meets on 2nd and 4th Sundays from 1 – 2:30 pm. We are really proud of our girls.

There is a seat for you on Tuesday at Bible study. We start at 7 pm. Great group, great conversation, and great learning! We resume  January 29, 2019.
WOMEN'S MINISTRY  We have started our Shoebox Ministry for the youth of S.A.N.D. school, so feel free to bring your shoe boxes (or shoebox-sized plastic container) filled with items they might need (no perishables) to our next meeting. This is an ongoing project, so we appreciate your dedication! 
Remember, Women's Ministry dues are $50 per calendar year, so please write "Women's Ministry Dues" on your envelope and/or the note portion of your check.
The CHOIR could use your voice! It's a great way to serve at Faith Church. Wayne Dixon is waiting. Choir rehearsal on Wednesday at 7 p.m.     
Sunday School for children is preparing for the Winter/Spring term starting in January.  Join us. Volunteer for one Sunday per month. We look forward to seeing you and your children.
Nursery Staffed for Sunday Services
A reminder: the nursery is available when your child is restless or unhappy during service. You may not mind your child's crying, but others would like to hear the service.
Would you like to volunteer? We need Sunday School teachers for the spring,  a historian,  liturgists and just maybe you can think of ways that you too can help! See Pastor Steve or Patricia Hollis for details.
FROM THE 2019 NOMINATING COMMITTEE
Our Scholarship and Stewardship Committees are in need of new members.  Please consider serving on one of these committees beginning in 2019.  Please get in touch with the Nominating Committee: Deacon Gail Martin, Sister Regina Waters or Deacon Al Strother.  Thank you in advance for your willingness to serve!
Remember our Sick and Shut-ins. Don't forget to send a prayer, card or note. If you don't see someone, why not call and see how they are doing?
Deacon Mamie Barnum  @ home  
Gladys Aldes @ home 
Felicia Heard @ home                  
    
Special Events 
@ Faith Church
Rev. Dr. Martin Luther King Jr    9th Annual Celebration  

Monday, January 21, 2019

– 3:30 pm & doors open at 3 pm

NO TIME TO REST…!
Come one and all to this annual event. This year it is more important than ever to be together during our day off and day on.
We will have an Ecclesiastical Council (a final step before ordination) for Garrick Jordan on Sunday, January 27, 2019, after service, starting at 1:30 p.m. All are invited to attend and welcome our guests. Refreshments before the Council begins.
Girl Scouts Rock!
Thanks for attending the 3rd Annual "Think Like An Entrepreneur" Showcase on 12/16/18. This was an exciting event for Hartford Girl Scout Troop 10003. Each year with the support of parents, family, friends, our Faith Church Family and community connections, the girls have increased their entrepreneurial skills,  experienced great success and achieved a sense of accomplishment.
Through the girl's participation in this event and the Girl Scout Cookie Program, they are learning valuable skills such as; goal setting, decision making, money management, people skills, and business ethics—aspects essential to leadership, to success, and to life.
Thanks for coming out and supporting the girls and their 25 businesses/non-profit organizations. For more pictures, click HERE.   
Lisa Butler-Troop Leader
Faith Church and Other Leaders Plan Civil Rights History Trip
Over the past few years, Faith Congregational Church has sponsored, with assistance from the City of Hartford, groups of youth who want to learn about non-violence. These youth have taken trips to places which have a lasting impact on our perception of violence such as Ground Zero, Sandy Hook, and the scene of Bloody Sunday, the Edmund Pettus Bridge in Selma, Alabama. They have met monthly to discuss what violence looks like, how it affects them, and what they can do about it.  The program changed lives.
In Jannuary 2019, a group of adult Christians and Jews, black and white,  from the Greater Hartford area visited a portion of that itinerary and learned about civil rights violence first hand. The trip, which has grown from members of Faith Congregational Church and its sister congregation, Immanuel Congregational Church, is now being co-sponsored by and includes travelers from the Jewish Federation Association of Connecticut (JFACT) and the Jewish Federation of Greater Hartford's Jewish Community Relations Council. The Alabama trip included visits to new civil rights museums  (The Legacy Museum:  From Enslavement to Mass Incarceration and the National Memorial for Peace and Justice, which commemorates 4,000 lynching victims, opened to the public on April 26, 2018, in Montgomery, Alabama) as well as the Edmund Pettis Bridge in Selma (the sight of Bloody Sunday), the 16th Street Baptist Church and Kelly Ingram Park  in Birmingham. Youth who participated in the trips were changed, and the adults who participated were affected just as strongly. Trip photos and comments are posted as  January posts and will have their own page. Watch here over the next few days as everything is edited and uploaded.
@ 
Our Conference 
CTUCC Confirmation Retreats
Feb. 8 – 10
March 1 – 3
April 5 – 7
Silver Lake Conference Center, Sharon CT
Join us for a great experience with activities, worship, and fellowship appropriate for youth in grades 7-9 during their Confirmation year.
2019 Women Clergy Event: Food for the Journey
Feb. 5, 9:30 AM to 2:00 PM
South Congregational Church, 
East Hartford, CT
Clergywomen are invited to a day of relaxation and prayer. Explore the indoor labyrinth, relax with kinetic sand and soulful music, find time to create in the art space or find silence in the prayer corn.
Interfaith Exploration
March 31, 1:30 PM to 3:30 PM
Hartford Seminary, Hartford, CT
An exploration of the three Abrahamic Religions – Christianity, Islam and Judaism – designed for confirmation classes and youth groups.
YOUTH@SYNOD

The UCC General Synod will take place in Milwaukee, WI on June 21-25, 2019 and the Massachusetts, Rhode Island, and Connecticut Conferences are collaborating to sponsor a trip to Youth @ Synod.   Youth at Synod is for young leaders ages 13 to 18 who want to experience the vibrant diversity of the wider church.  Teens from all over the country will participate in worship and plenary sessions, attend hearings and track resolutions, and join in mission work to serve the greater Milwaukee area.  Synod is an opportunity to nurture advocacy skills around justice issues.  More information
Mission Trip    The Conference is organizing a week-long trip to the Cheyenne River Sioux Reservation in South Dakota from May 11 to May 18, 2019.  Simply Smiles, an organization founded by Bryan Nurnberger, who grew up in the Naugatuck UCC congregation, will be our hosts and guides.  We will be staying in the town of La Plant, one of the most impoverished places in America, working to restore hope for a better future. We have not finalized travel arrangements, but the total cost should be about $1,400.  Many congregations will provide support for members.  Online registration  –  https://macucc-reg.brtapp.com/SimplySmilesServiceandLearningTrip
Please contact me at charliek@ctucc.org or 860-761-7111 if you have questions.  Charlie Kuchenbrod
The steeple of the First Congregational Church of Danbury will remain an iconic part of the city's skyline for years, though for more than church music.
@ Our Community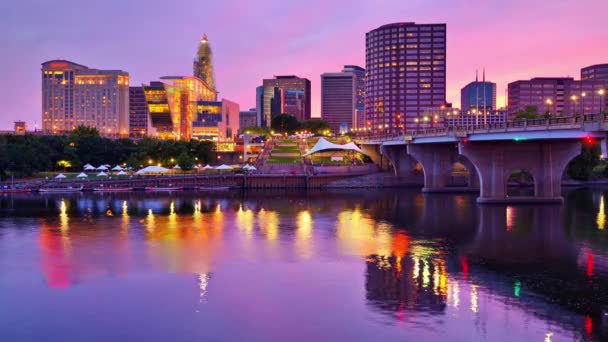 https://depositphotos.com/30561155/stock-video-downtown-hartford-connecticut-skyline.html

Need Energy Assistance?
The City of Hartford is currently hiring.   Click HERE for more information.
Need Training?
New Servsafe Food Handler Programs Start in January
HPL's award-winning ServSafe courses can help you secure a job in the growing food service industry. Food Handler courses will be held at the Barbour Branch from Jan. 7 – March 29 and at the Downtown Library from Jan. 8 – March 29. A Food Manager course will be held at the Downtown Library from Jan. 8 – March 29. For more information see the 
flyer.
HPL Security Officer Training Program
Charles Barberi, HPL's Head of Security, conducted a security guard training class on Wednesday, December 12. The library's Security Officer Training Classes are held monthly. The successful completion of this one day program will qualify candidates to apply for a Security Officer ID card, issued by the State of Connecticut Department of Emergency Services & Public Protection. The next class is
January 16
. For more information and a registration form, click 
Security Training.
SNAP SCHOLARSHIPS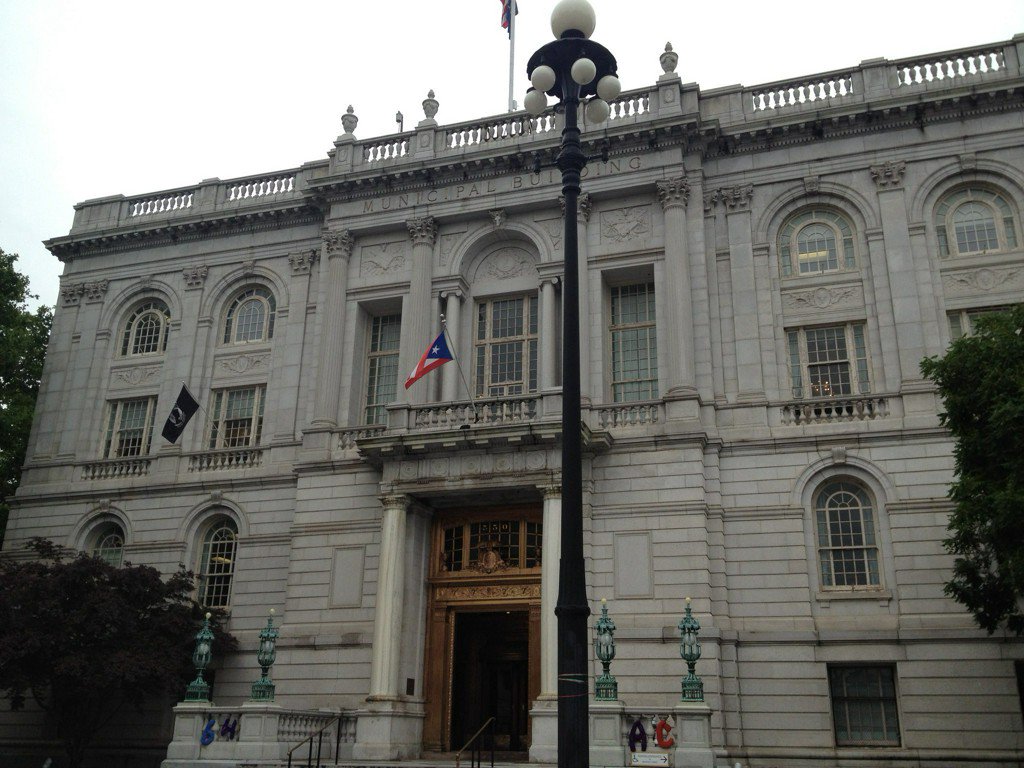 The next Council meeting will be held on Monday, January 14, 2019 at 7 PM, preceded at 6 PM by public comments.  All meetings are held in Council Chambers in Hartford City Hall, 550 Main Street, 2nd Floor.
Click Here for a Complete List of Meetings Dates & Agendas
Regular Meetings
December 18 – SMSA
January 15, 2019 – Bulkeley High School
February 19, 2019 – Bulkeley High School
---
Workshop/Special Meetings
January 8, 2019 – Central Office (960 Main St)
February 5, 2019 – Bellizzi
March 5, 2019 – Naylor
All workshops are held on the first Tuesday of each month at 5:30pm., and regular meetings held on the third Tuesday of each month at 5:30pm. Workshops will not be held in July and August.  *Meeting dates/locations subject to change.
STUDENTS!
Bank of America – Now accepting applications for 2019 Student Leaders® program now through February 1, 2019
The Student Leaders® program provides students with:
An eight-week, paid summer internship with a local nonprofit organization selected by Bank of America
A week-long, all-expense paid Student Leaders Summit in Washington, D.C. from July 8-13, 2019
Financial wellness programs and education, including meetings with Bank of America's Better Money Habits® champions
A dedicated mentor at Bank of America and the host organization of their internship
What are the eligibility requirements to be a Student Leader?
Current high school junior and senior
Hartford resident or student at a high school located in Hartford
Must be legally able to work in the United States
Must be able to work 35 hours per week for the entire eight week internship
Must be able to attend the entire, all-expense paid Student Leaders Summit in Washington, D.C. in person from July 8-13, 2019
Must complete all application requirements, including the online application, resume and letter of recommendation
Cannot be an immediate family member of a Bank of America employee or member
What is the process and timing?
The online application is open now through February 1, 2019. Please note, there will be no deadline exceptions
Finalists will be interviewed in person in March/April 2019
Selected Student Leaders will be notified in April 2019
The eight-week internship will begin following the conclusion of the school year in June 2019
The one-week leadership summit will take place in Washington, D.C. from July 8-13, 2019

Like Jazz? Want to Keep Up With What's Happening?
You can add the Hartford Jazz Society's events to your calendar automatically HERE.
Free Stuff
Freebooksy.com
sends a daily email with free ebooks for the day. If you read books on a Kindle, Nook, tablet, phone, or laptop, you may find this useful and cost-effective. 
Go to GreaterGood.org to help others for free.
Go HERE to find free dental care.
Improve your vocabulary and donate rice to help hungry people HERE.
Not free but cheap!!!  CheapOAir!
Go here to find free stuff like paper towels, beauty products, etc.
C
Baby Grand Jazz 2019
Ray Gonzalez will kick off the 16th season of HPL's highly popular Baby Grand Jazz Series with a special Three Kings Day performance on Sunday, January 6. Baby Grand Jazz Concerts will be held every Sunday afternoon from 3 – 4 pm through April 28 (with the exception of Easter Sunday, April 21). The opening and closing shows will be held in the Downtown Library Atrium, the rest will be held in the Center for Contemporary Culture. Baby Grand Jazz is sponsored by The Kaman Corporation. For more information, see
Baby Grand Jazz.

African American Literature Book Club – New Members Welcome Hartford Public Library
It was a dark and stormy night but that didn't stop the African American Literature Book Club from gathering at HPL Downtown. The book group was started and is organized by Carolyn Korber – they meet the first Tuesday of the month here at HPL Downtown. If you are interested in joining contact Carolyn at 
cjkorber@gmail.com.
Live in Hartford? Get Your Free Tickets Today!
Hartford residents who are Hartford Public Library cardholders can now reserve up to 2 free tickets to plays at Hartford Stage as part of our new partnership.  Each of the seven branches of Hartford Public Library will have a two-ticket pass per eligible show. Patrons can check online to see where passes are available, but they must ask for them in person at any of the seven Library locations.  Once you have reserved the tickets at a Library branch, you must confirm the seats by calling the box office at Hartford Stage, 860-527-5151.
Tickets for Hartford Stage's The Engagement Party Available January 3
Hartford Public Library, in partnership with Hartford Stage, will offer free passes to library card holders to the stage's new show, The Engagement Party. Passes will be available at the Downtown Library and all six branch libraries starting Thursday, January 3. For more information, go to the 
HPL website.
African American Geneology Resources
Every Month is Faith History Month Because Hartford History IS American History
Faith is celebrating its 200th anniversary in 2019.
Our own Pennington Bible is on loan to the Smithsonian National Museum of African American History and Culture and is on exhibit.
Want to go to the Smithsonian National Museum of African American History & Culture?
Same-Day Online
Same-day timed entry passes are available online beginning at 6:30 a.m. ET daily until they run out. Same-day passes are not available via phone.   CHECK SAME-DAY AVAILABILITY
Advance Online
Advance timed entry passes for individuals are released monthly. Advance timed entry passes for individuals are released on the first Wednesday of each month.  The next day for passes to be released will be January 2.   Passes go very quickly when released.
Every Month is Women's History Month Because Women's History IS Everyone's History
116th Congress has More POC & Women
By  Richie Zweigenhaft, Professor of Psychology, Guilford College
Women and people of color made substantial gains in the 2018 midterm elections toward diversifying the House and the Senate. The elections for the 116th Congress led to meaningful increases in diversity, especially among women, Latinos, and African-Americans. The media have made a great deal of the gains in diversity – for example, this election saw the first two Native American women elected to Congress, as well as the first two Muslim women.  Read the entire article HERE.
For an analysis of the new freshman class in Congress, read HERE.
Every Month is Black History Month Because Black History IS American History
Kendrick Lamar Wins Pulitzer in 'Big Moment for Hip-Hop'
In late January, the Compton, Calif., rapper Kendrick Lamar lost the Grammy Award for album of the year to Bruno Mars. "DAMN.," Mr. Lamar's fourth LP, was his third straight to be nominated but ultimately fall short of the trophy, considered by most to be the top prize in popular music. But perhaps not anymore. On Monday [4/16/18], Mr. Lamar's "DAMN." took home an even more elusive honor, one that may never have even seemed within reach: the Pulitzer Prize for music. Mr. Lamar is not only the first rapper to win the award since the Pulitzers expanded to music in 1943, but he is also the first winner who is not a classical or jazz musician. Read more HERE.
 African Americans in Medicine
Dr. Patrice Harris becomes the first black woman President-Elect of the country's largest physician organization, the American Medical Association (AMA). 
Beverly Murphy, a Distinguished Member of the Academy of Health Information Professionals and a Medical Library Association (MLA) Fellow, begins her term as the first African-American President of the Medical Library Association, established in 1898 as a global, nonprofit educational organization in the health information field.
African American Writers
Black Male Writers for Our Times      ROBERT JONES JR., novelist; NATHAN ALAN DAVIS, playwright; ROWAN RICARDO PHILLIPS, poet; JAMEL BRINKLEY, short story writer; GREGORY PARDLO, poet; DINAW MENGESTU, novelist; MAJOR JACKSON, poet.  MICHAEL R. JACKSON, playwright; SHANE McCRAE, poet; JAMES HANNAHAM, novelist; BRONTEZ PURNELL, novelist; ISHMAEL REED, novelist, poet and playwright; BRIAN KEITH JACKSON, novelist; DANEZ SMITH, poet; CORNELIUS EADY, poet.  JEFFERY RENARD ALLEN, novelist and poet; JAMES McBRIDE, novelist; DARRYL PINCKNEY, novelist and playwright; KEVIN YOUNG, poet; JAMES IJAMES, playwright; JERICHO BROWN, poet; NELSON GEORGE, novelist; GEORGE C. WOLFE, playwright and director; De'SHAWN CHARLES WINSLOW, novelist.  REGINALD McKNIGHT, novelist; PHILLIP B. WILLIAMS, poet; RICKEY LAURENTIIS, poet; MARCUS BURKE, novelist; MITCHELL S. JACKSON, novelist; MAURICE CARLOS RUFFIN, novelist.
Black Firsts 2018
IN MEMORANDUM 2018
Nancy Wilson, singer and entertainer
Roy Hargrove, jazz trumpeter
Willie McCovey, Hall of Fame baseball player
Willie McRae, famed golf caddy
Ntozake Shange
, author of "For Colored Girls…"
Audrey Wells, screenwriter
Otis Rush, blues singer
Arthur Mitchell, dancer
Thad Mumford, writer and producer
Randy Weston, pianist
Kofi Annan
, diplomat and UN secretary general
Aretha Franklin, singer
Elbert Howard
, co-founder Black Panther party
Joe Jackson, Michael's dad
Rachelle Jones
, veteran college basketball referee
Dorothy Cotton
, civil rights leader w/MLK
Hugh Dane, actor
Eddy Clearwater, blues guitarist
Dovie Johnson Roundtree
, civil rights lawyer
Reggie Lucas, guitarist and music producer
John Starks, James Brown's drummer
James H Cone,
theologian
Hal Greer, leading scorer for Philadelphia 76ers
Yvonne Staples, Staple singer
Cecil Taylor, jazz pianist
Winnie Mandela, anti-apartheid activist
Linda Brown
, plaintiff in Brown v Board of Education
DuShon Monique Brown, actor
Les Payne
, Pulitzer Prize-winning journalist and founder of NABJ
Millie Dunn Veasey
, member of Women's Army Corps 
Ed Charles, Mets player
Craig Mack, rapper
Peggy Cooper Cafritz
, patron of black artists
Howard McCurdy
, New Democrat MP (Canada) and civil rights activist
Lerone Bennett Jr
, historian and journalist
Dennis Edwards, original Temptation
Oscar Gamble, MLB outfielder
Hugh Masekela, trumpeter
Wyatt Tee Walker
, civil rights leader
Jo Jo White, Boston Celtic
Edwin Hawkins, gospel singer "Oh Happy Day"
Recy Taylor
, civil rights activist
Erica Garner, daughter of Eric Garner, activist
Isaac Newton Farris Sr, brother-in-law of MLK
Amanda Davis
, news anchor
Vanessa Green, TV producer
Simeon Booker
,  journalist, author, 1st black reporter at Washington Post
Joseph White
, black psychologist, professor UC Irvine
Pete Moore, original Miracle and songwriter
Della Reese, singer, actor
Earle Hyman, actor 
@ Justice
Health Care for All is Justice for All
Medical Care – Free or Sliding Scale
A.I. PRINCE TECHNICAL SCHOOL
Operated by Charter Oak Health Center, Inc
500 Brookfield St
Hartford, CT, 06106-3709
Tel: 860-951-7112
CHARTER OAK HEALTH CENTER
Operated by Charter Oak Health Center, Inc
401 New Britain Ave
Hartford, CT, 06106-3833
Tel: 860-241-0712
CHC OF HARTFORD
Hartford, CT, 06106-3305
PARKVILLE COMMUNITY ELEMENTARY SCHOOL
Operated by Charter Oak Health Center, Inc
1755 Park St
Hartford, CT, 06106-2160
Tel: 860-695-4720
EMMACARE SHELTER
Hartford, CT, 06106-4617
CHARTER OAK HEALTH CENTER ANNEX AT 39 GRAND STREET
Operated by Charter Oak Health Center, Inc
39 Grand St
Hartford, CT, 06106-4607
Tel: 860-550-7500
SOUTH PARK INN
Operated by Charter Oak Health Center, Inc
75 Main St
Hartford, CT, 06106-1806
Tel: 860-724-0071
WHEELER FAMILY HEALTH AND WELLNESS CENTER – 49
Operated by Wheeler Clinic, Inc.
49 Woodland St
Hartford, CT, 06105-2337
Tel: 860-793-3500
YWCA OF THE HARTFORD REGION, INC
Operated by Charter Oak Health Center, Inc
135 Broad St
Hartford, CT, 06105-3718
Tel: 860-525-1163
OPEN HEARTH
Operated by Charter Oak Health Center, Inc
437 Sheldon St
Hartford, CT, 06106-1939
Tel: 860-525-3447
Achieving Equity in Lead Poisoning Prevention Policy Making   [from foundationcenter.org]
Lead poisoning prevention advocates and policymakers need to take equity into consideration when addressing the consequences of lead poisoning for people of color and low-income communities, a report from Human Impact Partners finds. Funded by the Joyce and Kresge foundations, the report, Achieving Equity in Lead Poisoning Prevention Policy Making(71 pages, PDF), found that in the areas of residential lead service line replacement, lead testing in water at schools and licensed childcare facilities, and testing and remediation of lead-based paint hazards in housing, poor community engagement by government agencies exacerbates inequities and mistrust, while a patchwork of laws, regulations, and financing frameworks reduces the effectiveness of programs, dissipates resources, and places communities at risk. The report also found that the cost of implementing policies further burdens communities that are struggling financially, while families of color often are blamed for their exposure and unfairly stigmatized by stereotypes…   Download the report → 
New York Sues Target, Walmart for Sale of Lead-contaminated Toys
(Reuters) – New York Attorney General Barbara Underwood said on Thursday that she had filed a lawsuit against Target Corp <TGT.N>, Walmart Inc <WMT.N> and toy importer LaRose Industries over the sale of lead-contaminated children's toys. Underwood said her office conducted tests in New York City, Long Island, and the Syracuse and Buffalo areas on "Cra-Z-Jewelz" jewelry-making kits that were imported by LaRose and found levels up to 10 times higher than the federal limit. The kits were supplied by LaRose and sold at Walmart and Target stores.  Read more HERE.
CDC Reveals Deadliest Drug in the US 
According to the latest numbers from the US Centers for Disease Control and Prevention's National Center for Health Statistics, Fentanyl is now the most commonly used drug that is involved in drug overdoses. 
The new report says that the rate of drug overdoses involving
the synthetic
opioid increased by about 113% each year from 2013 through 2016. For more information, click
HERE
.
  Gun Violence
Nearly 40,000 People Killed by Firearms in U.S. in 2017, Study Finds
An increase in the number of gun-related suicides pushed the gun death rate in the United States in 2017 to its highest level in almost twenty years, the Guardian reports.  Despite the attention given to mass shootings in the U.S., 60 percent of all gun deaths in 2017 were suicides. According to the CDC, nearly 24,000 people — equal to 6.9 deaths per 100,000 people — killed themselves with a gun in 2017, up from 6.1 in 2010 and 5.9 in 2000. What's more, the rate of gun-related suicides was highest in three states that also have the highest percentage of gun ownership — Montana (19.4 gun-related suicides per 100,000 people), Wyoming (16.6 per 100,000), and Alaska (16.0 per 100,000). Homicides committed with a firearm claimed the lives of 14,542 people in 2017, or 4.6 deaths per 100,000 people — a rate that held steady on a year-over-year basis.  Read the entire article HERE.
Locally, as of November 17, 2018,  there have been 18 murders in Hartford, a 30% drop from this time last year.  For current crime statistics, click here.  There were 29 homicides in Hartford in 2017, up from 14 in 2016. Twenty-three involved firearms. To see a map showing the locations of Hartford homicides, click here.
No other developed nation comes close to the rate of US gun violence. Americans own an estimated 265 million guns, more than one gun for every adult.  Data from the Gun Violence Archive reveals there is a mass shooting – defined as four or more people shot in one incident, not including the shooter – nine out of every 10 days on average. Click HERE for an interactive map.
 Criminal Justice
Gov. Malloy Introduced Juvenile Justice Reform Legislation
Over the last several years, Connecticut has been reimagining its criminal justice system and focusing on second chances rather than permanent punishment and stigma. By implementing smart criminal justice policy, the state has managed to drastically reduce its prison population, while simultaneously reducing recidivism and violent crime. The juvenile justice legislation that the Governor is proposing would continue this trend.
Recent decisions by the United State Supreme Court and scientific studies regarding the development of the brain areas involved in reasoning and self-control indicate that individuals age 18, 19, and 20 share numerous similarities to those in the 16 and 17-year-old age group.
The first bill (House Bill 5040, An Act Concerning Adjudication of Certain Young Adults in Juvenile Court), known as "raise the age," expands the age of the juvenile justice system's jurisdiction up to age 21 by July 2021.
The second bill (House Bill 5042, An Act Concerning Prosecution of Low-Risk Offenders in Adult Court) expands "youthful offender" status.
Want to know the outcome? Click HERE for more information.
Lamont promises to be a criminal-justice reformer
 | 
Gov.-elect Ned Lamont opened his campaign for governor in January without a deep appreciation of the criminal-justice reforms undertaken by the administration of Gov. Dannel P. Malloy. On Tuesday (12/18/18), he promised to take office next month with the ambition of improving on Malloy's substantial record.
"For me, criminal justice reform is so important. It's the right thing to do, and it's the smart thing to do," Lamont said, addressing a criminal-justice policy group co-chaired by Cathy Malloy, a reform activist. Turning to the first lady, Lamont said, "This is something we're going to continue to do in a serious way."  Read the entire article HERE.
OJJDP Bulletin Summarizes Juvenile Arrests
Today, OJJDP released "Juvenile Arrests, 2016." This bulletin describes the current arrest trends for juveniles from 1980 to 2016, using data from the Federal Bureau of Investigation's Uniform Crime Report.

Photo by Zoraida Lopez
America's Other Family Separation Crisis
Sending a mother to prison can have a devastating effect on her children. Why, then, do we lock so many women up?
By Sarah Stillman  writing in Newyorker.com
She writes, "America imprisons women in astonishing numbers. The population of women in state prisons has increased by more than eight hundred percent in the past four decades. The number of women in local jails is fourteen times higher than it was in the nineteen-seventies; most of these women haven't been convicted of a crime but are too poor to post bail while awaiting trial. The majority have been charged with low-level, nonviolent offenses, such as drug possession, shoplifting, and parole violations. The result is that more than a quarter of a million children in the U.S. have a mother in jail. One in nine black children has a parent who is, or has been, incarcerated."
Stillman states, "Earlier this year, hundreds of thousands of people protested America's policy of separating migrant children from their parents at the southern border. Laura Bush denounced the practice as "cruel," and Senator Jeff Flake called it "un-American." In May, Kirstjen Nielsen, the Homeland Security Secretary, defended the separations by noting how often the same thing happens to families in the criminal justice system. "In the United States, we call that law enforcement," she said."
Read the entire article HERE.
Jesus said, "But I tell you that men will have to give account on the day of judgment for every careless word they have spoken. For by your words you will be acquitted, and by your words, you will be condemned" (Matthew 12:36–37)

 
Watch Beto O'Rourke on NFL protests
Watch President Obama's Mandela Day speech
Watch Oprah's Golden Globes speech
Watch President Obama's farewell speech.
Our God who art in heaven, Hallowed be thy matchless name
Let Your Kingdom reign in heaven. Dwell on earth in us, the same
Give us, Lord, this day for worship; Give us manna from on high
Give us bread to serve your kingdom, Lord our name we glorify.
Lord, forgive us, free us, love us, Grant us wisdom to forgive
Lead us not into temptation; grant us grace so we can live
Evil cannot stand against us, Your deliverance we need
Bind us, Lord, in one another, We, Your church, Your love receive.
Thine the kingdom, Thine the power, Thine the glory evermore
Thine all majesty and honor tGod to you we praise, adore
You are God, You reign forever, "Sovereign Holy Lord!" we sing
Our God who art in heaven Lord, eternal King of Kings.
(Written by Tony McNeil and dedicated to
Ebenezer Baptist Church in Atlanta)