Faith Congregational Church, a vibrant, inclusive Christian community working for social justice through service to God, each other and our neighbors.
Let me welcome you to Faith Congregational Church website. You will find exciting videos, articles and information designed to lift your spirit and feed your desire for helpful information. Faith Church is a diverse worship community, an inclusive, justice minded and unapologetic about our faith and our witness. We celebrate diversity, we celebrate community and we celebrate Jesus Christ. It's that simple, but be clear that there is so much more.
We invite you to explore the many ways we seek to be a faithful church in these challenging days. Ask us your questions, we like questions. Our church may be old, in fact it is the oldest predominately black church in the city of Hartford, but our thinking is not old at all. We are affiliated with the United Church of Christ, the first mainline church in America to speak our against slavery, the first mainline church to ordain a woman and the first church to ordain a gay person into ministry in our nation. We stand on the side of justice because we want to always seek to be on the right side of history and besides that to do what we believe Jesus our elder brother and head of the church commands.
If you are in the Greater Hartford area, come worship with us. Whoever you are, you would be very welcome at Faith. But now explore the website fully, come back to it often and know that we seek your prayers as we go forward in faith.
Pastor Steve
Who We Are – Where We Are Going – What We Believe!
We Celebrate Diversity
We are a church that welcomes all (and we do mean all)! No matter who you are and where you may be on life's journey, you are welcome at Faith Congregational Church. We work toward celebrating all people, young and old, Black, Brown and White, gay and straight, rich and poor; whomever God sends we will seek to embrace.
We Celebrate Community
We are a church faith community that embraces the wider community and seeks to serve in ways we can. Faith Church is a place where the community can come to talk, to work, to grow. We will be part of the solution seeking to address community concerns. We will work for justice, not just us.
We Celebrate Jesus
We will celebrate the presence of Jesus Christ in our lives. We will never apologize for our love of Jesus Christ, but will celebrate the faith of others and even those with no faith. For us Jesus is the way, the truth and the life. We will invite others to know Jesus and will share the love of Christ whenever and wherever we can.
Monday – Wednesday 9:00 – noon
Black Lives Matter!  It doesn't mean that other lives don't matter.  It means that we acknowledge a difficult history in our nation of black lives being of little value, often not mattering at all.  Justice not just us!  I'm just saying!
There's lots happening this summer at Faith. For more information, scroll down the page.
KidsandCars.org offered some safety tips for parents to avoid hot-car tragedies:
Avoid leaving children alone in or around cars. It is not acceptable to leave children in cars for any time at all, even if you are only running into a store to grab a few things.
"Look Before You Lock." Form a habit of continually opening the back door to check the back seat before leaving the car to make sure a child isn't left behind.

Create reminders. For example, keep a stuffed animal in the child's car seat. When the child is occupying the car seat, take the stuffed animal out and place it in the passenger seat as a visual reminder.

Read more here.
How God as Trinity Blocks Racism
By Richard Rohr 08-25-2016
This summer, as has been true for the past few summers, racism has made headline news. Deep divisions have been put in the spotlight, and it can sometimes feel as if that spotlight has served to dig them even deeper.
But we can't confront racial strife if we don't acknowledge that it exists. The challenge is that racism does not just have a deep root, but has many deep roots in our lives, communities, and country.
Like much of our nation, I've been doing substantial soul-searching to seek understanding about my own actions, beliefs, and behaviors, as well as the systemic patterns that write collective actions, beliefs, and behaviors in quite large letters across our society.
What I'm coming to understand through this reflection is startling, and might surely seem like a non-sequitur. But here it is:
The widespread Christian failure to understand and experience God as Trinity has provided a breeding ground for both implicit and explicit racism.
Read more here.
Friends and Family Day is the last Sunday in August!  oUR CHOIR RETURNS FROM ITS SUMMER BREAK AND WE WILL HEAR FROM A

JAZZ BAND DURING SERVICE.
LT. GOVERNOR NANCY WYMAN WILL JOIN US FOR WORSHIP ON THIS SPECIAL DAY!
This annual affair will include food in the parking lot and lots of fun for all. Bring a

lawn chair

and some food to share.

Calling all BBQ cookers! We need you for this time of celebration!
Bring a dish to eat and some to share that day.
Teen Ministry 2016-2017
The Teens of Faith  & Immanuel Congregational Churches
*Images courtesy: © Thinkstock photos/ Getty Images
Teens Ministering to our communities together
Meetings begin September 11, 2016 on the first and third sundays. meetings are 5:30 p.m.- 7:30 p.m.
first meeting is at Faith Congregational Church. immanuel will host on september 18th!
Have you missed Sunday School? Don't worry!  
It's about to start!
The church school and children's choir program, for September 2016-May 2017, will begin on second Sunday, September 11, 2016.  The church school curriculum is for ages 5-12 only.  
The children's choir and church school will present a Christmas play this Christmas season.
Parents, please make sure your children are present in church school on September 11 and September 18 if you want them to participate in the Christmas play. 
NEEDED: TWO VOLUNTEERS TO HELP WITH CHURCH SCHOOL ON FIRST SUNDAYS!  SUNDAYS MAY BE ROTATED BETWEEN VOLUNTEERS.

                          CHILI COOK OFF COMPETITION!
Faith Congregational Church will be hosting an exciting and competitive CHILI COOK OFF on Saturday, October 8th.
There will be prizes & surprises for 1st, 2nd & 3rd place winners. Competitors have a golden opportunity to capitalize on the "Early Bird Special" entry fee of $20 by August 28, 2016.  After that date, the entry fee will be $25 with an entry deadline of September 18, 2016.
Please contact Dorothy or Carol Knight-Mosby to register.

We are Headed to Washington, D.C. 
Why?  Our church lent our historical bible to the Smithsonian Institute for display in the  soon to open National Museum of African-American History and Culture (NMAAHC).
What? Ride along with us and be a part of this historic journey to see our church's history shared with museum-goers from around the world!
Here's what you need to know-
Be sure to invite your friends and bring your family on this meaningful,  once-in-a-lifetime church experience!


Hartford Public Library Downtown Film Series
WACKY WEDNESDAYS FILM SERIES

Wednesdays, 5:30 pm
Center for Contemporary Culture

Beat the heat and enjoy some laughs with a festival of family-friendly classics every Wednesday in the month of August.  All films are free, rated "G" and shown on the big screen at the downtown library. Bring the kids…and be a kid again.

WALL-E (2008)

August 17

What if mankind had to leave Earth and somebody forgot to turn the last robot off?   The year is 2700 and WALL-E is still spending every day doing what he was designed for.  He gets a visit from a sleek robot named EVE, whom he chases across the galaxy with a pet cockroach and a heroic team of malfunctioning misfit robots.

Muppet Treasure Island (1996)

August 24

The Muppets take on Robert Louis Stevenson's classic tale of a young orphan who becomes involved with pirate Long John Silver, played by the hilarious Tim Curry.  Featuring Kermit the Frog; Miss Piggy, Gonzo, Rizzo the Rat and a cast of other lovable Muppet characters.

Cars 2 (2011)

August 31

Star racecar Lightning McQueen and a tow truck named Mater take their friendship to exciting new places when they compete in the first-ever World Grand Prix to determine the world's fastest car. When Mater gets caught up in another adventure, international espionage, he must decide if he can assist Lightning McQueen in the high-profile race or complete his top-secret spy mission.
For more information, contact Greater Hartford NAACP: greaterhartfordnaacp1@gmail.com; 860-479-2166
How Many Days do Women Have to Work to Equal the Pay of White Men?
Girls, What Are You Doing This Fall?
At Young Women's Leadership Corps (YWLC) we believe you can achieve every dream that is in your heart! YWLC can be the experience that changes how you see yourself, your future and your community. We will help you to discover your unique talents, skills, and gifts so that you can create an incredible future for you and your future family. We know that no one can be a better you than YOU. And each week as a member of YWLC, you will join a group of like-minded teen girls, who are committed to achieving their dreams and goals of a fantastic life! YWLC operates in several middle and high schools in the greater Hartford region.
The program runs throughout the academic school year at the following schools:
Bloomfield High School
East Hartford Middle School
High School, Inc in Hartford
Metropolitan Learning Center High School in Bloomfield
Metropolitan Learning Center Middle School in Bloomfield
Simpson-Waverly in Hartford
Windsor High School
The services that we offer include the following
Weekly workshops on personal growth, leadership, decision-making, goal-setting and interpersonal skills
Training on financial capacity (Budgeting & Saving)
A college tour
Career exploration seminars
Community service projects
Guest speakers who lead inspirational trainings on various topics
For more information go to http://www.ywcahartford.org/what_we_do/ywlc.html
Connecticut Conference ONA Ministry Team events
Center Congregational Church UCC, Meriden, CT
Faith-Based Community Events have been moved to the News & Events Tab. Check out what's happening in and around Hartford's religious community. For CT Conference events, click HERE.
FoodShare Distribution takes place every other Monday from 1:30 – 2:00pm at Grace Worship Center Church, 750 Wethersfield Avenue, Hartford.  No ID required! No paperwork! Bring your own bags/boxes.  For more information go to mygwcc.org.  Dates  for 2016 are:
September 19
October 3, 17 and 31
November 14 and 28
December 12

Farmer's Markets are Open For Business
They accept cash, WIC, SNAP and EBT. For more information: http://www.hartfordfarmersmarkets.org/.
 Foods that are BAD for your health
Do you know what things make your cholesterol numbers rise? What about triglycerides? Do you know why those numbers are important? Do you have high blood pressure or diabetes? Then I am really speaking to YOU! I didn't know about the danger until I was forced to pay attention after a lifetime of eating delicious but less healthy foods like fatty steaks, butter, processed lunch meat, potato chips, and other delicious wonderfulness that will probably kill me if I'm not careful. Let me share what I've learned about some of my favorites. These foods need to eaten in great moderation:
Stir fried takeout
Granola bars
Shrimp (also bad for gout)
Flour tortillas
Coconut
Canned baked beans with sugar or pork (or both)
Alcohol (beer, wine, coolers and hard liquor)
Honey or maple syrup
Read more here about cholesterol and here about triglycerides.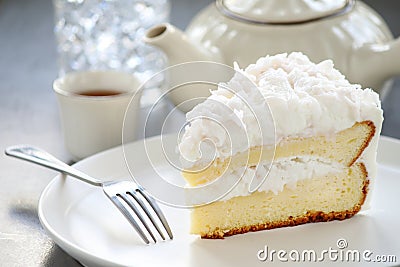 Coconut Cake with Lemon Filling
Well, sometimes I don't care about my health, I just want a slice of coconut cake. Here is my recipe.
If you made the lemon curd already, then it will be ready to fill the cake when it cools off enough.  Make it before you make the cake, because it needs to be really cool to spread it on the cake. Actually, the lemon filing is best if made the day before, but hide it so no one eats it before the cake gets made.
Here are the cake ingredients:
6 large eggs or equivalent egg product like Egg Beaters
2  cups buttermilk, whole milk or low fat OR 1 1/2 cups buttermilk and 1/2 cup cream of coconut
3 cups cake flour
3 t. baking powder
1/2 t. baking soda
2 sticks salted butter, the best you can find, at room temperature
1 3/4 – 2 cups sugar
1 big splash, about 2 t. vanilla or 1.5 t. vanilla paste
Before you start working, read this all the way through. You may want to choose the whole egg way or the separated egg method, but it will be too late if you don't know the separated egg method is available.
Preheat the oven to 350 degrees.
Line the bottoms of three 9 inch cake pans with parchment paper, or lightly coat them with butter and then flour them. I don't much care for cooking spray, although I guess that would work too.
Take a large bowl and sift the flour, baking powder, baking soda together. Set aside for now.
Put the slightly soft butter in the large mixer bowl. Start the mixer and let it run until the butter is soft and fluffy.
Add the sugar and beat together until if you rub a drop of butter/sugar between your fingers, you won't feel the graininess of the sugar. That usually takes me about 3-4 minutes in my big, beautiful red stand mixer.
Add the eggs, one at a time, beating well after each egg [maybe a minute]. Before you add them, break each egg into a cup or saucer to make sure that you don't accidentally get egg shell in your cake. I have dropped an egg shell into the mixer WHILE IT WAS RUNNING, so you know what happened to my cake!
If you want a really light cake, instead of adding the eggs one at a time, separate the eggs with the yolks in one bowl and the whites in another. Add the egg yolks one at a time, but save the whites for later.
After all the eggs are added, turn off the mixer, put in the vanilla, and scrape the sides of the bowl with a spatula. At this point, I have to warn off people who are coming into my kitchen to see what I am doing. I like to use vanilla paste, which is like liquid vanilla but very think and loaded with vanilla bean seeds. If you like an intense vanilla flavor, this is what you need to use because it does not add too much liquid to your cake.
Turn the mixer back on and beat until the vanilla is blended in, maybe another minute or so.
Start adding the flour mixture, about a cup at a time, while the mixer is running. Alternate with the buttermilk. So, add about a cup of flour stuff, a cup of buttermilk, a cup of flour stuff, a cup of buttermilk, and finish with the flour stuff. The mixer should be running all this time. Every now and then, stop the mixer and use your spatula to scrape the sides. You should mix until the mixture feels smooth when you rub a tiny, tiny bit between your fingers.
If you have numb fingers, then you can mix until the cake batter is light yellow and there aren't any spots where the flour is not mixed in. Do NOT overmix, or the cake will be tough. If you mixed in whole eggs skip the next 2 instructions and go straight to the third one after this. If you separated your eggs, do the next 2 instructions and skip the 2 right after them.
If you separated your eggs, you should have a bowl with 6 egg whites. Beat the egg whites until they are foamy. Then add 1/4 t cream of tartar [get it in the spice section] and sprinkle in 1/2 cup of sugar and continue to beat the egg whites. They should get thick and fluffy and stand up in soft peaks. Keep mixing until the egg whites form firm peaks, that is, they stand up by themselves.
Then take your spatula and gently mix the egg whites into your cake batter. Don't mix with the mixer itself or stir too hard too much or you will undo all the air you beat into the egg whites, and wasted your time.
If you are using a stand mixer and used whole eggs, turn it off and lift the beater up. Use your spatula to scrape the batter off the beater into the bowl of cake batter.
If you are using a hand mixer and used whole eggs, turn the mixer off and stand it on its end with the dripping beaters over the bowl. Scrape your beaters into the bowl.
Here is where the menfolk and children magically find their way into the kitchen, asking for the bowl and/or the beater.
Then take the bowl and pour equal amounts of the batter into the 3 prepared cake pans. Some people smooth the batter on top with a spoon back, but I'm lazy and don't bother.
Bake the pans for about 30-40 minutes, maybe 35 if your oven runs hot or 45 if it runs cold. Do not put them in the oven directly over each other. Put 2 on the bottom rack and one in the middle of the top rack so the hot air can circulate evenly. You don't want a cake that has cooked more on one side than the other.
If you have a convection oven, bake at 25 degrees less than a regular oven. If you use dark pans, adjust your temperature and look through the oven door window to see how the cake looks.
Remember, every time you open the oven door, the temperature drops perhaps 25 degrees in a few seconds. Plus, your cake may fall if you open the door at the wrong time.
How do you know if your cake has baked enough? You can use a toothpick poked very lightly into the center of the cake pan. If it comes out clean, the cake is done. If there is batter on it, let the cake bake a while more.
If you are used to listening, the cake should have stopped hissing.
Remove the cakes and cool them on racks for maybe 10 minutes or so, then turn over each layer onto a plate and peel the parchment paper off the bottom. Gently turn the layers over onto a rack and cool until they are completely cool. They should be top side up. Do not rush this part.
When they are completely cool, you can split each layer horizontally using a big serrated bread knife, or a long piece of clean dental floss.
For the lemon filling, you will need:
3 large eggs
3/4 – 1 cup granulated sugar [less for tart filing, more for sweet – I like sweet]
the grated zest of one lemon
the juice of 2-3 large, juicy lemons
1/2 stick of butter
What to do:
Take one of the lemons and grate the peel. Put the grated peel, or zest, to one side. You really want this to be very fine, because you don't want to bite into a piece of lemon peel.
Take 3 large eggs, the juice of 2-3 large, juicy lemons (about 1/3 cup or so), and the sugar and place them in a stainless bowl. Use fresh lemons for this, and watch out for seeds and pulp.
Place the bowl in a pot containing barely boiling water. The water should come about half way up the side of the bowl. You don't want the water in the pot getting inside the bowl. You are making your own double boiler. If you have a double boiler, use that!
Whisk the egg-sugar-lemon juice mixture together and cook until it becomes thick. How thick? Like sour cream, thick but not so solid a spoon will stand up in it. Do NOT stop stirring. Be careful, because you don't want scrambled eggs.
When it is thick, look at it carefully to see if there are lumps or strands of egg. If so, strain it so it is smooth.
Cut the butter up into small pieces. Add the butter and stir it in until it melts. Then stir in the lemon zest.
Let it cool. If you don't want a skin to form, put a piece of plastic wrap or waxed paper directly on top of the curd as it cools.
It will keep for a few days in the refrigerator, but hide it so no one will eat it before you make your coconut cake.
Do You Need Help With Living Expenses?
Do you sometimes have more month than money? Are your utility bills overdue? Is your rent behind? Do you live on a fixed income? Have you been ill and unable to meet your expenses? Are you unemployed and not collecting unemployment?  What's a person to do? Look for assistance at the following websites:
The Greater Hartford NAACP is having its 90th Annual dinner on September 30, 2016. For more information, contact:
GREATER HARTFORD BRANCH NAACP
P.O. Box 1012
HARTFORD, CONNECTICUT 06143
Email:greaterhartfordnaacp1@gmail.com
TELEPHONE: (860) -922-1160
Do You Know….
August is….
African-American Women's Equal Pay Day – August 23
Left Handers Day – August 13
Minority Enterprise Development Week – August 18-24
Kiss and Make Up Day – August 25
Drive Sober or Get Pulled Over – August 19 – September 5
Bow Tie Day – August 28
National Farmers Market Week – August 7-13 (First week in August)
Family Fun Month
National Water Quality Month
National Catfish Month
National Eye Exam Month
National Golf Month
National Minority Donor Awareness Month
National Peach Month
Did you know that In the original 10 month Roman calendar, August was the sixth month and was originally named Sextilis? In 8 BC it was renamed in honor of Augustus, the founder and first emperor of the Roman Empire.
TV Networks Under Fire for Sexism in Olympic Coverage
Last week, Hungarian swimmer Katinka Hosszú shattered world records with her gold-medal-winning performance in the women's 400-meter individual medley at the 2016 Olympic Games in Rio. But an NBC reporter quickly deflated her victory by giving her husband and coach, Shane Tusup, credit for the win saying he's "the guy responsible" for her victory and it's "impossible" to speak on Hosszú's success without crediting him. This type of sexist treatment aimed at female athletes is far too common and stems from the idea that female athletes should be treated as anomalies. Read more here and watch video in sidebar.
The Sugarcoated Language of White Fragility
Anna Kegler, a feminist writer, writes, "For a while now, I've been thinking about how terms like "white privilege," "inclusion," and "unconscious bias" all sound just…too nice. Don't they seem a little on the pleasant side for words used to address a system of racist oppression?
Something's definitely up. …The deliberate distortion of words is called double speak and we actually see it frequently in real-life politics. Words are powerful.  Read more here.
Finding Good Medical Treatment Is Hard. If You're Not White, It's Even Harder.
According to articles in the New York Times and other sources, people of color tend to receive less treatment for pain than whites. In addition, researchers from the University of Pennsylvania and others have documented disparities in recognizing and treating pain among people of color, particularly black patients. Pharmacies in poor white neighborhoods are 54 times as likely in poor neighborhoods of color to have adequate supplies of opioids, and blacks are less likely to have opioids prescribed for them than similarly situated whites.  Read the NYTimes article here.
Medical care, in general, is not offered to people of color at the same level of care as white patients. "Mounting research finds that racial bias and discrimination in health care as well as outside of medicine contribute to poor health for African-American patients and other racial and ethnic minorities.  "I believe that a racist system of health kills people. There is ample evidence to show that," says Wyatt, who cowrote an opinion piece on racial bias in medicine for the Journal of the American Medical Association in August."   Even subtle cues – like body language – can differ in patient-doctor interactions, depending on a doctor's biases and whether a patient is white or black. Dr. Amber Barnato, an associate professor of medicine and clinical and translational science at the University of Pittsburgh School of Medicine, recently led research evaluating these interactions by having actors play caregivers and patients receiving end-of-life care.  But nonverbally the doctors were less likely to do little things that display empathy or built rapport. "For example, they would use more closed posture and they had their arms crossed, or had their hands in their pockets. They would stand further away from the bed," Barnato says. "They would spend more time looking at the nurse or the monitor and less time touching the patient."   Read more here.
 Map Hartford's Homicides
For more information click here.