Faith Congregational Church, a vibrant, inclusive Christian community working for social justice through service to God, each other and our neighbors.
Welcome to the Faith Congregational Church website. You will find exciting videos, articles, and information designed to lift your spirit and feed your desire for helpful information. Faith Church is a diverse worship community, an inclusive, justice-minded and unapologetic about our faith and our witness. We celebrate diversity, we celebrate community and we celebrate Jesus Christ. It's that simple, but be clear that there is so much more.
We invite you to explore the many ways we seek to be a faithful church in these challenging days. Ask us your questions, we like questions. Our church may be old, in fact, it is the oldest predominately black church in the city of Hartford, but our thinking is not old at all. We are affiliated with the United Church of Christ, the first mainline church in America to speak out against slavery, the first mainline church to ordain a woman and the first church to ordain a gay person into ministry in our nation. We stand on the side of justice because we want to always seek to be on the right side of history and besides that to do what we believe Jesus our elder brother and head of the church commands.
If you are in the Greater Hartford area, come worship with us. Whoever you are, you are very welcome at Faith. Now explore the website fully, come back to it often and know that we seek your prayers as we go forward in faith.
Pastor Steve
Who We Are – Where We Are Going – What We Believe!
We Celebrate Diversity
We are a church that welcomes all (and we do mean all)! No matter who you are and where you may be on life's journey, you are welcome at Faith Congregational Church. We work toward celebrating all people, young and old, Black, Brown, and White, gay and straight, rich and poor; whomever God sends we will seek to embrace.
We Celebrate Community
We are a church faith community that embraces the wider community and seeks to serve in ways we can. Faith Church is a place where the community can come to talk, to work, to grow. We will be part of the solution,  seeking to address community concerns. We will work for justice, not just us.
We Celebrate Jesus
We will celebrate the presence of Jesus Christ in our lives. We will never apologize for our love of Jesus Christ but will celebrate the faith of others and even those with no faith. For us, Jesus is the way, the truth, and the life. We will invite others to know Jesus and will share the love of Christ whenever and wherever we can.
Monday – Wednesday 9:00 – noon        860-547-0820
Jesus and Justice Bible Study
February 22          Risk Taking and Peace Making
                                   Immanuel Congregational Church, 10 Woodland Street, Hartford
                                   free parking at Woodland Medical Center across the street
March 1                   Justice Evangelism
                                   Center Congregational Church, 60 Gold Street, Hartford
                                   free parking in the Gold Building Parking garage (55 Pearl St) with validation
March 8                   Loving Enemies
                                    Faith Congregational Church, 2030 Main, Hartford
                                    parking entrance around the block behind the church
March 13                 Right Relationship/Gender Justice
                                   Asylum Hill Congregational Church, 814 Asylum Ave, Hartford
                                   parking in lot to east of church
March 22                Treasures in Heaven/Economic Justice
                                   Immanuel Congregational Church, 10 Woodland St, Hartford
                                   free parking at Woodland Medical Center across the street
Weather Events?
If we experience a major snow event this winter,  you are encouraged to turn to NBC or CBS to see the closure announcement. We will generally close if the City of Hartford issues a parking ban. Sunday church announcements will generally happen by 10 p.m. Saturday evening.
Weather Forecast for  Hartford County, CT 
Today (Tuesday 3/20/18): Increasing clouds, with a high near 43. Calm wind becoming northeast around 5 mph in the afternoon.
Tonight: A chance of snow, mainly after 4 am. Cloudy, with a low around 29. North wind 6 to 10 mph, with gusts as high as 26 mph. Chance of precipitation is 30%. Little or no snow accumulation expected.
Wednesday: Snow, mainly after 7 am. The snow could be heavy at times. High near 33. North wind around 14 mph, with gusts as high as 26 mph. Chance of precipitation is 80%. New snow accumulation of 3 to 7 inches possible.
Wednesday Night: Snow, mainly before midnight. The snow could be heavy at times. Low around 29. North wind 10 to 14 mph, with gusts as high as 32 mph. Chance of precipitation is 80%. New snow accumulation of 6 to 10 inches possible.
 
But what about when it snows?
Prayer Resources:
There's More to Faith Church than Sunday Mornings…
Men of Faith Men's Ministry Monday evenings @ 5:30 p.m.   Bible Study, Food and Fellowship! All men are welcome. Call Deacon Al Strother or church office for more information. Next meeting: March 19, 2018.
Don't forget, Girl Scout Troop 10003 meets on 2nd and 4th Sundays from 1 – 2:30 pm.

There is a seat for you on Tuesday at Bible study. We start at 7 pm. Great group, great conversation, and great learning! Bible Study is canceled on March 13 because of inclement weather. See you next week!
Women of Faith Women's Ministry meets quarterly immediately after service. Bring a dish to share. Next meeting  March 18, 2018.
The choir could use your voice! It's a great way to serve at Faith Church. Wayne Dixon is (impatiently) waiting. Choir rehearsal on Wednesday evenings 7 pm.     
Sunday School for children is happening now. Join us. Volunteer. We look forward to seeing you and your children.
PER CAPITA CONTRIBUTION of $10.00 per member of all CT UCC churches is collected each year to support projects of UCC churches in CT.  If you have not remitted your contribution yet, please consider doing so as soon as possible.  Thanks to all who have already given.   The Stewardship Committee
Bus trip to BAM/DanceAfrica 2018, Brooklyn, NY,  Saturday, May 26, 2018 – 8AM-8PM
Please join the Missions Ministry on our bus trip to the 41st DanceAfrica Festival in Brooklyn, NY.  DanceAfrica is an annual celebration of the countries of the African Diaspora.  The 2018 festival's feature country is South Africa. Join us and witness the arts and culture of South Africa!!   Witness the hundreds of food, clothing and art vendors and out-door entertainment of BAM, and the sight & sounds of Brooklyn!!
There are two trip options: Option 1: Continental Breakfast, Bus Trip and South African art displays and dance performance. Cost $115 – Deposit $60.   Option 2: Continental Breakfast and Bus Trip Only. Cost $70 – Deposit $35.  A nonrefundable deposit to hold your spot/option is due NLT February  26, 2018.   Please see Deacon Pam Walters or Shirley Zachery to reserve your spot or for more details.  Deadline to pay in full for the bus trip is March 18, 2018.
This is a fundraiser to help the Missions Ministry support the needs of the local community.  
The Wadsworth Atheneum Museum of Art's fifth annual Interfaith Film Series begins March 18 and runs through early April, showing four films on the theme "A Question of Faith." The event is co-presented by the Connecticut Council for Interreligious Understanding and the National Conference for Community and Justice. Q&A sessions will follow the screenings, which are all on Sundays at 2 p.m.   Admission to Atheneum films is $9, $8 seniors and students, $7 members. The museum is at 600 Main St. in Hartford. thewadsworth.org.
Want to go to the Smithsonian National Museum of African American History & Culture?
Our own Pennington Bible is on loan to the museum and on exhibit.
Same-Day Online
Same-day timed entry passes are available online beginning at 6:30 a.m. ET daily until they run out. Same-day passes are not available via phone.   CHECK SAME-DAY AVAILABILITY
Advance Online
Advance timed entry passes for individuals are released monthly. Advance timed entry passes for individuals are released on the first Wednesday of each month.  The next day for passes to be released is April 4.  Passes go very quickly when released.   CHECK ADVANCE AVAILABILITY ON RELEASE DAY

Did You Know That You Can Borrow a Museum Pass at the Hartford Public Library?
With your library card,  you can borrow a pass to visit museums and attractions just as you would a book or video!  We have a NEW online museum pass reservation system. Use it to reserve a pass with an HPL adult or teen card up to 60 days in advance.   Go HERE to reserve a pass.                                                                                                                                           
Hartford Board of Education Meetings
Regular Meetings 
March 20 – Science, Medicine, Sports Academy
April 17 – Naylor
May 15 – MD Fox: Public Hearing – 2018-19 Budget
---
Workshops/Special Meetings 
March 6 – Rawson
April 3 – Hartford Public High School
May 1 – Annie Fisher School – Budget Workshop
All workshops are held on the first Tuesday of each month at5: 30 pm., and regular meetings held on the third Tuesday of each month at 5:30 pm. Workshops will not be held in July and August.  *Meeting dates/locations subject to change.
Click Here for a Complete List of Meetings Dates & Agendas
Special Invitation to Partners of Hartford Public Schools
Update on District Redesign:  A Conversation with Dr. Leslie Torres-Rodriguez
Wednesday, March 14, 2018  1:00pm-2:00pm
Samuel V. Arroyo Recreation Center @ Pope Park
30 Pope Park Rd     Hartford, CT 06106
To RSVP Please Click the Link Below:
https://www.surveymonkey.com/r/UpdateDistrictRedesignRSVP
Entrepreneurship
The Women's Business Development Council provides loans up to $10,000 to help start or grow a business. It can be used for such things as working capital, new hires, furniture, inventory, supplies, equipment and/or machinery. The Women's Business Development Capital micro-loan fund offers flexible guidelines to help businesses build better credit and improve their attractiveness to traditional lenders.  For more information and to learn more, call 203-751-9550 or visit http://www.ctwbdc.org/.
Homeowners'  Elderly/Disabled Tax Relief Program  Applications Now Available 
City and State law provide a property tax credit programs for Connecticut owners in residence of real property, who are elderly (65 and over) or totally disabled, and whose annual incomes do not exceed certain limits. The credit amount is calculated by the local assessor and applied by the tax collector to the applicant's real property tax bill. Credit amounts are based on a graduated income scale. An application may be made to the Assessor's Office between March 1 and May 15th.
 Activities

On Saturday, March 24th  2018,  The  Circle of Hands Foundation (COHF) will be hosting its 8th  Annual  Benefit Dinner at the  Sheraton Hartford South Hotel – 100 Capital Boulevard, Rocky Hill, CT 06067 from 7PM – 1AM.  The speaker for the event will be Faith's own Joelle Murchison.   The honorees will be Opal Crosdale – Past President of the West Indian Associations of Greater Bridgeport, Anyangō Yaa Asantewaa-Battles –  the founder and CEO of FLYY Fitness Healing & the Arts…Freedom to Love the           You in You,  Dr. Edgar Johnson – Founder and Executive Director of  Center for Urban Research, Education & Training (CURET) and Stan Walker of the West Indian American Newspaper.
The Circle of Hands Foundation is a Hartford based 501(c) (3) organization, assisting three orphanages in Jamaica caring for children with HIV/AIDS. The Circle of Hands Foundation works directly with the caregivers and children in the homes. The organization sends $1,200 (US) monthly to the homes for food. 100% of the funds we receive go directly to the children.  As of January 2018, there are currently have 72 children residing in these three orphanages in the Mustard Seed Communities in Jamaica: Dare to Care and Martha's House in Spanish Town and Matthew 25:40 in Kingston.  We are confident that with your generosity and that of others, we'll be able to continue this very important mission/ministry we have undertaken.  The event will present a brief overview of the services provided to the orphanages, however, the evening will be one of fun, entertainment, and dancing!
Davison Art Center at Wesleyan University in Middletown presents "Reclaiming the Gaze: African American Prints and Photographs, 1930 to Now" from Feb. 7 to May 27. wesleyan.edu/cfa.
Trinity College hosts the 13th Annual Trinity International Hop-Hop Festival and Conference. hip-hop artists, MCs, DJs, dance groups and spoken word artists come from more than 50 countries to take part in lectures, panel discussions, film screenings and shows. This year's theme is "Free Speech, Censorship, and Protest." April 6-8. For more information click  here. 
Yale Rep Director Returns To Suzan-Lori Parks' Battlefield With 3-Part 'Father Comes From The War…'
Join Us March 28 for An Important Conversation!
As part of our ongoing commitment of empowering women and eliminating racism, we encourage you to attend the next conversation in our Community Matters series, "Disparity of Discipline for Girls of Color, Part 2," Wednesday, March 28, 2018, from 6 – 8 p.m.
The panel will be moderated by Rachel Gary, Program Manager at The Discovery Center, who will lead a discussion about school push-out and the narrative surrounding status offenses and structural discrimination for young women of color, and about steps towards solutions.
Panelists featured:
Subira Gordon, Executive Director of the Commission on Equity and Opportunity
Mario Flores, Director of School Climate and Culture at Hartford Public Schools
Leon Smith, Esq., Director of The Racial Justice Project at the Center for Children's Advocacy
Cheryl Sharp, Esq., Deputy Director of The Commission on Human Rights and Opportunities
*This event is FREE to the public. RSVP to reserve your place! Light refreshments will be available; free parking.  The event is being held at YWCA Hartford Region, Soromundi Room, 135 Broad Street, Hartford, CT 06105.  Click HERE to reserve a seat.
BTW…  YWCA Hartford Region Official Name Change
We are pleased to inform you our name has been legally changed with the State of Connecticut from The Young Women's Christian Association, Inc. to YWCA Hartford Region, Inc. The change, accomplished by an Amendment to the Certificate of Incorporation with the State, was effective January 19, 2018. The Board initiated this change when the national organization legally changed its name to YWCA USA. This change is particularly important in the current political climate where we need to stand up for social justice and diversity and counter the anti-Muslim sentiment that plagues our nation. While we are in the process of notifying a number of agencies, funders, business partners, State departments and the IRS about the change in our legal name, most of you will simply continue to use the name that is familiar throughout Greater Hartford. Let's hear it for YWCA Hartford Region!
Live in Hartford? Get Your Free Tickets Today!
Hartford residents who are Hartford Public Library cardholders can now reserve up to 2 free tickets to plays at Hartford Stage as part of our new partnership.
Each of the seven branches of Hartford Public Library will have a two-ticket pass per eligible show. Patrons can check online to see where passes are available, but they must ask for them in person at any of the seven Library locations.
Once you have reserved the tickets at a Library branch, you must confirm the seats by calling the box office at Hartford Stage, 860-527-5151.
Exploring Racial Bias
It's hard to talk about race. Fear of saying the wrong thing, fear of expressing an unpopular view or simply the fear of offending others can dampen honest conversations about racial attitudes.
Accurately measuring racial attitudes faces another formidable obstacle. Psychologists say that biased racial views are sometimes buried deep in a person's subconscious – the byproducts of exposure to popular culture, the media, and other factors.
To overcome these obstacles, Pew Research Center conducted an Implicit Association Test (IAT), a technique that psychologists say measures subconscious or "hidden" bias by tracking how quickly individuals associate good and bad words with specific racial groups.
Read more here  – or  – take the test here.
At the Crossroads of Church and Race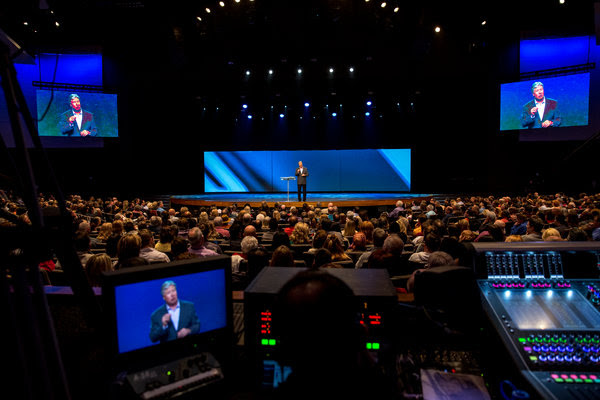 The Gateway Church in the Dallas-Forth Worth area is one of the largest churches in the country. Ilana Panich-Linsman for The New York Times
Campbell Robertson
I grew up in a little Baptist church in small-town Alabama. The Baptist part is inherited, like baldness or dimples: Both of my grandfathers and three of my uncles were Baptist preachers, and my parents met as graduate students at Southern Baptist Theological Seminary. Genes aside, the church — plastic chairs, pilling carpet and grape juice for communion — was the organizing institution of my childhood, where I met my closest friends and most of the significant adults in my life.
Church attendance has been in generational decline. I began calling around, exploring whether people in small towns were looking for community elsewhere and, with the white nationalist rallies so often in the news, whether young white people were looking for meaning in the grim sanctuaries of the alt-right.
But I kept hearing about something different. Pastors, theologians and sociologists were talking of how black worshipers were leaving white-majority churches. They were leaving quietly and not en masse, a family here, a single person there. But it was happening everywhere, a movement large enough for some to see the unraveling of decades of efforts at racial reconciliation. Read the rest of the article HERE.
Every Month is Women's History Month Because Women's History IS Everyone's History
Irene Morgan   Civil Rights Activist  
(1917–2007)
Here's a look at three women scientists who were trailblazers during a time when men dominated the field of science.
Read the entire article here.
Every Month is Black History Month Because Black History IS American History
Alexa Canady   Surgeon, Educator   
(1950–) 
In 1981, Alexa Canady became the first female African-American neurosurgeon in the United States. Dr. Alexa Canady was born on November 7, 1950, in Lansing, Michigan. While she was in college, a summer program inspired her to pursue a medical career. In 1981, she became the first female African-American neurosurgeon in the United States. Canady specialized as a pediatric neurosurgeon and served as chief of neurosurgery at the Children's Hospital in Michigan from 1987 to 2001.

'We Can Be a Better Country If We Know These Stories.' The Complicated History of African Americans in the Military
By LILY ROTHMAN   January 31, 2018
March is…..
Asset Management Awareness Month
Endometriosis Awareness Month
Irish-American Heritage Month
Multiple Sclerosis Awareness Month
National Brain Injury Awareness Month
National Credit Education Month
National Frozen Food Month
National Kidney Month
National Nutrition Month
National Trisomy Awareness Month
National Umbrella Month
National Women's History Month
National Colorectal Cancer Awareness Month
National Music in Our Schools Month
National Professional Social Work Month   
International Women's Day – March 8
Women and Girls HIV/AIDS Awareness Day – March 10
National Girl Scout Day – March 12
Freedom of Information Day – March 16
St. Patrick's Day – March 17
Vietnam War Veterans Day – March 29
Jewish Book Week – March 3-11
Solidarity with the Peoples Struggling Against Racism and Racial Discrimination Week – March 21-27
 What You Can Drink, Besides Water, When You Have Diabetes
No doubt: Water is the perfect drink. It doesn't have calories, sugar, or carbs, and it's as close as a tap. If you're after something tastier, though, you've got options.  Click HERE for more information. My favorite – low fat chocolate milk!
 More to think About: Gun Violence
There were 29 homicides in Hartford in 2017, up from 14 in 2016. Twenty-three involved firearms. To see a map showing the locations of Hartford homicides, click here.
Mass shootings in the US: there have been 1,624 in 1,870 days (as of 2/15/18)