Faith Congregational Church, a vibrant, inclusive Christian community working for social justice through service to God, each other and our neighbors.
Welcome to the Faith Congregational Churc h website. You will find exciting videos, articles, and information designed to lift your spirit and feed your desire for helpful information. Faith Church is a diverse worship community, an inclusive, justice-minded and unapologetic about our faith and our witness. We celebrate diversity, we celebrate community and we celebrate Jesus Christ. It's that simple, but be clear that there is so much more.
We invite you to explore the many ways we seek to be a faithful church in these challenging days. Ask us your questions, we like questions. Our church may be old, in fact, it is the oldest predominately black church in the city of Hartford, but our thinking is not old at all. We are affiliated with the United Church of Christ, the first mainline church in America to speak out against slavery, the first mainline church to ordain a woman and the first church to ordain a gay person into ministry in our nation. We stand on the side of justice because we want to always seek to be on the right side of history and besides that to do what we believe Jesus our elder brother and head of the church commands.
If you are in the Greater Hartford area, come worship with us. Whoever you are, you are very welcome at Faith. Now explore the website fully, come back to it often and know that we seek your prayers as we go forward in faith.
Pastor Steve
Who We Are – Where We Are Going – What We Believe!
We Celebrate Diversity
We are a church that welcomes all (and we do mean all)! No matter who you are and where you may be on life's journey, you are welcome at Faith Congregational Church. We work toward celebrating all people, young and old, Black, Brown, and White, gay and straight, rich and poor; whomever God sends we will seek to embrace.
We Celebrate Community
We are a church faith community that embraces the wider community and seeks to serve in ways we can. Faith Church is a place where the community can come to talk, to work, to grow. We will be part of the solution,  seeking to address community concerns. We will work for justice, not just us.
We Celebrate Jesus
We will celebrate the presence of Jesus Christ in our lives. We will never apologize for our love of Jesus Christ but will celebrate the faith of others and even those with no faith. For us, Jesus is the way, the truth, and the life. We will invite others to know Jesus and will share the love of Christ whenever and wherever we can.
Monday – Wednesday 9:00 – noon        860-547-0820
Faith Celebrates Its 200th Anniversary!
Faith Congregational Church in Hartford, Connecticut began in 1819 as a place for African Americans to worship on their own since they were previously only able to worship in the backs of churches and in church galleries (balconies). Unable to sit in the main sanctuary and tired of second class treatment, a group of African Americans began worshipping in the conference room of the First Church of Christ in Hartford, Connecticut, which is now known as Center Church. Our ancestor congregation moved to a building on State Street in 1820 and formed the first black Congregational Church in Connecticut and the third oldest in the nation. (According to Mary M. Donohue and Whitney Bayers writing for Connecticut Explored at connecticuthistory.org, Dixwell Avenue Congregational Church in New Haven was founded in 1820 as the African Ecclesiastical Society by Simeon Jocelyn, a white abolitionist, and 24 former slaves.)
The church, now known as Faith Congregational Church, initially called itself the African American Religious Society of Hartford and vowed to create a place of worship where there would be no assigned seating and where anyone was welcome to worship. The congregation purchased property in 1826 where it built a stone-and-brick church on the corner of Talcott and Market Streets.
For more information, read HERE  
Watch this space for event information during our year-long celebration.

The UCC General Synod will take place in Milwaukee, WI on June 21-25, 2019 and the Massachusetts, Rhode Island, and Connecticut Conferences are collaborating to sponsor a trip to Youth @ Synod.   Youth at Synod is for young leaders ages 13 to 18 who want to experience the vibrant diversity of the wider church.  Teens from all over the country will participate in worship and plenary sessions, attend hearings and track resolutions, and join in mission work to serve the greater Milwaukee area.  Synod is an opportunity to nurture advocacy skills around justice issues.  More information
Mission Trip    The Conference is organizing a week-long trip to the Cheyenne River Sioux Reservation in South Dakota from May 11 to May 18, 2019.  Simply Smiles, an organization founded by Bryan Nurnberger, who grew up in the Naugatuck UCC congregation, will be our hosts and guides.  We will be staying in the town of La Plant, one of the most impoverished places in America, working to restore hope for a better future. We have not finalized travel arrangements, but the total cost should be about $1,400.  Many congregations will provide support for members.  Online registration  –  https://macucc-reg.brtapp.com/SimplySmilesServiceandLearningTrip
Board of Education Meetings
Encounters: #MeToo 
Saturday, March 9, 2019  10am – 12pm with lunch to follow
Hartford Courant Room  Wadsworth Atheneum Museum of Art
600 Main Street, Hartford
Join us as we discuss artistic responses to gender and sexual violence alongside the powerful, contemporary movement which brings light to sexual harassment and sexual assault. Participants will join in a dialogue exploring the #MeToo movement and the paintings of MATRIX artist Emily Mae Smith, on exhibit at the Wadsworth Atheneum. Additional texts under discussion will be posted in advance. The event is free, but please RSVP faculty@wadsworthatheneum.org to reserve a seat and lunch.
Health & Human Services – Change in Dial A Ride Shuttle Schedule
EFFECTIVE 01/21/2019 there will be a change in the Monday Grocery Shuttle schedule.  Please click on image to download complete schedule. 
Faith Congregational Church has a 200-year legacy that includes a noteworthy collection of historical materials.  "We have an amazing collection of historical papers and photographs here at our church. We have a number of bibles dating back our early days, including the Pennington bible," says Rev. Stephen W Camp, senior pastor. Pennington, the first black student to attend Yale University, was an escaped slave who became known as a preacher and writer and was a leader in the abolition movement. He and his congregation provided leadership and funds in the legal campaign for the release of the Mende people taken hostage in the Amistad case.
Americans are being forced to choose between a cherished lie and a disconcerting truth as they prepare to celebrate the centennial of the 19th Amendment in 2020. While middle-class white women celebrated with ticker tape parades, black women in the former Confederacy were being defrauded by voting registrars or were driven away from registration offices under threat of violence. Read the article here.
Mary Eliza Mahoney, 1st African American licensed nurse
If you are a medical professional (particularly a Black medical professional), or just an overall Black history buff, you likely have heard of Mary Eliza Mahoney.  For those who have been denied tales of Mahoney's excellence, she is heralded as the first African-American licensed nurse. Mahoney worked in nursing for almost 40 years before retiring, but during her time as a medical professional, as well as long after, she was a champion of women's rights. A trailblazer, not just as a Black person, but also as a woman. Read more HERE.
5 Women Who Changed How We Think About Race
Devah Pager, a Harvard sociologist who died on Nov. 2, demonstrated the tenacious power of race in hiring decisions. We looked back through our obituary archives and found five other women, some recently deceased, whose thinking had an impact on our understanding of race. Read about these women here.
When You Are Lost, Thank Gladys West for Your GPS
by Cathy Dyson, The (Fredericksburg, Va.) Free Lance-Star/AP via militarytimes.com
Gladys West was putting together a short bio about herself for a sorority function that recognized senior members of the group.  She noted her 42-year career at the Navy base at Dahlgren and devoted one short-and-sweet line to the fact she was part of the team that developed the Global Positioning System in the 1950s and 1960s. Read more HERE.
Henrietta Lacks
She never traveled farther than Baltimore from her family home in southern Virginia, but her cells have traveled around the earth and far above it, too.
She was buried in an unmarked grave, but the trillions of those cells — generated from a tiny patch taken from her body — are labeled in university labs and biotechnology companies across the world, where they continue to spawn and to play the critical role in a 67-year parade of medical advances.  READ MORE
Every Month is Black History Month Because Black History IS American History
Black Heritage Stamp Series Exhibition
On display February – March 2019
Hartford History Center, Hartford Public Library
500 Main Street, Hartford, CT 06103
The stamps in the Black Heritage Stamp Series are the longest running United States commemorative stamps. This series began in 1976 honoring the achievements, contributions, and influences of African Americans who helped shaped American culture. This series exhibition has been curated by collector Alicia Labrador of Bridgeport, CT.
Ferocity, Courage, and Grace — Remembering the Great Frank Robinson
Meet the man who created Black History Month
Black History Built This
February is Black History Month. It has become the month the nation recognizes as a time to celebrate the strides and achievements black people have accomplished over the centuries. But — contrary to founder Carter G. Woodson's intention — it has become the relegated timeframe to squeeze in as much information about a select few civil rights leaders while whitewashing their stories.  This year, we challenge that. HuffPost is celebrating Black History Month by highlighting our culture, narratives, and wholeness with the theme Black History Built This.  Let this February be a reminder for some and a lesson for others that there is no American history without black history. We built this. Read more here.
Blackface Redux
The narrative that we are encouraged to believe, or at least accept, about white people's youthful flirtations with racism is: that was then, this is now, and I am not that person – if I ever was.   At the beginning of February, we saw a photo from the 1984 medical school yearbook page of Virginia governor Ralph Northam with a man wearing blackface standing next to a man in Ku Klux Klan robes. 
Shortly after that revelation,  Mark R. Herring, Virginia's attorney general, admitted attending a college party in blackface some 40 years earlier.  These are not news, just individual revelations within the ongoing conversation about blackface in American society.  Comments have flowed across social media as well as print, television and talk radio. Nothing beats the visuals though.
Fashion, too, has had its moments recently with blackface.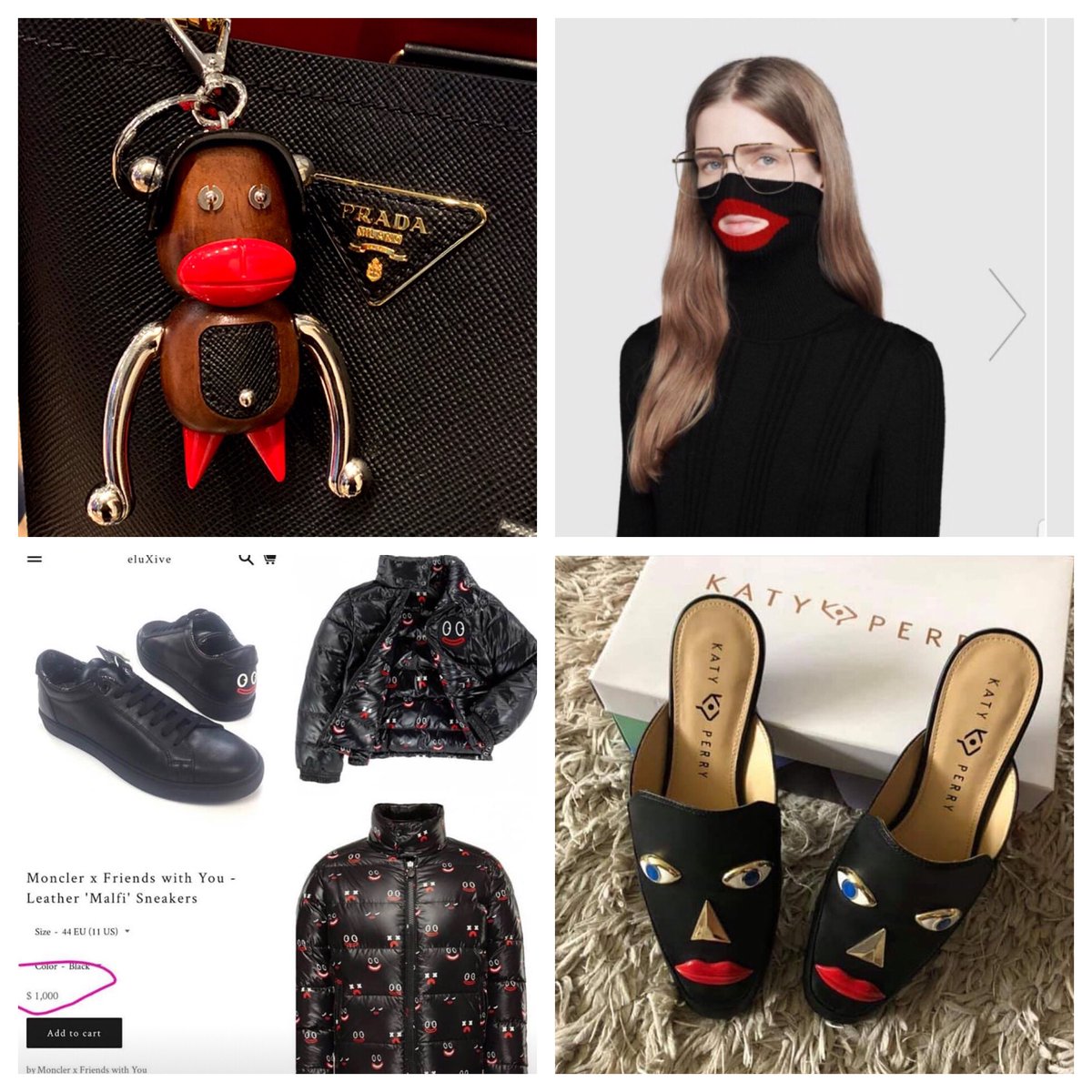 Black Migrations
courtesy of: http://www.cambridgeblog.org/2016/02/black-history-month-slavery-and-forced-migration-in-the-deep-south/
The theme for Black History Month in 2019 is "Black Migrations" tracking the continuous movement of blacks from the American South to the industrialized North and beyond.
Beginning in the early 20th century, a growing number of black industrial leaders and black entrepreneurs emerged as families relocated from farms to cities, and from the South to the more industrialized Northeast and Midwest.
Read more here
The Long-Lasting Legacy of the Great Migration

When millions of African-Americans fled the South in search of a better life, they remade the nation in ways that are still being felt
By (1963), millions of African-Americans had already testified with their bodies to the repression they had endured in the Jim Crow South by defecting to the North and West in what came to be known as the Great Migration. They were fleeing a world where they were restricted to the most menial of jobs, underpaid if paid at all, and frequently barred from voting. Between 1880 and 1950, an African-American was lynched more than once a week for some perceived breach of the racial hierarchy.
Read more: https://www.smithsonianmag.com/history/long-lasting-legacy-great-migration-180960118/#IlFcMhg0kzBh4iEJ.99
The Changing Definition of African-American
How the great influx of people from Africa and the Caribbean since 1965 is challenging what it means to be African-American
By 
SMITHSONIAN MAGAZINE  February 2010
… [a] knot of black men and women—most of them technicians at the station—were talking about emancipation and its meaning. Once I was drawn into their discussion, I was surprised to learn that no one in the group was descended from anyone who had been freed by the proclamation or any other Civil War measure. Two had been born in Haiti, one in Jamaica, one in Britain, two in Ghana, and one, I believe, in Somalia. Others may have been the children of immigrants. While they seemed impressed—but not surprised—that slaves had played a part in breaking their own chains, and were interested in the events that had brought Lincoln to his decision during the summer of 1862, they insisted it had nothing to do with them. Simply put, it was not their history.
And so the "not my history" disclaimer by people of African descent seemed particularly pointed—enough to compel me to look closely at how previous waves of black immigrants had addressed the connections between the history they carried from the Old World and the history they inherited in the New.
Read more: https://www.smithsonianmag.com/history/the-changing-definition-of-african-american-4905887/#HRJZhlqKb8Legrl9.99
@ Justice
Health Care for All is Justice for All

Dental Care – Free, Low Cost And Sliding Scale
21 Grand Street     Hartford, CT – 06106  (860) 550-7500
500 Albany Ave     
Hartford, CT
 – 06120  
(860) 249-9625
240 Stafford Ave   
Bristol, CT
 – 06010   
(860) 584-7682

Medical Care – Free or Sliding Scale
A.I. PRINCE TECHNICAL SCHOOL
Operated by Charter Oak Health Center, Inc
500 Brookfield St
Hartford, CT, 06106-3709
Tel: 860-951-7112
CHARTER OAK HEALTH CENTER
Operated by Charter Oak Health Center, Inc
401 New Britain Ave
Hartford, CT, 06106-3833
Tel: 860-241-0712
CHC OF HARTFORD
Hartford, CT, 06106-3305
PARKVILLE COMMUNITY ELEMENTARY SCHOOL
Operated by Charter Oak Health Center, Inc
1755 Park St
Hartford, CT, 06106-2160
Tel: 860-695-4720
EMMACARE SHELTER
Hartford, CT, 06106-4617
CHARTER OAK HEALTH CENTER ANNEX AT 39 GRAND STREET
Operated by Charter Oak Health Center, Inc
39 Grand St
Hartford, CT, 06106-4607
Tel: 860-550-7500
SOUTH PARK INN
Operated by Charter Oak Health Center, Inc
75 Main St
Hartford, CT, 06106-1806
Tel: 860-724-0071
WHEELER FAMILY HEALTH AND WELLNESS CENTER – 49
Operated by Wheeler Clinic, Inc.
49 Woodland St
Hartford, CT, 06105-2337
Tel: 860-793-3500
YWCA OF THE HARTFORD REGION, INC
Operated by Charter Oak Health Center, Inc
135 Broad St
Hartford, CT, 06105-3718
Tel: 860-525-1163
OPEN HEARTH
Operated by Charter Oak Health Center, Inc
437 Sheldon St
Hartford, CT, 06106-1939
Tel: 860-525-3447
Opioid Overdoses Kill More Americans Than Car Crashes 
CDC Reveals Deadliest Drug in the US