Faith Congregational Church, a vibrant, inclusive Christian community working for social justice through service to God, each other and our neighbors.
Welcome to the Faith Congregational Church website. You will find exciting videos, articles and information designed to lift your spirit and feed your desire for helpful information. Faith Church is a diverse worship community, an inclusive, justice minded and unapologetic about our faith and our witness. We celebrate diversity, we celebrate community and we celebrate Jesus Christ. It's that simple, but be clear that there is so much more.
We invite you to explore the many ways we seek to be a faithful church in these challenging days. Ask us your questions, we like questions. Our church may be old, in fact it is the oldest predominately black church in the city of Hartford, but our thinking is not old at all. We are affiliated with the United Church of Christ, the first mainline church in America to speak our against slavery, the first mainline church to ordain a woman and the first church to ordain a gay person into ministry in our nation. We stand on the side of justice because we want to always seek to be on the right side of history and besides that to do what we believe Jesus our elder brother and head of the church commands.
If you are in the Greater Hartford area, come worship with us. Whoever you are, you would be very welcome at Faith. But now explore the website fully, come back to it often and know that we seek your prayers as we go forward in faith.
Pastor Steve

Who We Are – Where We Are Going – What We Believe!
We Celebrate Diversity
We are a church that welcomes all (and we do mean all)! No matter who you are and where you may be on life's journey, you are welcome at Faith Congregational Church. We work toward celebrating all people, young and old, Black, Brown and White, gay and straight, rich and poor; whomever God sends we will seek to embrace.
We Celebrate Community
We are a church faith community that embraces the wider community and seeks to serve in ways we can. Faith Church is a place where the community can come to talk, to work, to grow. We will be part of the solution seeking to address community concerns. We will work for justice, not just us.
We Celebrate Jesus
We will celebrate the presence of Jesus Christ in our lives. We will never apologize for our love of Jesus Christ, but will celebrate the faith of others and even those with no faith. For us Jesus is the way, the truth and the life. We will invite others to know Jesus and will share the love of Christ whenever and wherever we can.
Monday – Wednesday 9:00 – noon
Romans 8:12-25  
12-14 So don't you see that we don't owe this old do-it-yourself life one red cent. There's nothing in it for us, nothing at all. The best thing to do is give it a decent burial and get on with your new life. God's Spirit beckons. There are things to do and places to go!
15-17 This resurrection life you received from God is not a timid, grave-tending life. It's adventurously expectant, greeting God with a childlike "What's next, Papa?" God's Spirit touches our spirits and confirms who we really are. We know who he is, and we know who we are: Father and children. And we know we are going to get what's coming to us—an unbelievable inheritance! We go through exactly what Christ goes through. If we go through the hard times with him, then we're certainly going to go through the good times with him!
18-21 That's why I don't think there's any comparison between the present hard times and the coming good times. The created world itself can hardly wait for what's coming next. Everything in creation is being more or less held back. God reins it in until both creation and all the creatures are ready and can be released at the same moment into the glorious times ahead. Meanwhile, the joyful anticipation deepens.
22-25 All around us we observe a pregnant creation. The difficult times of pain throughout the world are simply birth pangs. But it's not only around us; it's within us. The Spirit of God is arousing us within. We're also feeling the birth pangs. These sterile and barren bodies of ours are yearning for full deliverance. That is why waiting does not diminish us, any more than waiting diminishes a pregnant mother. We are enlarged in the waiting. We, of course, don't see what is enlarging us. But the longer we wait, the larger we become, and the more joyful our expectancy.
Romanos 8:12-25 
 (NBLH)
12 Así que, hermanos, somos deudores, no a la carne, para vivir conforme a la carne. 13 Porque si ustedes viven conforme a la carne, habrán de morir; pero si por el Espíritu hacen morir las obras de la carne (del cuerpo), vivirán. 14 Porque todos los que son guiados por el Espíritu de Dios, los tales son hijos de Dios.
15 Pues ustedes no han recibido un espíritu de esclavitud para volver otra vez al temor, sino que han recibido un espíritu de adopción como hijos, por el cual clamamos: "¡Abba, Padre!" 16 El Espíritu mismo da testimonio a nuestro espíritu de que somos hijos de Dios. 17 Y si somos hijos, somos también herederos; herederos de Dios y coherederos con Cristo, si en verdad padecemos con El a fin de que también seamos glorificados con El.
18 Pues considero que los sufrimientos de este tiempo presente no son dignos de ser comparados con la gloria que nos ha de ser revelada.19 Porque el anhelo profundo de la creación es aguardar ansiosamente la revelación de los hijos de Dios. 20 Porque la creación fue sometida a vanidad, no de su propia voluntad, sino por causa de Aquél que la sometió, en la esperanza 21 de que la creación misma será también liberada de la esclavitud de la corrupción a la libertad de la gloria de los hijos de Dios.
22 Pues sabemos que la creación entera gime y sufre hasta ahora dolores de parto. 23 Y no sólo ella, sino que también nosotros mismos, que tenemos las primicias del Espíritu, aun nosotros mismos gemimos en nuestro interior, aguardando ansiosamente la adopción como hijos, la redención de nuestro cuerpo. 24 Porque en esperanza hemos sido salvados, pero la esperanza que se ve no es esperanza, pues, ¿por qué esperar lo que uno ve? 25 Pero si esperamos lo que no vemos, con paciencia (perseverancia) lo aguardamos.
From the Pastor's Study
       "Faith, without trouble or fighting, is a suspicious faith; for true faith is a fighting wrestling faith."  (Ralph Erskine)
As we have just returned from our trip (twelve of us) to Birmingham and Montgomery Alabama last week. I was reminded of the sacrifice and struggle that so many endured for the cause of freedom and justice. Many would never see the result of their fight, their struggle, but still they fought on. The youth who attended this year were moved by the sight of clothes left behind from lynching or seeing the bus that was burned given a freedom ride. They lingered in a park where fire hoses and dogs were unleashed upon the children of protest in Birmingham. They witnessed a reenactment of the Rosa Parks moment in Montgomery and the four little girls who lost their lives in a church, one bright Sunday morning.
The struggles we endure today are important, but it is important to remember that those before us paved a way for us. It is important to not give into the struggle before us, to fight on. They showed us the way to justice and the way through the evil of racism and injustice so rampant in society of their time. By faith, we too can go toward the day of justice and peace that God intends. We can live in a world where justice for all is a reality.
Have a great week!  Pastor Steve
credit: http://worldartsme.com/church-van-clipart.html#gal_post_51856_church-van-clipart-1.jpg
Need a ride to church? See Deacon Pam Walters for details and to schedule a pickup or call the church office  860-547-0820 Monday through Wednesday mornings.
Mark Your Calendar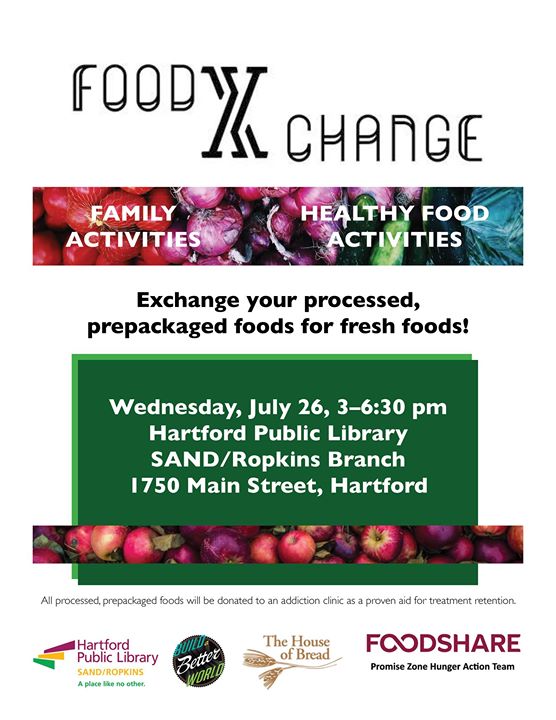 Funky Dawgz Brass Band Camp Concert

DOWNTOWN TERRACE
Friday, July 28, Noon-1 pm

Music students in the Funky Dawgz Brass Band Camp at Charter Oak Cultural Center present an hour-long concert on the final day of camp.  The band started at the University of Connecticut and is led by Marvin McNeill. Members teach students the basics of saxophone, trumpet, trombone, flute, clarinet, tuba and percussion.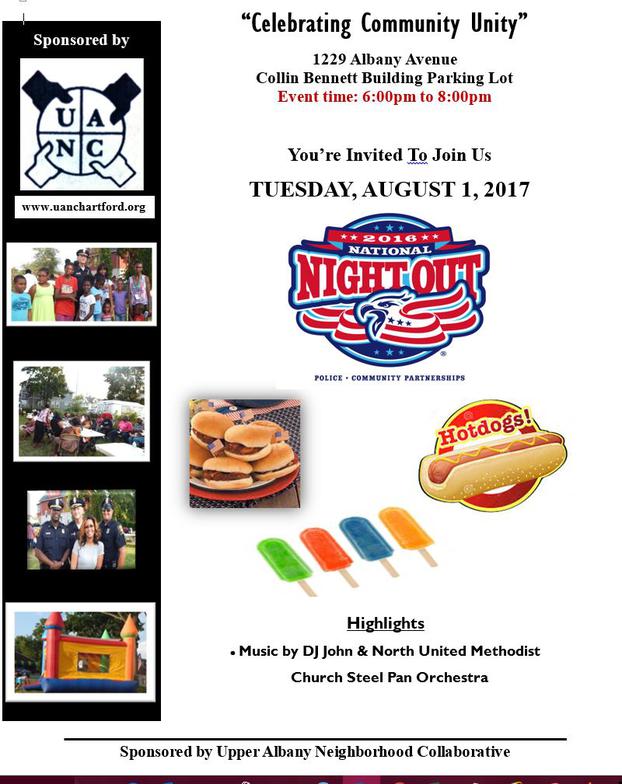 See Irene Pittman for tickets to the NAACP 100th Year celebration on Friday, September 22, 2017 at the Hartford Hilton.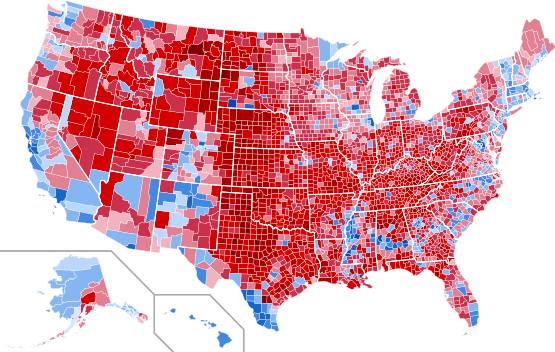 EVENT DETAILS  VOTER EDUCATION
Voter Education
Tuesday, September 26, 6-7:45 pm
Hartford History Center @ Hartford Public Library downtown, 500 Main Street
Program on the popular vote and its impact presented in partnership with the Secretary of State's Office.

FCC Missions Ministry in collaboration with Community Partners in Action, would like to support their Back Pack program for the third year. This program provides much needed assistance to women who were formerly incarcerated immediately after they are released from prison. These women leave prison with little or nothing and very limited resources. What these women say they want most, when they first get out, is a safe place to live (men want a job)! At the same time they need toiletries including personal items which must be purchased because they are not available through assistance programs. Our goal is is to provide 40 backpacks for 40 women.  Below is a link to a list of the kinds of items we are asking for. Collection boxes are at the front and back doors. For more information call Carol Knight-Mosby or Patricia Hollis or the church office. For list, click here.
There's More to Faith Church than Sunday Mornings…
 Men of Faith Men's Ministry Monday evenings @ 5:30pm   Bible Study, Food and Fellowship! All men are welcome. Call Deacon Al Strother or church office for more information. Next meeting: August 7,2017.
Don't forget, Girl Scout Troop 10003 meets on 2nd and 4th Sundays from 1 – 2:30 pm. Our girls sold cookies to help support our local troop's activities. We praise and support their efforts to become young women of strength, intelligence, and kindness. Our troop has 30 girls and they sold an average of 138 boxes each. In 2016 they sold $14,441 in cookies; in 2017 they raised the amount to $18,252. You go, girls!
 
There is a seat for you on Tuesday at Bible study. We start at 7pm. We wiil meet through June then be on haitus until September.
 Teen Ministry 2016-2017  We're on summer break. Watch this space for future events.
Women of Faith Women's Ministry meets every 3rd Sunday after service. Bring a dish to share. On summer vacation. Watch this space for our first fall meeting.
The church school is on summer break. Watch this space for news of our fall program.
The Youth Anti-Violence Initiative is over for the 2016-17 program year. Youth Initiative trip to Birmingham, Montgomery and Selma Alabama was amazing. See our page for pictures and more.
Faith-Based Community Events have been moved to the News & Events Tab. Check out what's happening in and around Hartford's religious community.
Upcoming  CT Conference / UCC Events
New UCC logo reflects, complements denomination's Purpose, Vision, Mission Statements
Beginning with General Synod 2017 in Baltimore this summer, the United Church of Christ will begin the transition to a new logo for the denomination. The logo, last re-designed in 2004, has been updated to reflect both tradition and innovation within the church as it faces the challenges and opportunities of Christian witness in the coming decades.
The new logo's design and colors are intended to complement the graphic representation of "A Just World for All," developed to illustrate new Purpose, Vision, and Mission Statements adopted by the national setting of the church last fall.
The new logo's colors were chosen to work with both 'A Just World for All' and the '3 Great Loves campaign — Love of Children, Love of Neighbor, Love of Creation,' which will be rolled out during General Synod in Baltimore (June 30 – July 4). Blue has replaced red, with black retained as the second color, in the new design, to visually and symbolically represent Creation elements of water and earth.
Read more here.
CT, MA Conferences to Share Associate for Racial Justice Ministry
6/27/2017
By Drew Page
Toyan (TJ) Harper – the current Associate for Racial Justice Ministries for the Massachusetts Conference – will be expanding his role to serve in the same capacity for the Connecticut Conference beginning this August.  "We are so excited to welcome TJ to our CTUCC staff," said Connecticut Conference Minister the Rev. Kent J. Siladi. "This collaboration will help our Conference continue its commitment to racial justice ministry.  We are building on the work started by The Rev. Day McCallister and the Racial Justice Ministry Team.  TJ has had a tremendous impact already in the Massachusetts Conference, and we are overjoyed to partner with them in Racial Justice Ministries."  Read more here.
Silver Lake's 60th Anniversary – Register Now
You Are Invited!
Silver Lake Conference Center's 60th Anniversary
Saturday, August 26, 2017  
11 AM – 5 PM
Tickets are $15 per person with a family maximum of $60
Commemorative 60th T-shirts are available to purchase at the time of registration for an additional $10
A cookout lunch will be provided, as well as time to participate in traditional Silver Lake activities, explore on your own, take a group decade photo, and join in worship
Preparing for College? 
Schools in boldface meet at least 94% of need for the majority of their students.
Amherst College (MA)
Barnard College (NY)
Bates College (ME)
Boston College (MA)
Brown University (RI)
Bryn Mawr College (PA)
Bowdoin College (ME)
Bucknell University (PA)
California Institute of Technology
Carleton College (MN)
Claremont McKenna College (CA)
Clark University (MA)
Colby College (ME)
Colgate University (NY)
College of the Holy Cross (MA)
College of Wooster (OH)
Colorado College (CO)
Columbia University (NY)
Connecticut College (CT)
Cornell University (NY)
Davidson College (NC)
Denison University (OH)
Dickinson College (PA)
Duke University (NC)
Dartmouth College (NH)
Emory University (GA)
Franklin and Marshall College (PA)
Franklin W. Olin College
Georgetown University (DC)
Gettysburg College (PA)
Grinnell College (IA)
Hamilton College (NY)
Harvey Mudd College (CA)
Haverford College (PA)
Harvard University (MA)
Johns Hopkins University (MD)
Kenyon College (OH)
Lafayette College (PA)
Lehigh University (PA)
Macalester College (MN)
Massachusetts Institute of Technology (MA)
Middlebury College (VT)
Mount Holyoke College (MA)
Northwestern University (IL)
Oberlin College (OH)
Occidental College (CA)
Pitzer College (CA)
Pomona College (CA)
Princeton University (NJ)
Reed College (OR)
Rice University (TX)
Saint John's College (NM)
Saint Olaf College (MN)
Scripps College (CA)
Sewanee: The University of the South (TN)
Smith College (MA)
Stanford University (CA)
Swarthmore College (PA)
Thomas Aquinas College (CA)
Trinity College (CT)
Tufts University (MA)
Tulane University (LA)
Union College (NY)
University of Chicago (IL)
University of Notre Dame (IN)
University of Pennsylvania (PA)
University of Richmond (VA)
University of Rochester (NY)
University of Southern California
Vanderbilt University (TN)
Vassar College (NY)
Wabash College (IN)
Wake Forest University (NC)
Washington and Lee University (VA)
Washington University, St. Louis, (MO)
Wellesley College (MA)
Wesleyan University (CT)
Williams College (MA)
Wheaton College (MA)
Yale University (CT)
Read more here.
What Is White Privilege? Privilege, particularly white or male privilege, is hard to see for those of us
who were born with access to power and resources. It is very visible for those to whom privilege was not
granted. Furthermore, the subject is extremely difficult to talk about because many white people don't feel powerful or as if they have privileges others do not. It is sort of like asking fish to notice water or birds to discuss air.
For those who have privileges based on race or gender or class or physical ability or sexual orientation, or age, it just is- it's normal. The Random House Dictionary (1993) defines privilege as "a right, immunity, or benefit enjoyed only by a person beyond the advantages of most." In her article, "White Privilege and Male Privilege," Peggy McIntosh (1995) reminds us that those of us who are white usually believe that privileges are "conditions of daily experience… [that are] universally available to everybody." Further, she says that what we are really talking about is "unearned power conferred systematically" (pp. 82-83)
Read the entire article here.
10 Ways White Liberals Perpetuate Racism
… Microinvalidations are momentary acts that serve to invalidate the very people of color we care about. These unconscious interactions perpetuate the hopelessness many African-Americans, Latinos, Native Americans, and other people of color, feel in this country.Many of you may stop reading now, thinking, "Here we go with the political correctness." You say to yourself: "I'm not perpetuating racism, and I'm certainly not invalidating people of color. Donald Trump may be, but not me."
That's what I used to think. But, right there, you're committing a microinvalidation. It's called Denial.
Racism just won't die, because its roots are deep. Somewhere down where we don't like to go, is a place where racism lives. It's automatic and hidden. Binding and resistant to change. No matter how well-meaning we are, no matter how open-minded. Like the "root kit" on a computer, racism is hidden and operating without our knowledge.
Social Justice in Our Community
      Implicit Bias is getting a lot of attention these days. The Implicit Association Test (IAT) measures attitudes and beliefs that people may be unwilling or unable to report. The IAT may be especially interesting if it shows that you have an implicit attitude that you did not know about. For example, you may believe that women and men should be equally associated with science, but your automatic associations could show that you (like many others) associate men with science more than you associate women with science. Check out your bias score
here. 
Grow Hartford Youth Program
Food Insecurity
What is food insecurity? A national study published in 2012 by The Reinvestment Fund, in collaboration with the Opportunity Finance Network and with support from the US Treasury CDFI Fund's Capacity
Building Initiative, entitled "Searching for Markets: The Geography of Inequitable Access to
Healthy & Affordable Food in the United States" 12 reported that Hartford ranks 8th from the
bottom among cities of between 100,000 and 250,000 in terms of ready access to full service
grocery stores. In the report's terminology, Hartford is an "LSA" (Limited Supermarket Access)
area, which means "one where the residents must travel significantly farther to reach a
supermarket than the "comparatively acceptable" distance traveled by residents in well-served
areas. TRF defines "comparatively acceptable" as the distance that residents of well-served
areas (block group with incomes greater than 120% of the area's median income) travel to the
nearest supermarket." From the perspective of the report's authors, this is significant because
"when we look at availability (consistency in access), variety (diversity of products) and price,
supermarkets consistently have shown in various research studies to be the most reliable
source of access to healthy foods."
Read the entire report here.
Who is working on this problem? Founded in 1978, Hartford Food System is dedicated to finding long-term  solutions for access to affordable and healthy food in the city of Hartford. Our mission is to fight hunger and improve nutrition in our community. Our goal is a healthy, culturally-responsive, just, resilient and sustainable food system that meets the needs of all community members. To help make this happen, we implement programs that improve access to nutritious and affordable food, we help consumers make informed food choices, we advocate for a robust and economically sound food system, and we promote responsible food policies at all levels of government. Hartford Food System aims to link the well-being of urban communities with sustainable agriculture, a more equitable food economy, and food justice. Recognizing the complexity of the issues, HFS promotes lasting solutions which require a system-based approach through non-emergency and sustainable strategies. We believe that long-term solutions to Hartford's food problems can only be found by addressing the root causes of hunger and poor nutrition. We do our work in partnership with public agencies, farmers, producers, people experiencing food insecurity, other nonprofit organizations, business leaders in the local food economy, and many volunteers. Our activities are based in the following strategies:
1.) Increase access to normal food outlets.
2.) Deepen the connection between consumers and agricultural production.
3.) Increase community capacity to advocate for a healthy and just food system.
4.) Advance public policies to improve the affordability and quality of food.
An Organization Dedicated to Innovative, Ways to Fight Hunger and Improve Nutrition
Every Month is Women's History Month Because Women's History IS Everyone's History
From left to right; astronauts Stephanie Wilson, Joan Higginbotham, Mae Jemison, Yvonne Cagle and fighter pilot Shawna Kimbrell
Every Month is Black History Month Because Black History IS American History
 July is…
US Independence Day -7/4
Fried Chicken Day – 7/6
Global forgiveness Day – 7/7
World Population Day – 7/11
Blueberry Muffin Day – 7/11
Parent's Day – 7/23
Father-in-Law Day – 7/30
Sarcoma Awareness Month
Cell Phone Courtesy Month
Ice Cream Month
National Hot Dog Month
More to Think About

What If We Call All These Isms What They Are?
There's some bad"isms" floating around out there like racism, sexism, anti-semitism, and terrorism and they're all bringing us down. Then there's the euphemism.  Not visible but still dangerous as it swaps out the real meaning of words (like "the poor") for less unpleasant sounding ones (like the "economically disadvantaged.") Or as the comedian, George Carlin famously put it, "soft words that get the human pain completely buried under jargon."
So, I'm wondering:  What if we dig up the dirt and just call these isms what they are – Hate.  Pure,simple and evil.  As the police departments don't report them as "ism crimes" I figure we're onto something.  What if speaking what's true, even if it's an inconvenient one, can help set us  free?
Read the entire article here.

Farmers markets were Hartford Food System's first project. In 1979, Hartford Food System took over the management of a farmers market that had started the previous year at Hartford's historic Old State House, later adding four new markets in Hartford's lower-income neighborhoods.
In 2008, Hartford Food System and the City of Hartford launched the North End Farmers Market. Opening day festivities included programs for children, musical entertainment, and live cooking demonstrations. Every summer the market provides fresh, locally grown fruits and vegetables from area farms. Each year, more than 5000 visitors come to the market and buy produce provided by local farms.
The North End Farmers Market is a grassroots victory for North End residents who long desired a farmers market in their own community. Hartford Food System supported this effort through a feasibility study published in 2008, and partnered with neighborhood leaders to hire the market coordinator and provide outreach to community residents. A planning team comprised of community residents, the City of Hartford's Department of Health and Human Services, United Connecticut Action for Neighborhoods, Rambuh Family Center, and Hartford Food System worked for several months to establish this market.
The market accepts SNAP and WIC, which help low-income families with young children purchase fresh fruits and vegetables. Market hours are 10 AM until 1 PM every Wednesday from late June until the end of October. The North End Farmers Market is located in front of the North End Senior Center at 80 Coventry Street, near the Tower Avenue/Coventry Street intersection.
OPIOID ADDICTION: 5 THINGS EVERYONE SHOULD KNOW
Like many people who are prescribed opioid medication for pain management by their physician, they can begin their journey taking their medication as directed. Over time, their utilization of their medication increases. They begin to look forward to taking their medication and need refills earlier than they are supposed to get them. Then life begins to fall apart.
What I did not know on the day that I heard my father state his drug history aloud, but now understand, is that opioid addiction is a disease like any other chronic disease.
In 2013 an estimated 2.4 million people were dependent on opioids, according to the Substance Abuse and Mental Health Services Administration (SAMHSA). Drug overdose is now the leading cause of death for Americans under the age of 50, surpassing car accidents. In Ohio, at least 4,100 died last year- a 36% increase from 2015 when the state led the nation in overdose deaths. West Virginia and Kentucky are not far behind and have seen a significant increase in overdose deaths. Read more here.
HELP For Opioid Addiction (from 211 CT)
The Connecticut Department of Mental Health and Addiction Services (DMHAS) has a wide array of addiction related resources to assist residents of Connecticut, family members, and social service providers dealing with this issue:
National Resources

for Treating Abuse and Addiction

For additional resources found in the Connecticut 2-1-1 Community Resources Database:
Canned soup
Diet soda
Sugar free snacks
Processed meats
Read the article here.
 Teen health sites…
What Do You Know About Your Thyroid?

How to Lose Weight After 50 (Well, after 60)
Eat fruits and vegetables
Skip the soda and sweetened drinks
Make lunch, not dinner, your biggest meal of the day
Get some exercise every day
Do strength building exercise
Stop eating fried foods; bake, broil, grill them instead
Get enough sleep
To see a map showing the locations of Hartford homicides, click here.

Watch President Obama's farewell speech.
Watch First Lady Michelle Obama's last speech as first lady.
Watch President Trump's inaugural speech
Watch Robert Kennedy's speech on the death of Martin Luther King Jr.
What's Happening in and around Hartford?
For more information on more events, click here.
THE HARTFORD JAZZ SOCIETY, INC.

116 Cottage Grove Road, Suite 202, Bloomfield, CT 06002 • 860 242-6688

THE HARTFORD JAZZ SOCIETY CELEBRATES THE 50TH YEAR OF THE PAUL BROWN MONDAY NIGHT JAZZ SERIES

Performances Run from July 10 to August 14

Hartford, CT (June 17, 2017) — The Hartford Jazz Society celebrates the 50th year of the Paul Brown Monday Night Jazz Series. To celebrate the milestone anniversary, this year the series will commence on July 10th with a special tribute to the renowned bassist Paul Brown, who founded the series and presented it until the Hartford Jazz Society began presenting the Series in 2008. The opening night of the Series will feature two ensembles comprised of musicians formerly associated with Mr. Brown, as well as some of the many younger musicians who were mentored by Mr. Brown or otherwise influenced by him. The headliner opening night will be an ensemble organized and led by trumpeter Haneef Nelson with special guests soloists legendary saxophonists George Coleman and Bill Saxton. The Hartford Jazz Society is also especially excited to be presenting 2018 NEA Jazz Master, pianist Joanne Brackeen who will appear with her trio on July 24th. The remaining concerts will highlight a diverse array of artists, styles and themes including latin jazz (Little Johnny Rivero), women in jazz (Sylvia Cuenca),  noted trombonist Clifton Anderson, and the somewhat edgier jazz avant garde (Darius Jones).

A signature event on the Greater Hartford Arts scene since 1967, the 50th Paul Brown Monday Night Jazz Series in Bushnell Park will be held on six consecutive Monday evenings beginning on Monday, July 10 and concluding on Monday, August 14, 2017. The Series has been recognized as a New England Legacy and is referenced in the Library of Congress as the oldest free continuously run jazz festival in the United States. Concerts begin each Monday with an opening act at 6:00 pm, followed by the headliner starting at 7:30 pm. All concerts will be broadcast in their entirety on WWUH 91.3 FM and streaming at www.wwuh.org. The rain venue for Monday Night Jazz is Asylum Hill Congregational Church at 814 Asylum Ave, Hartford.

The Paul Brown Monday Night Jazz Series is presented with support from the following: Evelyn W. Preston Memorial Trust Fund, Bank of America, N.A., Trustee; Prudential Financial;  Edward C. and Ann T. Roberts Foundation;  J. Walton Bissell Foundation, Inc.;  Ensworth Charitable Foundation, Bank of America, N.A., Trustee;  Greater Hartford Arts Council; City of Hartford; Black-Eyed Sally's Southern Kitchen & Bar; and WWUH /91.3.

Performance Date: Opening Act  –  Headliner:

July 10:         Paul Brown Tribute Ensemble – Paul Brown Legacy Band

July 17:         Heshima Moja and Ofrecimiento – Little Johnny Rivero

July 24:         Kris Allen Quartet – Joanne Brackeen Trio

July 31:         Maxine Martin Quartet – Sylvia Cuenca Organ Quintet featuring Dave Stryker

August 7:     Matt and Atla DeChamplain – Clifton Anderson

August 14:   Allen Lowe –  Darius Jones Shades of Black

About the Hartford Jazz Society:

Founded in 1960, The Hartford Jazz Society is the oldest continually operating jazz society in the country.  Its mission is "keeping jazz alive".  This all-volunteer organization produces jazz concerts by internationally known and up-and-coming jazz musicians, encourages and assists in the education of young jazz performers, and works to educate and expand the audience for jazz. For more information, visitwww.HartfordJazzSociety.com.
For fun courtesy of AARP
Nursery Staffed for Sunday Services
A reminder: the nursery is available when your child is restless or unhappy during service. You may not mind your child's crying, but others would like to hear the service.
Would you like to volunteer? We need Sunday School teachers for the fall, an usher, a historian,  liturgists and just maybe you can think of ways that you too can help! See Pastor Steve or Jeanne Murchison for details.
Remember our Sick and Shut-ins. 
Don't forget to send a card or note.
Deacon Mamie Barnum                         Home
Gladys Aldes                                             Home