Faith Congregational Church, a vibrant, inclusive Christian community working for social justice through service to God, each other and our neighbors.
Welcome to the Faith Congregational Church website. You will find exciting videos, articles and information designed to lift your spirit and feed your desire for helpful information. Faith Church is a diverse worship community, an inclusive, justice minded and unapologetic about our faith and our witness. We celebrate diversity, we celebrate community and we celebrate Jesus Christ. It's that simple, but be clear that there is so much more.
We invite you to explore the many ways we seek to be a faithful church in these challenging days. Ask us your questions, we like questions. Our church may be old, in fact it is the oldest predominately black church in the city of Hartford, but our thinking is not old at all. We are affiliated with the United Church of Christ, the first mainline church in America to speak our against slavery, the first mainline church to ordain a woman and the first church to ordain a gay person into ministry in our nation. We stand on the side of justice because we want to always seek to be on the right side of history and besides that to do what we believe Jesus our elder brother and head of the church commands.
If you are in the Greater Hartford area, come worship with us. Whoever you are, you are very welcome at Faith. Now explore the website fully, come back to it often and know that we seek your prayers as we go forward in faith.
Pastor Steve
However meaningless and vain, however dead life appears, the man of faith, of energy, of warmth … steps in and does something.
     ---Vincent van Gogh
Who We Are – Where We Are Going – What We Believe!
We Celebrate Diversity
We are a church that welcomes all (and we do mean all)! No matter who you are and where you may be on life's journey, you are welcome at Faith Congregational Church. We work toward celebrating all people, young and old, Black, Brown and White, gay and straight, rich and poor; whomever God sends we will seek to embrace.
We Celebrate Community
We are a church faith community that embraces the wider community and seeks to serve in ways we can. Faith Church is a place where the community can come to talk, to work, to grow. We will be part of the solution seeking to address community concerns. We will work for justice, not just us.
We Celebrate Jesus
We will celebrate the presence of Jesus Christ in our lives. We will never apologize for our love of Jesus Christ, but will celebrate the faith of others and even those with no faith. For us Jesus is the way, the truth and the life. We will invite others to know Jesus and will share the love of Christ whenever and wherever we can.
Monday – Wednesday 9:00 – noon        860-547-0820
We will have our third in a series Jazz Concert on 
Saturday
November  18 
from 
2-4pm
. We hope you are planning to attend and invite others to join you for the fun. Let's help keep jazz alive in Hartford.
Keep doing good works in the name of Faith Church and Jesus Christ. Your acts of generosity and kindness are noticed and appreciated. Pastor Steve
Please remember your church each week by your attendance, your stewardship and your prayers.
Jeremiah 29:10-14  
10-11 This is God's Word on the subject: "As soon as Babylon's seventy years are up and not a day before, I'll show up and take care of you as I promised and bring you back home. I know what I'm doing. I have it all planned out—plans to take care of you, not abandon you, plans to give you the future you hope for.
12 "When you call on me, when you come and pray to me, I'll listen.
13-14 "When you come looking for me, you'll find me.
"Yes, when you get serious about finding me and want it more than anything else, I'll make sure you won't be disappointed." God's Decree.
"I'll turn things around for you. I'll bring you back from all the countries into which I drove you"—God's Decree—"bring you home to the place from which I sent you off into exile. You can count on it.
Habakkuk 2:1-3
1 What's God going to say to my questions? I'm braced for the worst.
    I'll climb to the lookout tower and scan the horizon.
I'll wait to see what God says,
    how he'll answer my complaint.
2-3 And then God answered: "Write this.
    Write what you see.
Write it out in big block letters
    so that it can be read on the run.
This vision-message is a witness
    pointing to what's coming.
It aches for the coming—it can hardly wait!
    And it doesn't lie.
If it seems slow in coming, wait.
    It's on its way. It will come right on time.
Matthew 28:16-20
16-17 Meanwhile, the eleven disciples were on their way to Galilee, headed for the mountain Jesus had set for their reunion. The moment they saw him they worshiped him. Some, though, held back, not sure about worship, about risking themselves totally.
18-20 Jesus, undeterred, went right ahead and gave his charge: "God authorized and commanded me to commission you: Go out and train everyone you meet, far and near, in this way of life, marking them by baptism in the threefold name: Father, Son, and Holy Spirit. Then instruct them in the practice of all I have commanded you. I'll be with you as you do this, day after day after day, right up to the end of the age."
The Message (MSG)  Copyright © 1993, 1994, 1995, 1996, 2000, 2001, 2002 by Eugene H. Peterson
Acts 18:9-10   
9 One night Paul had a vision in which the Lord said to him, "Do not be afraid, but keep on speaking and do not give up, 10 for I am with you. No one will be able to harm you, for many in this city are my people."
Good News Translation (GNT)  Copyright © 1992 by American Bible Society
Need a ride to church? See Deacon Pam Walters for details and to schedule a pickup or call the church office  860-547-0820 Monday through Wednesday mornings.
Mark Your Calendar
Saturday Afternoon Jazz @ Faith
2-4 pm @ 2030 Main Street, Hartford  3rd Saturdays
Saturday, November 17, 2017
Warrren Byrd – piano
James Daggs – bass
Mike Scott, Jr.- drums
Alvin "Abu" Carter, Sr. – percussion
Alvin Carter, Jr. – percussion
Free will offering. Join us!
"To be a jazz freedom fighter is to attempt to galvanize and energize world-weary people into forms of organization with accountable leadership that promote critical exchange and broad reflection. The interplay of individuality and unity is not one of uniformity and unanimity imposed from above but rather of conflict among diverse groupings that reach a dynamic consensus subject to questioning and criticism. As with a soloist in a jazz quartet, quintet or band, individuality is promoted in order to sustain and increase the creative tension with the group--a tension that yields higher levels of performance to achieve the aim of the collective project." 
― Cornel West, Race Matters

 Calling All Chili Lovers…Calling for chili lovers to sample multiple delicious bowls of chili at FCC's 2nd Annual Chili Cook-off, November 18, 2017,  4pm, immediately after the jazz concert. Tickets for those 11 and over are $10.  Children 10 and under are free. See Carol Knight-Mosby,  Alice Lumpkin, Barbara Wiggins or Regina Wilson for tickets, or call the church office.
                                                Last year's winner – Arthur Rooks
"For all those that have to fight for the respect that everyone else is given without question." 
― N.K. Jemisin, The Fifth Season
Black Cat Theater is very happy to announce our Cast for Nunsense II: The Second Coming.
Rev. Mother – Pat Haynes
Sr. Mary Hubert – Lucy Tew
Sr. Robert Anne – Terry Adams
Sr. Mary Paul (Amnesia) – Karen Rojas
Sr. Mary Leo – Sarah Flinker
Fr. Virgil – Tim Moriarty
Sr. Mary Wilhelm – Stephanie Flinker
Sr. Julia, Child of God – Marianne MacCullagh
Sr. Mary Brendan – Joyce Monska
Sr. Mary Luke – Nancy Price
Brother Timothy – Carlos Rojas
Sister Mary – Laura Williams
Our own Marianne MacCullugh has a role. See Bruce MacCullugh for tickets, which are $15.
There's More to Faith Church than Sunday Mornings…
Men of Faith Men's Ministry Monday evenings @ 5:30pm   Bible Study, Food and Fellowship! All men are welcome. Call Deacon Al Strother or church office for more information. Next meeting: November 13, 2017.
Don't forget, Girl Scout Troop 10003 meets on 2nd and 4th Sundays from 1 – 2:30 pm.
 
There is a seat for you on Tuesday at Bible study. We start at 7 pm and are studying the book of Ephesians. Great group, great conversation and great learning!
Women of Faith Women's Ministry meets occasionally 3rd Sunday after service. Bring a dish to share.
The choir could use your voice! It's a great way to serve at Faith Church.
Fall Sunday School for children began October 1. Join us. Volunteer. We look forward to seeing you and your children.
Confirmation Class will take place with the teens from Immanuel. If your child is interested, let Pastor Steve know ASAP.
Faith-Based Community Events have been moved to the News & Events Tab. Check out what's happening in and around Hartford's religious community.
Leaf Pick Up Program: Learn What to Do and When
The City of Hartford Fall Leaf Collection Program is designed to allow residents to dispose of fallen leaves prior to the first heavy snowfall.  During the program, residents are asked to identify the disposal options that work best for their household and follow the zone schedule for curbside collection.
There are three (3) options for residential leaf disposal:
Curbside Collection: Twice between October 29th and December 10th
Paper Leaf Bag Curbside Collection: October 29th to December 10th ONLY
Leaf Bag: Year-round (GREEN PERMIT REQUIRED) Drop-off  to Waste & Recycling Center: 180 Leibert Road: Tuesday – Saturday, 9:00 am – 2:00 pm. 
Click here for more information
FALL LEAF COLLECTION
(4 Weeks)
November 7, 2016 – December 2, 2016
Leaf bags will be collected on your regular trash collection day during the Fall and Spring
collection weeks noted above. Residents must use biodegradable paper leaf bags for curbside collection.
 Do not place grass or garden clippings in
biodegradable bags
 Do not rake leaves to curb
 Do not place leaves in plastic bags
 Do not use non-regulation containers
Missed a collection day? Take it to the Windsor Landfill (all year round) 500 Huckleberry Road, Windsor CT.
Mayor Marcia A. Leclerc and Public Works Director Tim Bockus announced that the Town's annual curbside leaf collection program will begin on Monday, November 6, 2017. The program will feature a one-time vacuuming of leaves placed next to the edge of the road in piles. Leaves will be vacuumed Monday through Saturday from November 6th until all leaves are collected once along each street. A second collection pass may occur as weather permits.
The leaf collection program will commence on roads in the northwest corner of town in the area of Pitkin Street and then proceed north and east through the Burnham and Goodwin Street areas. Leaves will be vacuumed once along each street, weather permitting. Collection will proceed in a clockwise direction around town. There will be no leaf collection on two Town-observed holidays; Veterans Day, November 10, 2017 and Thanksgiving Day, November 23, 2017.
Bagged Collection : Leaves can be put in Paper Bags and placed at the curb on your regularly scheduled refuse collection day. This service operates for 10 months of the year, beginning on the 3rd Monday in March and finishing on Friday of the 2nd full week the following January.  See below for locations of where Paper Bags are sold to residents.
Drop-Off: Leaves can also be dropped off at the leaf composting area at the Landfill (year round) or after hours at 263 Olcott Street during the Fall from October 15th to December 31st. Leaves which are dropped off may be loose or in paper bags. NO PLASTIC BAGS – they cause contamination to the compost!
Vacuum Collection : The Town performs a one-time around pass with Leaf Vacuuming trucks to remove loose piles of leaves from the curb. Historically, collection starts at the end of October/early November. This operation is handled and managed by the Town's Highway Department. Please click here for more information on the Town's Vacuum Leaf collection that is performed during the Fall months, or call 860-647-3233.
ALL STREETS WEST OF WILLARD AVENUE: First collection completed, second collection scheduled for Nov.13 through Nov.18
ALL STREETS EAST OF WILLARD AVENUE:  First collection scheduled for November 6th through November 11th
The Town will make at least two passes through each street (weather permitting).
Rake leaves to the front of your property (adjacent to the street) as soon as possible. Crews and collection schedules vary due to weather conditions.
Do not block sidewalks or rake leaves into the street.
Leaves in barrels, plastic bags, cardboard boxed or mixed with branches, sticks, household trash or any foreign matter will not be picked up.
State law requires leaves to be collected separately from the trash. Do not put leaves in your rubbish or recycling containers as they will not be picked up.
Residents may bring leaves to the landfill on Saturdays and Sundays 9 a.m. to 5 p.m. April 1st through December 31st (proof of residency required).
Fall Leaf Bag Collection- October 23, 2017-December 29, 2017
Each fall the Town of West Hartford offers residential properties a bagged leaf collection program which runs up to 10 weeks, weather permitting.  Each week on your regular refuse collection day crews will collect only leaves bagged in 30 gallon biodegradable paper bags placed at the curb. Below is a general list of guidelines covering our collection program.
Windsor's 2017 leaf collection program will begin on Monday, October 23 and will end on Friday, December 15.  During this eight-week period, your leaves will be picked up on the same day as your trash pick-up.  Residents must place their leaves at the curb in 30 to 40 gallon paper leaf bags. Leaves may also be placed in similar-sized containers that are labeled with a "Leaves Only" sticker that can be easily identified by the driver (i.e., sticker facing the road). Residents can obtain these stickers at town hall or at the Windsor Transfer station (formerly known as the landfill).
In Windsor, the transfer station accepts residents' leaves at no charge and uses them to produce compost. Leaves must be clean and must not contain other items that will compromise the quality of the mulch that will be created. These items include grass clippings, branches, or other items.
Hartford Youth Service Corps – Yard Work Assistance Available 
Members of Hartford Youth Service Corps (YSC) are available to assist eligible seniors and disabled Hartford homeowners with free yard work assistance including raking of leaves, lawn care and snow removal.  To register for YSC services, please contact Hartford 311.  For further information, please call 311 or dial (860) 757-9311 from a cellular phone. Staff Available Monday – Friday: 8:00am – 5:00pm.
MASS INCARCERATION CONTINUES
by Aleks Kajstura
With 219,000 women locked up in facilities operated by thousands of agencies, getting the big picture is anything but easy. In our new report, Women's Mass Incarceration: The Whole Pie 2017, we use our "whole pie" approach to give the public and policymakers the foundation to end mass incarceration without leaving women behind.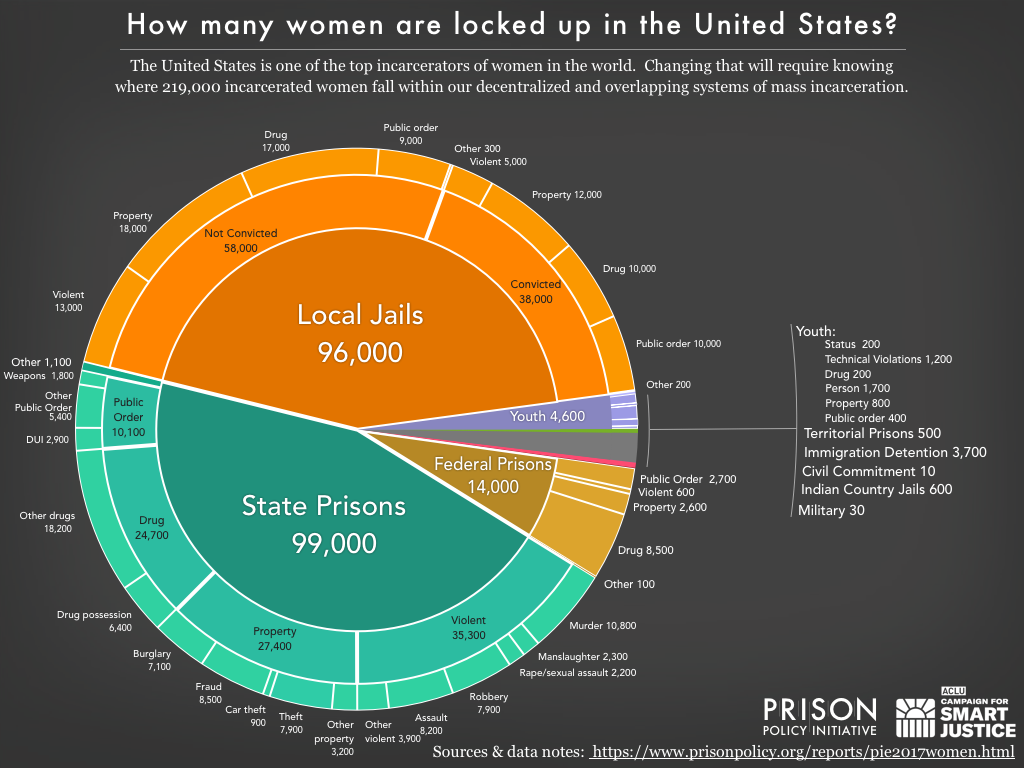 Our new report details, for the first time, the number of women who are locked up by various correctional systems and why. Women's Mass Incarceration: The Whole Pie 2017, released jointly by the Prison Policy Initiative and the ACLUs Campaign for Smart Justice, is a first look at where women fall within our decentralized and overlapping systems of mass incarceration.
"The point is not that Jesus was a good guy who accepted everybody, and thus we should do the same (though that would be good). Rather, his teachings and behavior reflect an alternative social vision. Jesus was not talking about how to be good and how to behave within the framework of a domination system. He was a critic of the domination system itself." 
― Marcus J. Borg, The God We Never Knew: Beyond Dogmatic Religion to a More Authentic Contemporary Faith
Financial Information

Wells Fargo Class Action Settlement
As part of our commitment to make things right, we have entered into a $142 million class action settlement related to the opening of unauthorized accounts.
If there's reason to believe Wells Fargo opened a checking, savings, credit card, or line of credit account for the an account holder without their permission, or if they purchased identity theft protection from us, there may be compensation available from this fund.
More information is available at www.WFSettlement.com or by calling
1-866-431-8549. Impacted accounts may be eligible for reimbursement of fees, compensation for potential impact on credit, and an additional cash payment based on any money remaining in the fund after benefits and costs are paid out.
If you have specific questions about Wells Fargo accounts or services, please visit a Wells Fargo branch or call 1-800-869-3557.

In the wake of Equifax, there's a fourth credit bureau you might want to contact
When news broke about the colossal data breach at Equifax a few weeks ago, experts recommended that affected consumers help protect themselves from ID theft by freezing their credit reports at each of the three main credit bureaus.
To find out if your personal data was compromised in the Equifax breach — which, according to the company, exposed Social Security numbers, birthdates and addresses of at least 143 million Americans — visit www.equifaxsecurity2017.com.
But there's a little-mentioned fourth bureau, called Innovis, that at least one cybersecurity expert is advising consumers not to ignore. Innovis, founded in 1970 and based in Columbus, Ohio, provides businesses with identity verification, credit reports and fraud prevention services.
Consumers considering security freezes at the big three — Equifax, Experian and TransUnion — also should consider requesting one with Innovis, he said. The freeze is free and can be done online at www.innovis.com/personal/securityFreeze.
Freezing credit reports prevents credit bureaus from releasing people's files without their permission. Because most businesses won't extend credit without checking a consumer's credit history, ID thieves are blocked from opening fraudulent accounts.
Read and watch the video here.
Former First Lady Michelle Obama will speak at The Bushnell Center for the Performing Arts in Hartford as part of the Connecticut Forum series on Nov. 16.
"Over the past quarter-century, The Bushnell and The Connecticut Forum have partnered to bring some of the world's leading thinkers on a wide range of topics to Hartford," said David R. Fay, President and CEO of The Bushnell.  "We are honored to have Mrs. Obama join us to continue the tradition of presenting exciting, iconic, and historic speakers in Connecticut.  We are proud to partner with one of the state's finest organizations to bring a diverse array of thought-provoking forums to Mortensen Hall."
Doris Sugarman, executive director of The Connecticut Forum, added, "We are deeply honored to welcome former First Lady Michelle Obama to our wonderful city for what promises to be a powerful and inspiring evening. This is a once-in-a-lifetime experience for our community to hear from one of the world's most influential women."
(I believe tickets are sold out,  but perhaps you can catch it on Youtube later.)
Our own Pennington Bible is on loan to the museum and on exhibit.
Free timed entry passes for the Museum may only be obtained through Etix (see options below). Each timed entry pass provided through Etix has a unique code and can only be used once. All timed entry passes are free, and should not be bought or sold.
Same-Day Online
Same-day timed entry passes are available online beginning at 6:30 a.m. ET daily until they run out. Same-day passes are not available via phone.
Advance Online
Advance timed entry passes for individuals are released monthly. Advance timed entry passes for individuals are released on the first Wednesday of each month.  Passes go very quickly when released.
CHECK ADVANCE AVAILABILITY ON RELEASE DAY
Dear Faith Family;
 On behalf of the Harriet Beecher Stowe Center, I am recruiting participants for the Marathon Reading at the Harriet Beecher Stowe Center! The Marathon Reading will take place from 11:00 am Saturday, March 19th to 11:00 am Sunday, March 20, 2018. Uncle Tom's Cabin was originally published in novel form on March 20th, 1852. The Marathon Reading marks the anniversary of the publication of Uncle Tom's Cabin in a program that involves the entire community.  
At 11:00 am on Saturday, March 19th the Marathon Reading will begin with chapter 1 of Uncle Tom's Cabin. The Marathon Reading will advance with each participant reading a section of Uncle Tom's Cabin for ten-minutes. If you are interested, please send a 1 to 2 hour time-window in which you are available to read. You will be scheduled for a ten-minute timeslot within the window. We have availability beginning at 7:00 pm on Saturday, March 19th. Please indicate if you are interested in reading in a language other than English.  
In the weeks prior to the program, details and final information will be sent to all participants. In the meantime, please do not hesitate to reach out with any questions about the program.

Did You Know That You Can Borrow a Museum Pass at the Hartford Public Library?
With your library card you can borrow a pass to visit museums and attractions just as you would a book or video!
We have a NEW on-line museum pass reservation system. Use it to reserve a pass with an HPL adult or teen card up to 60 days in advance. Most of our passes are printable, meaning you can make a reservation and then print a confirmation page from home or the library to bring with you to the museum. No need to return anything to us! Out-of-town patrons may borrow a pass for same-day use only and must come into a branch to check it out.
Go HERE to reserve a pass.
This anti-bullying PSA acts out online comments in real life. It's an uncomfortable watch.
A new anti-bullying campaign and PSA called "In Real Life," spearheaded by Monica Lewinsky, takes actual insults people have said online and brings them into the physical world. While actors portray the bullies and their victims in the video, the reactions of unsuspecting onlookers are genuine.
The PSA opens with a pleasant scene that quickly turns jarring. Two men are sitting together in a coffee shop, when a stranger walks up to their table. "Gay people are sick, and you should just kill yourselves!" he tells them.
This kind of interaction is not something you see that often in the real world (though it does happen). On the internet, however, that type of comment from a stranger isn't just normal, it's actually kind of tame.
Watch the video "In Real Life" in the sidebar.
7 Trends That Offer A Snapshot Of American Religion Today
White Christians are now a minority
42% of US Muslims are under 30
46% of LGBTQ Americans are religiously unaffiliated
White Christians continue to dominate the GOP, while the Democratic Party is increasingly diverse
There are major generational divides in religious affiliation
Thinking about giving a home to a child or children? Get information on adopting in CT here. and here.
Every Month is Women's History Month Because Women's History IS Everyone's History
Every Month is Black History Month Because Black History IS American History
 November is….
Veteran's Day – 11/11
Clean Your Refrigerator Day – 11/15
Great American Smokeout – 11/16
Use Less Stuff Day – 11/18
International Men's Day – 11/19
Thanksgiving Day – 11/23
National Day of Listening – 11/23
French Toast Day – 11/28
Aviation History Month
Child Safety Protection Month
International Drum Month
National Caregivers Appreciation Month
National Epilepsy Month
National Model Railroad Month
Native American Heritage Month
Peanut Butter Lovers Month
Real Jewelry Month
National Sleep Comfort Month
 Looking for Books for Young People?
Check out these books – nominees and winners – from the National Book Awards list:
Elana K. Arnold, What Girls Are Made Of 
Robin Benway, Far from the Tree
Erika L. Sánchez, I Am Not Your Perfect Mexican Daughter
Rita Williams-Garcia, Clayton Byrd Goes Underground
Ibi Zoboi, American Street
Samantha Mabry, All the Wind in the World
Mitali Perkins,You Bring the Distant Near
Jason Reynolds, Long Way Down
Laurel Snyder, Orphan Island
Angie Thomas, The Hate U Give
More to Think About: Health

Did You Know?
American Diabetes Month® Campaign Celebrates the Millions of Heroes Managing Diabetes Every Day
In recognition of November as American Diabetes Month®, the American Diabetes Association® (Association) reminds us that there's a hero inside everyone affected by diabetes. An extension of the 2016 theme, This Is DiabetesTM, the 2017 campaign will share the stories of people with diabetes and how their strength, courage and determination make them heroes.
Nearly half of all American adults have diabetes or prediabetes, yet most don't understand the life-long burden of this chronic illness or the 24/7 work it takes to effectively manage diabetes. This campaign asks everyone affected by diabetes—whether that means people living with diabetes, caregivers or those who are at risk of developing diabetes—to put on their capes and share how they're taking a stand. Diabetes is a complex health condition that affects millions of people and without proper management, can lead to serious complications.  Read more here.
Did you know that 65% of people with diabetes will die from some form of heart disease or stroke? According to the American Heart Association,  death from heart disease and stroke are twice as high in people with diabetes than those who don't have it. The Framingham Study was one of the first pieces of evidence to show that people with diabetes are more vulnerable to heart disease than those people who did not have diabetes. It looked at generations of people, including those with diabetes, to try to determine the health risk factors for developing heart disease. It showed that multiple health factors — including diabetes — could increase the possibility of developing heart disease. Aside from diabetes, other health problems associated with heart disease include high blood pressure, smoking, high cholesterol levels, and a family history of early heart disease.
If this is speaking to you (I'm pointing at myself here) read the rest of the article here.
November is National Epilepsy Awareness Month
Chicago, IL – Citizens United for Research in Epilepsy (CURE) and the Epilepsy Foundation are joining forces with a power player in the Broadway community this November to raise critically-needed funding for epilepsy research. Officially launching November 1 for National Epilepsy Awareness Month, the "My Shot at Epilepsy Challenge" is an awareness and fundraising campaign inspired by the song "My Shot" from the hit musical HAMILTON. Created by Miguel Cervantes—star of the Chicago production—and his wife Kelly, a CURE board member, the My Shot at Epilepsy Challenge proceeds will directly fund epilepsy research.
Miguel and Kelly are driven to fight for a cure because of a deeply moving personal connection to the cause. Their daughter Adelaide suffers from a severe and incurable form of epilepsy known as 
infantile spasms
, the cause of which remains unknown.
"It breaks my heart when I look into my daughter's eyes and know there is not yet a cure that can help her," says performer and activist Miguel Cervantes. "That's why I'm inviting everyone to join me this National Epilepsy Awareness Month in a vital campaign to help raise awareness and funds for a cure."
Through the My Shot at Epilepsy Challenge, Miguel is urging the public to follow three steps:
Take Your Shot – Take a still photo or video striking the "My Shot pose" (arm raised in the air, with index finger pointing up)
Donate – Make a donation at MyShotAtEpilepsy.org
Share – Post "shots" on social media, using the hashtag #MyShotAtEpilepsy, tag friends and challenge them to participate and donate within 24 hours
Read more about epilepsy here  and, in Connecticut,  here.

Have you had your flu shot this year? The best time to get a flu shot is NOW, because flu season runs from mostly October through May, and it takes a couple of weeks after getting the shot for it to become effective.
Why should people get vaccinated against the flu?
Influenza is a serious disease that can lead to hospitalization and sometimes even death. Every flu season is different, and influenza infection can affect people differently, but millions of people get the flu every year, hundreds of thousands of people are hospitalized and thousands or tens of thousands of people die from flu-related causes every year. Even healthy people can get very sick from the flu and spread it to others. CDC estimates that flu-related hospitalizations since 2010 ranged from 140,000 to 710,000, while flu-related deaths are estimated to have ranged from 12,000 to 56,000. During flu season, flu viruses circulate at higher levels in the U.S. population. ("Flu season" in the United States can begin as early as October and last as late as May.) An annual seasonal flu vaccine is the best way to reduce your risk of getting sick with seasonal flu and spreading it to others. When more people get vaccinated against the flu, less flu can spread through that community.
Go HERE to see if you should (or shouldn't) get a flu shot. Read more here.
For information on African American health issues click on these sites:
To see a map showing the locations of Hartford homicides, click here.
Words Have Power
   "But language is malleable, and it is not always on the side of truth. This is something every writer knows. Words make and unmake the world with terrifying rapidity, and they do so without moral distinction…There is a battle going on right now over the words we use, over who has the right to speak and who does not. (Katie Kitamura)"
― Carolina De Robertis, Radical Hope: Letters of Love and Dissent in Dangerous Times
Watch
Rev. Traci Blackmon's comments on Charlottsville VA  white supremacist rally
Watch President Trump's inaugural speech
 
What's Happening in and around Hartford?
For more information on more events, click here.
For fun courtesy of AARP
Nursery Staffed for Sunday Services
A reminder: the nursery is available when your child is restless or unhappy during service. You may not mind your child's crying, but others would like to hear the service.
Would you like to volunteer? We need Sunday School teachers for the fall, an usher, a historian,  liturgists and just maybe you can think of ways that you too can help! See Pastor Steve or Jeanne Murchison for details.
Remember our Sick and Shut-ins. 
Don't forget to send a prayer, card or note.
Sick and Shut In
Deacon Mamie Barnum  @ home                       
Gladys Aldes  @ home
New UCC logo reflects, complements denomination's Purpose, Vision, Mission Statements
Beginning with General Synod 2017 in Baltimore this summer, the United Church of Christ will begin the transition to a new logo for the denomination. The logo, last re-designed in 2004, has been updated to reflect both tradition and innovation within the church as it faces the challenges and opportunities of Christian witness in the coming decades.
The new logo's design and colors are intended to complement the graphic representation of "A Just World for All," developed to illustrate new Purpose, Vision, and Mission Statements adopted by the national setting of the church last fall.
The new logo's colors were chosen to work with both 'A Just World for All' and the '3 Great Loves campaign — Love of Children, Love of Neighbor, Love of Creation.' Blue has replaced red, with black retained as the second color, in the new design, to visually and symbolically represent Creation elements of water and earth.
Read more here.