Faith Congregational Church, a vibrant, inclusive Christian community working for social justice through service to God, each other and our neighbors.
Who We Are – Where We Are Going – What We Believe!
We Celebrate Diversity
We are a church that welcomes all (and we do mean all)! No matter who you are and where you may be on life's journey, you are welcome at Faith Congregational Church. We work toward celebrating all people, young and old, Black, Brown and White, gay and straight, rich and poor; whomever God sends we will seek to embrace.
We Celebrate Community
We are a church faith community that embraces the wider community and seeks to serve in ways we can. Faith Church is a place where the community can come to talk, to work, to grow. We will be part of the solution seeking to address community concerns. We will work for justice, not just us.
We Celebrate Jesus
We will celebrate the presence of Jesus Christ in our lives. We will never apologize for our love of Jesus Christ, but will celebrate the faith of others and even those with no faith. For us Jesus is the way, the truth and the life. We will invite others to know Jesus and will share the love of Christ whenever and wherever we can.
Monday – Wednesday 9:00 – noon
Luke 4:21-30    
The Message (MSG)
16-21 He came to Nazareth where he had been reared. As he always did on the Sabbath, he went to the meeting place. When he stood up to read, he was handed the scroll of the prophet Isaiah. Unrolling the scroll, he found the place where it was written,
God's Spirit is on me;
    he's chosen me to preach the Message of good news to the poor,
Sent me to announce pardon to prisoners and
    recovery of sight to the blind,
To set the burdened and battered free,
    to announce, "This is God's year to act!"
He rolled up the scroll, handed it back to the assistant, and sat down. Every eye in the place was on him, intent. Then he started in, "You've just heard Scripture make history. It came true just now in this place."
22 All who were there, watching and listening, were surprised at how well he spoke. But they also said, "Isn't this Joseph's son, the one we've known since he was a youngster?"
23-27 He answered, "I suppose you're going to quote the proverb, 'Doctor, go heal yourself. Do here in your hometown what we heard you did in Capernaum.' Well, let me tell you something: No prophet is ever welcomed in his hometown. Isn't it a fact that there were many widows in Israel at the time of Elijah during that three and a half years of drought when famine devastated the land, but the only widow to whom Elijah was sent was in Sarepta in Sidon? And there were many lepers in Israel at the time of the prophet Elisha but the only one cleansed was Naaman the Syrian."
28-30 That set everyone in the meeting place seething with anger. They threw him out, banishing him from the village, then took him to a mountain cliff at the edge of the village to throw him to his doom, but he gave them the slip and was on his way.
Faith-Based Community Events have been moved to the news & Events Tab. Check out what's happening in and around Hartford's religious community.
From the Pastor's Study
Let me welcome you to Faith Congregational Church website. You will find exciting videos, articles and information designed to lift your spirit and feed your desire for helpful information. Faith Church is a diverse worship community, an inclusive, justice minded and unapologetic about our faith and our witness. We celebrate diversity, we celebrate community and we celebrate Jesus Christ. It's that simple, but be clear that there is so much more.
We invite you to explore the many ways we seek to be a faithful church in these challenging days. Ask us your questions, we like questions. Our church may be old, in fact it is the oldest predominately black church in the city of Hartford, but our thinking is not old at all. We are affiliated with the United Church of Christ, the first church in America to speak our against slavery, the first church to ordain a woman and the first church to ordain a gay person into ministry in our nation. We stand on the side of justice because we want to always seek to be on the right side of history and besides that to do what we believe Jesus our elder brother and head of the church commands.
If you are in the Greater Hartford area, come worship with us. Whoever you are, you would be very welcome at Faith. But now explore the website fully, come back to it often and know that we seek your prayers as we go forward in faith.
donate bottled water to be sent to Flint, MI
We are asking all that would like to donate water to bring it to Faith Congregational Church located at 2030 Main Street in Hartford no later than Friday, January 29, 2016.  Someone will be at the church Monday, Tuesday and Wednesday 9:00 a.m. to 12:00 p.m. and Thursday and Friday 2:00 p.m. to 5:00 p.m.
For information about our trip to Flint, check out our facebook group: RIMACT for Flint.
Annual Meeting of the church is after service Sunday January 31, 2016. Plan now to attend. Hear the good news for yourself!
Blessings,
Pastor Steve
Injustice is Still a Threat: We are Still Challenged by Martin Luther King, Jr.
by Eric Anderson
HARTFORD (01/20/2016) — The Hartford area's Sixth Annual Celebration of the life and ministry of the Rev. Dr. Martin Luther King, Jr., attracted its largest congregation ever, including members and leaders of UCC churches in central and northern Connecticut, as well as members of other faith communities nearby. As has been the case since its inception, the afternoon's speakers emphasized the yawning gap that still exists between contemporary America and the goal of racial justice toward which Dr. King strove — but with the #BlackLivesMatter, Moral Monday, and other movements growing across the country, the summons to action took on a renewed urgency and a revived energy.
Host pastor the Rev. Stephen Camp of Faith Congregational Church UCC challenged the participants with Rev. King's declaration, "Injustice anywhere is a threat to justice everywhere." Dr. King wrote those words in his famous 1963 "Letter from a Birmingham Jail," addressing church leaders who criticized the Southern Christian Leadership Conference's activist campaign against racist oppression and violence in that city.
The Rev. Dr. Susan K. Smith, the afternoon's preacher and Director of Crazy Faith Ministries in Columbus, Ohio, stressed the depth of American racism, which finds expression in earnestly held beliefs about the nation's two most valued documents: the United States Constitution and the Christian Bible. She had often been puzzled as a young person by the way white Christians could read the Bible and not see its assertions of justice and equality for all people. She quoted the late US Senator Strom Thurmond of South Carolina, when asked about the Biblical directive to love your neighbor as yourself, replied, "I know that I can choose my neighbor."
Those who pushed white supremacy earnestly believed that God made black people inferior, she said, and when leaders asserted racial equality both in the South and the North, they were accused of perverting the Bible. "Whose God are you talking about?" wondered those who read the same book. And something more was going on:
"The powers and principalities were interested in maintaining the status quo," declared Dr. Smith. "The powers and principalities didn't care much more about you if you were poor and white than if you were middle class and black. In the end, injustice was based as much on economics as it was on race, and Dr. King saw it. The difference is that black people had been dealing with that for a long time." Read more here.
"If white Christians acted more Christian than white, black parents would have less fear for their children." ~ Jim Wallis
 
Credit: world.time.com
Child Labor Used to Make Smartphone Batteries: Report
Major tech companies including Apple, Samsung, Microsoft and Sony aren't doing enough to make sure the cobalt in their products wasn't mined by child laborers, according to a new report from Amnesty International.
"Millions of people enjoy the benefits of new technologies but rarely ask how they are made," Mark Dummett, business and human rights researcher at Amnesty International, said in a statement. "It is high time the big brands took some responsibility for the mining of the raw materials that make their lucrative products."

February 18:  Criminal Justice Reform in Connecticut – Winter 2016 Salons at Stowe Hartford – Where does Connecticut stand on criminal justice reform? What is the impact of the state's new "Second Chance Society" legislation? How can we support people returning from incarceration?
Featured Guests: Mike Lawlor, CT Under Secretary for Criminal Justice Policy and Planning and Iran Nazario, Compass Youth Collaborative
Mike Lawlor, CT Under Secretary for Criminal Justice Policy and Planning and Associate Professor of Criminal Justice in the Henry C. Lee College of Criminal Justice and Forensic Sciences at the University of New Haven
Lawlor served twelve terms as a member of the Connecticut House of Representatives representing East Haven.  As chairman of the Judiciary Committee from 1995-2011, Lawlor played a key role in passing two amendments to Connecticut's constitution, the first established explicit rights for victims of crime, and the second eliminated the county sheriff system.
Lawlor also helped enact gun control laws, rewrite and toughen the state's domestic violence laws, reform the juvenile justice system, address racial disparities in the criminal justice system, pass laws ending discrimination on the basis of sexual orientation, and address recidivism and prison overcrowding.  He also played a key role is establishing Connecticut's Sex Offender Registry.
Iran Nazario, COMPASS Peacebuilders & Community Outreach Director, COMPASS Youth Collaborative
Nazario has worked in gang prevention, violence mediation, youth engagement and program management for 24 years, beginning as a volunteer on the streets of Hartford. As Director of COMPASS Peacebuilders, he leads a team of 16 men and women whose goal is to decrease the level of youth violence throughout the city. Since the program began, COMPASS Peacebuilders has served more than 3,000 youth with a success rate of more than 80%.
Reservations: Info@StoweCenter.org or
860-522-9258, ext. 317.
The event will begin with refreshments at 5:30 PM followed by the program from 5:45 – 7:15 PM.
Since 2008, the Stowe Center has brought community members together at Salons at Stowe, spirited discussion of contemporary issues to foster engagement and community action. Virtual visitors are invited to check out the Harriet Beecher Stowe Center's Salon blog at: http://salonsatstowe.blogspot.com/ to post thoughts, comments and ideas before or after a Salon.
Salons at Stowe are supported by Stowe Center members and donors; Connecticut Department of Economic and Community Development; City of Hartford Arts & Heritage Jobs Grant Program; Ensworth Charitable Trust; Greater Hartford Arts Council; Hartford Foundation for Public Giving; The Hartford; Lincoln Financial Foundation; NewAlliance Foundation; and Travelers Foundation.
Two Lutheran seminaries to close and reopen as new school
Two Lutheran seminaries in Pennsylvania are planning to close and launch together a new school of theology in 2017 with hopes of slashing costs and reversing years of declining enrollments.
The decision came this week from the governing boards of Lutheran Theological Seminary at Gettysburg and Lutheran Theological Seminary at Philadelphia. The plan will cut the number of seminaries affiliated with the Evangelical Lutheran Church in America from eight to seven.
David Lose, president of the Philadelphia seminary, said the move would create opportunities for redesigning everything from faculty and curriculum to calendars and relationships with donors.
The board votes came quickly after a recommendation from a joint task force, which held its first and only meeting last month.
Gettysburg was projecting yearly deficits above $200,000 and could not keep eliminating faculty positions by attrition, according to board chair James Lakso.
"We have too many people and too much physical capacity to be viable and sustainable in the long term," Lakso said.
The new plan comes as mainline Protestant seminaries take steps to weather financial storms caused by an average drop in enrollments of nearly 24 percent since 2005, according to the Association of Theological Schools. About 80 percent of the nation's 100 mainline seminaries are likely to feel financial pressure and might consider revamping their models in years ahead, according to ATS Executive Director Daniel Aleshire.  Read more here. Read about Bangor Seminary here.
What good is the warmth of summer without the cold of winter to give it sweetness?- John Steinbeck
50 Years After School Prayer Ban, God And Faith More Present Than Ever
CSMonitor.com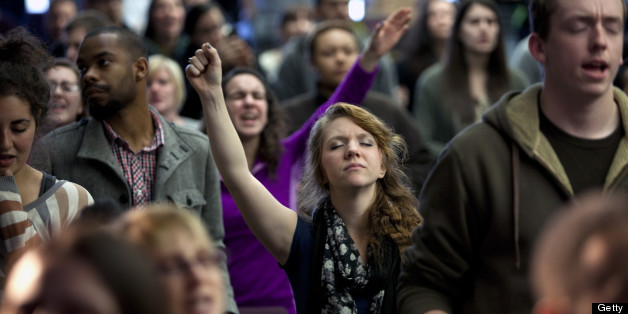 GETTY
At the adolescent-unfriendly hour of 7:10 on this rainy spring morning in tiny Loachapoka, Ala., classes won't start for another half hour in the public school. But already the science lab at Loachapoka High School is coming alive with the banter of 13 teens sloughing off backpacks and settling in to learn – not about chemistry or biology, but about faith.
Everyone's a little bit racist, says Sunnyvale pastor
Photo Jacqueline Ramseyer/Bay Area News Group/Nov. 18, 2015
Pastor Ron Buford, with the Congregational Community Church in Sunnyvale, will be holding AA-inspired meetings on Thursday evenings in December to help facilitate discussion about racism. Pastor Buford says "the goal of Racists Anonymous is not for us–it's for three generations from now."
In a chapel within Sunnyvale's United Church of Christ, the meeting is about to begin. There are a circle of fold-out chairs and a table with coffee, juice and an assortment of cookies that attendees partake in while they mull about, waiting for the discussion to start.
Some attendees even have name tags affixed to their shirts. It all looks very much like an Alcoholics Anonymous meeting and even begins with the traditional introductions that the group is famous for, but in this case "Hello, my name is…" is followed by "and I'm a racist."
The group is Racists Anonymous, the creation of the church's pastor, Ron Buford.
Buford opened his email invitation to the meeting with, "Pastor Ron is a racist and thinks you're a racist, too," as a statement that everyone has some racism in them.
The purpose of the group is to engage in an honest discussion about race and racism in America, and to encourage attendees to be more mindful of racism in their daily lives. As part of the meeting, the 13 people in attendance spoke about the first time they were aware of race dividing people as well as a time that someone they loved did something racist.
 "We have AA meetings [at the church] every day, and sitting at my desk, I can hear them saying the lord's prayer" at the end of each meeting, Buford told this newspaper. "What's interesting is that…they keep coming back; they say AA works
A delegation from Howard University Divinity School has returned an ancient manuscript to an Ethiopian monastery after scholars discovered its place of origin.
The manuscript contains two texts, the Acts of Paul and the Acts of Serabamon, and is part of one of the largest collections of Ethiopian sacred artifacts in the U.S. The manuscript was owned by the late Dr. Andre Tweed, a prominent psychiatrist and Howard alumnus who donated it in 1993.
Alton B. Pollard III, the school's dean, said the manuscript was returned on Jan. 11 to the Debre Libanos monastery, which is about two hours away from Addis Ababa, Ethiopia's capital. A crowd of several thousand was on hand as dignitaries formally received the manuscript, which will be housed in a glass case and be available for the public to touch once a year on Jan. 11, the date of its return, he said.
Pollard said the centuries-old books are sacred to the Ethiopian Orthodox Church and are distinct from the Book of Acts in the New Testament. They describe the work and life of the Apostle Paul and the lesser-known story of Serabamon, a martyred bishop in the early church who was named a saint.
The manuscript dates to the 15th century. It formed part of a larger collection housed at Howard's divinity school, and intended to connect "peoples of African descent the world over with Christianity as a religion of African peoples well prior to the trauma caused by the mass enslavement and colonization of Africa's people," Pollard said.
Gay Byron, a New Testament and early Christianity expert at the divinity school, was one of the first to recognize that the document should be returned, but it took years to pinpoint its exact place of origin. The discovery was made in the cataloging process after the manuscript was digitized.
George Fox Evangelical Seminary professor Steve Delamarter, another researcher involved in the process of returning the manuscript, said it is one of the oldest surviving Ethiopian manuscripts and especially meaningful for the Ethiopian Orthodox Church.
"Their artifacts are for them enormously significant and there's been a few such cases where institutions outside of Ethiopia have returned things to them and they've been enormously grateful for that," said Delamarter, director of the Ethiopian Manuscript Imaging Project, who joined the Howard scholars in Ethiopia last week.
He said the just-returned Tweed manuscript was ordered by the 15th-century abbot of the monastery, who was the indigenous leader of the Ethiopian Orthodox Church at the time.
"They're very, very rare works," he said. "I don't know of any other manuscripts that contain these two apocryphal Acts of Paul and Serabamon."
Sundance documentary 'Newtown' explores how a city rebuilds after crippling grief
Three years after losing his 7-year-old son Daniel in the 2012 Sandy Hook Elementary School shooting, Mark Barden kept a single memento: An old bicycle helmet that still has a few strands of Daniel's blonde hair clinging to it.
"I'll keep that (helmet) forever," Barden says in director Kim Snyder's new Sundance Film Festival documentary, "Newtown." "I still dread that every day I live I'm one day farther away from life with Daniel."
Details like that make Snyder's tender documentary riveting for anyone who watched the news in shock on Dec. 14, 2012, when 20 kids (kindergarteners and first-graders) and six educators were killed in a mass shooting at the Newtown, Connecticut, school. The film, which premiers at Sundance this month, opens with 911 tapes, recounts frantic texts between parents and speaks to peripheral witnesses to the incident, like Gene Rosen, a nearby resident who found a handful of children on his lawn that morning who'd fled the violence.
"They just kept exclaiming, 'We can't go back,'" Rosen says in the film, eyes welling with tears. "'We don't have a teacher.'"  Read more here.

Gov. Malloy to Announce Second Chance Society Proposals
Dear Honorable Elected Officials and Stakeholders,
I'm writing on behalf of Governor Dannel P. Malloy to invite you to two events tomorrow at which the Governor will announce his second chance society criminal justice reform proposals for 2016. The details are as follows:
Bail Reform Announcement
Citadel of Love
167 Barbour Street, Hartford
Thursday, January 28 – 12:30pm
Juvenile Justice Announcement
Juvenile Justice Policy and Oversight Committee (JJPOC)
Legislative Office Building, Room 1C
Thursday, January 28 – 2:15pm
Dole Salad Recalled After Listeria Kills 1, Sickens 12
Health officials have finally traced an outbreak of Listeria that sickened 12 people and killed one to a Dole facility that makes bagged salads in Ohio.
People should throw away any salad that came from the facility, the Centers for Disease Control and Prevention says.
The outbreak was last summer but consumers shouldn't take chances, CDC said.
"On January 21, 2016, Dole reported to CDC that it had stopped all production at the processing facility in Springfield, Ohio and is withdrawing all packaged salads currently on the market that were produced at this facility," CDC said.
The salads were sold under various brand names, including include Dole, Fresh Selections, Simple Truth, Marketside, The Little Salad Bar, and President's Choice. "These packaged salads can be identified by the letter "A" at the beginning of the manufacturing code found on the package,' CDC said.

Pope Francis opens foot-washing rite to women in gesture of inclusion
VATICAN CITY — In a change that quickly set the Catholic world buzzing, Pope Francis is allowing priests to wash the feet of women and anyone else in the community on Holy Thursday and not just men, as church law had previously decreed.
The reform, announced Thursday (Jan. 21), reflects Francis' own groundbreaking gesture when, just two weeks after his election in 2013, he washed the feet of young people — including women and a Muslim — at a detention center outside Rome.
The Holy Thursday rite, on the evening before Good Friday, re-enacts Jesus' washing the feet of his 12 disciples at the Last Supper.
The pope's act three years ago, like the new change, upset traditionalists who argued that the pope should follow church law to the letter; many priests, especially in U.S. parishes, have often washed the feet of women, though others continue to bar women.
Critics of the change also say the rules were written to require that only men be chosen because the disciples were all men.
The Catholic Church believes the Last Supper marks the formal institution of the all-male priesthood. So any move to diversify those whose feet are washed by the priest — who is taking the role of Jesus — could raise questions about ordination.
"This inevitably makes the all-male priesthood itself harder to understand," said Joseph Shaw, head of the Latin Mass Society, which supports the older rites. Shaw added that the pope's move "reinforces the trend which has seen priests increasingly surrounded by women during Mass."
Advocates of greater roles for women in the church, on the other hand, welcomed the change.
"This is great news, a wonderful step forward," Erin Hanna, co-director of the U.S.-based Women's Ordination Conference, told Reuters. "This means that change is possible, doors seem to be opening in the Vatican."   Read more here.
 Super Saturday – March 12, 2016
What is Super Saturday?
Super Saturday is an all-day learning event for clergy persons and lay leaders and is sponsored jointly by the CT, MA, and RI UCC Conferences.  This year, the CT Conference is hosting and the event will be held at Killingly High School on Saturday, March 12. Mark your calendars now!
Watch a Video Promo!
The Conference Office has just released a brief video about Super Saturday and you can access it by clicking on this link:http://www.ctucc.org/index.php
Our Keynote Speaker
Traci Blackmon has just emerged on the national UCC scene as a result of her recent appointment as acting executive of UCC Justice and Witness Ministries– and we are looking forward, with much anticipation, to her presence and message.
To read more about Traci Blackmon, click on this link:http://www.ucc.org/news_traci_blackmon_to_lead_ucc_justice_and_witness_ministries_10212015
About the Workshops
Lots to choose from; 45!  Here are some of the highlights: Our Conference Minister, Rev. Ken Siladi and the Minister/President of the MA Conference, Rev. Jim Antal, will be fresh off the plane (and jet-lagged!) as they present a workshop, "First Hand Report: The Middle East."  There will be a workshop for moderators and board heads in times of change; and workshops focusing on discerning and listening for God, stewardship programs, cultivating healthy church endowments, transition teams, and testing your church's vital signs. There'll be a workshop on mission trips for adults, taking church to where the people are, and skills for chaperones. And a workshop on how to make a great church web site. And one on using eBooks for your writing ministry. And a workshop entitled, "Church vs. Sports: Taking On the Over-Scheduled World," as well as one on building resilience. How about a workshop about effectively welcoming children in worship? Or creating memorable church school experiences? There's even more, but you get the picture! The value of networking and exchanging information and ideas and gaining new perspectives and inspiration is what makes this day so worthwhile!
[Oh yeah, there will be morning refreshments and lunch!]
For registration information and a form follow this link to the CT Conference web site; it's live now! http://www.ctucc.org/supersaturday/
See you on Saturday, March 12!
In partnership, Karen

Karen E. Ziel, Minister of Faith Formation and Leadership
CT. Conference United Church of Christ
860.761.7104 (office) 860.917.9541 (cell)

Hartford CDBG Funds Application Available
Good afternoon Community partners,
Applications for fiscal year July 1, 2016-June 30, 2017 Community Development Block Grant (CDBG) funds are now available!  Applications and other information are attached here and on our website  http://www.hartford.gov/grants.
Completed applications must be received at the Office of Central Grants, City Hall, 550 Main Street, Room 302, Hartford, CT 06103 no later than 3:00 pm Thursday, February 25, 2016.
Central Grants staff will hold two Public Hearing/Technical Assistance Sessions on the development of Hartford's 2016-2017 Annual Plan and an overview of program and regulatory requirements.  Staff will also discuss application topics such as alignment to the City's priorities and goals, performance measurement, organizational capacity, the relationship between the budget and budget narrative, insurance requirements and evaluation criteria.
The 2016-17 CDBG application process contains a number of updates, therefore attendance at one of the following sessions is mandatory for CDBG applicants:
Session #1

Parker Anderson Recreation Center

2621 Main Street

Tuesday, February 2, 2016 – 2:00PM

(Snow Date-Thursday, February 4, 2016)

Session #2

Hartford Public Library Main Branch

500 Main Street

Center for Contemporary Culture, 1st Floor

Wednesday, February 3, 2016 – 6:00PM

(Snow Date-Tuesday, February 9, 2016)
Kindly RSVP to me at meadm001@hartford.gov or (860) 757-9018.
Thank you.
Millicent L Meadows, Project Manager
ALL POSTS HAVE BEEN MOVED FROM THIS PAGE TO THE JUST SAYIN' TAB . CHECK OUT THIS WEEK'S STORIES AND COMMENTARY.
Men's Ministry  Monday evenings @ 5:30pm               
Calling All Men!!!
Summer Job Opportunities
The Children's Defense Fund (a national non-profit organization founded by Marian Wright Edelman) has selected CAC's Adventures in the City  program as a Freedom School® site for summer 2016. This program will serve approximately 100, low-income students in grades k-3 from Hartford's North End neighborhoods and will take place at Thirman Milner School in Hartford.
We will be hiring two site coordinators and eleven servant leader interns. These are paid positions with all- expense paid national training. The ideal candidates are college students from urban communities. The job descriptions are attached  here with instructions on how to apply.  National training begins in March so the hiring process needs to happen earlier than one might expect for summer programming. The deadline for applying is February 5, 2016.
Bank of America would like you to help us get the message out to high school juniors and seniors in Hartford about Bank of America's Student Leader Program, as it is truly a great summer internship program for high school students.  The timeline for students to submit applications for student leaders is now through January 29th. 
I am asking you to please tell any: High school juniors or seniors that either 1) attend a Hartford high school or 2) live in Hartford to consider applying to this program.
FINAL WEEK  TO  APPLY:
1)      Attached are the questions from the application to share with your students
2)      Students must apply online before January 29th. Here is the link to the online application: bankofamerica.com/studentleaders
3)      Students need 1 recommendation from either a teacher, principal or guidance counselor
This program recognizes these students as exemplary young people who have an interest in improving their neighborhoods.  In addition, each student will have an opportunity to attend a leadership seminar in Washington, D.C. in July of 2016 with other student leaders from throughout the country. To further their personal and educational growth, students will participate in an eight-week paid internship in the summer of 2016 with the Boys and Girls Clubs of Hartford and be compensated accordingly.  The program has had great success over the past few years in the Hartford community and all of the interns have enjoyed their experiences acting as counselors at The Boys and Girls Clubs in Hartford.
Here is the internet link for more information and the online application process. bankofamerica.com/studentleaders
Every year, through our Student Leaders® program we help connect community-minded high school juniors and seniors to employment, skills development and service. They're awarded paid summer internships with local nonprofits and participate in our annual Student Leadership Summit in Washington, D. C.
Student Leaders is part of our ongoing commitment to preparing young people for a brighter future. If you or someone you know have a passion for improving the community, we'll be accepting applications beginning November 2, 2015 through January 29, 2016. Click here to read our eligibility criteria and apply.
Should you have questions, please contact Nick Vazquez. Thank you.
Nicholas S. Vazquez
Vice President  Project Manager – CT & RI
Enterprise Business & Community Engagement
Bank of America
CT2-500-28-05, CityPlace I, 185 Asylum Street, fl 28, Hartford, CT 06103
nicholas.s.vazquez@bankofamerica.com
Interested in STEM, teens? Hartford Public Library has programs just for you!
YOUmedia is where teens ages 13 to 19 go to Hang Out, Mess Around, and Geek Out!
Tricia George, Director of YOUMedia & Teen Services, and Gabbie Barnes, Teen Librarian, spent the first week of January in Austin, Tex., meeting with other YOUmedia specialists from libraries, museums, and community organizations across the US. They returned to do a week of planning for the future of YOUmedia Hartford. "We are bolstering our workshop offerings to include a more structured orientation to the space for youth and additional tech workshops in graphic design, Photoshop, and Illustrator," George says.
Click here to view the YOUmedia program calendar

Opens January 30 in our Traveling Exhibit Gallery sponsored by Saint FrancisCare
Leonardo da Vinci was much more than the painter of the famed Mona Lisa. He was the original renaissance man, considered the father of invention, innovation, and creativity. His has inspired generations of engineers, architects, artists, and others in pursuit of excellence in design. Today, his legacy of creative thought is studied in the machines, drawings, and designs he has left for us to decode, construct, and to set in motion.
In this fascinating exhibit, you can experience his creativity and designs first-hand. See 40 of da Vinci's ahead-of-their-time inventions brought to life in full-scale working models, built using materials and methods the master himself would have used. You can even touch these machines and set them into motion!
For more information, click here.
Make Tracks To Railroad Hobby Show
The Eastern States Exposition in West Springfield will resemble Grand Central Terminal Saturday and Sunday, Jan. 30 and 31, as more than 25,000 train enthusiasts pack in for the Amherst Railway Society's annual Railroad Hobby Show.
The show, which has taken place for more than 40 years, is one of the nation's largest train shows. It features manufacturers, historical societies, vendors, how-to clinics and more than 50 operating train layouts ranging from tiny N scale to large G scale. Most layouts are in the most popular modeling scales, HO and N.
John Sacerdote of Bloomfield has been running the show for about a decade, and on his watch the show has grown each year. It now occupies four large buildings — nearly 9 acres — at the Eastern States grounds.
The Railroad Hobby show is at the Eastern States Exposition, 1305 Memorial Ave. in West Springfield, Mass. Hours are from 9 a.m. to 5 p.m. Saturday; and from 10 a.m. to 5 p.m. Sunday. Tickets are $14 for adults, free for children 15 and younger accompanied by an adult. $5 parking. railroadhobbyshow.com –
See more at: http://digitaledition.courant.com/tribune/article_popover.aspx?guid=03e8b9d6-d088-4f37-8adc-4330bb3f541c&t=1454000589914#sthash.Hx3REzGj.dpuf
Do You Serve Youth? Are you a Non-profit?
[The City of Hartford is] excited to continue the "Building Community Capacity" series co-sponsored by the Hartford Department of Families, Children, Youth and Recreation – Division for Youth  and the Hartford Office of Management and Budget – Central Grants Administration. This opportunity lets YOU choose how you'd like to build your capacity!
As a community working to empower all people, we must have skills as strong as our commitment. So, if any of the available trainings appeal to you, and you want to attend for FREE, we hope you'll take advantage of this special opportunity to have the City invest in your success!
Please obtain an application and send any questions to youth@hartford.gov. Decisions will be made following the 4/2/15 noon deadline. (Note: we may not respond to incomplete applications.)
Thank you for working for Hartford's youth and families!
Trish Moylan Torruella, Assistant Director  Hartford Department of Families, Children, Youth and Recreation – Division for Youth
Susan Loranger, Director     Hartford Office of Management and Budget – Central Grants Administration
By Bryan Stevenson 01-20-2016
Editor's note: The following is the foreword from Jim Wallis' new book America's Original Sin: Racism, White Privilege, and the Bridge to a New America.
Late one night several years ago, I was getting out of my car on an empty midtown Atlanta street when a man standing fifteen feet away pointed a gun at me and threatened to "blow my head off." I had just moved to the neighborhood, which I didn't consider to be a high-crime area. Panicked thoughts raced through my mind as the threat was repeated. I quickly realized that my first instinct to run was misguided and dangerous, so I fearfully raised my hands in helpless, terrifying submission to the barrel of a handgun. I tried to stay calm and begged the man not to shoot me, repeating over and over again, "It's alright, it's okay."
As a young attorney working on criminal cases, I knew that my survival required careful, strategic thinking. I had to stay calm. I'd just returned home from my office with a car filled with legal papers, but I knew the man holding the gun wasn't targeting me because he thought I was a young professional. A young, bearded black man dressed casually in jeans, I didn't look like a lawyer with a Harvard Law School degree to most people; I just looked like a black man in America. I had spent much of my life in the church. I graduated from a Christian college and was steeped in Dr. King's teachings of nonviolence, but none of that mattered to the Atlanta police officer threatening to kill me. To that officer, I looked like a criminal, dangerous and guilty.
People of color in the United States, particularly young black men, are burdened with a presumption of guilt and dangerousness. Some version of what happened to me has been unfairly experienced by hundreds of thousands of black and brown people throughout this country. As a consequence of our nation's historical failure to address the legacy of racial inequality, the presumption of guilt and the racial narrative that created it have significantly shaped every institution in American society, especially our criminal justice system.
People of color in the United States ... are burdened with a presumption of guilt and dangerousness.
While the mainstream church has been largely silent or worse, our nation has rationalized racial injustice ever since we first ignored the claims and rights of Native people, who were subjected to genocide and forced displacement.
Millions of African people were brought to America in chains, enslaved by a narrative of racial difference that was crafted to justify captivity and domination. Involuntary servitude was banned by the Thirteenth Amendment to the US Constitution, but nothing was done to confront the ideology of white supremacy. Slavery didn't end in 1865; it just evolved. Until the 1950s, thousands of black people were routinely lynched in acts of racial terror, often while many in the white community stood by and cheered. Throughout much of the twentieth century, African Americans were marginalized by racial segregation and silenced by humiliating Jim Crow laws that denied basic economic, social, and political rights.
The country made progress dismantling the most obvious forms of racial bigotry in the 1960s, but we refused to commit ourselves to a process of truth and reconciliation. Consequently, new forms of racial subordination have emerged. The complicity of the church continues to haunt us and undermine the credibility of too many faith leaders.
Read more at: https://sojo.net/articles/rationalization-racial-injustice#sthash.nD4lz0iA.dpuf
Film and race
How racially skewed are the Oscars?
FOR the 20 actors nominated for an Oscar all to be white could at best be seen as a surprise. For that to be true two years running is, to many, a scandal. While there will be no empty seats at the 88th Academy Awards ceremony on February 28th—live television does not permit such things—there may be a lot of missing faces. Confronted with what is seen as a "whitewash", many prominent black Americans are saying they will boycott the ceremony.
In fact, as our analysis of film casts and awards shows, the number of black actors winning Oscars in this century has been pretty much in line with the size of America's overall black population. But this does not mean Hollywood has no problems of prejudice. As the data show, it clearly does.
The issue has come to a head because over the past two years some films with a particular emotional resonance were passed over. The original "Rocky" (1976) won three Oscars, and Sylvester Stallone was nominated (though he did not win) for both acting and writing. Critics and fans alike have heaped praise on 2015's new addition to the Rocky franchise, "Creed", which sees a black fighter as the hero. But the star and the black director, Michael B. Jordan and Ryan Coogler, will have to make do with fans' appreciation and more than $100m at the box office: the film's only nomination went to Mr Stallone, this time for Best Supporting Actor. "Straight Outta Compton", a hit film about a black hip-hop group with a black director and producer, was nominated only for its screenplay, the writers of which were white. "Beasts of No Nation" delighted our reviewer, and fans of its star, Idris Elba, hope he will be the next James Bond. It also brought a horrifying phenomenon, child soldiering in Africa, to Western audiences. But the Academy ignored it. All this happens in the shadow of last year's nominations, in which "Selma", a film about the civil-rights movement which our reviewer found "remarkable", was nominated but did not win Best Picture, as many thought it should. Neither its director, Ava DuVernay, nor its star, David Oyelowo, were recognised by the academy.
Fingers are pointing at the Academy's 6,000-odd voting members, 94% of whom are white. Spike Lee, whose "Do The Right Thing" is considered one of the great movies not to have won an Oscar, has lamented "another all-white ballot"; Don Cheadle, who got a Best Actor nomination in 2004 for "Hotel Rwanda", has joked dryly about parking cars at the event. It is possible that the only black actor onstage will be Chris Rock, who is hosting. He has already said that the Oscars seem to have become a white equivalent of the Black Entertainment Television awards.
These years are far from the first whitewashing in Oscars history: no actors from ethnic minorities were nominated in 1995 or 1997, or in an extraordinary streak between 1975 and 1980. Throughout the 20th century, 95% of Oscar nominations went to white film stars. It is an embarrassing anachronism that the prevalence of white Academy electors has been allowed to continue into the 21st century, a trend that the Academy's (black) president, Cheryl Boone Isaacs, has vowed to end.
Read more here –  and  – here.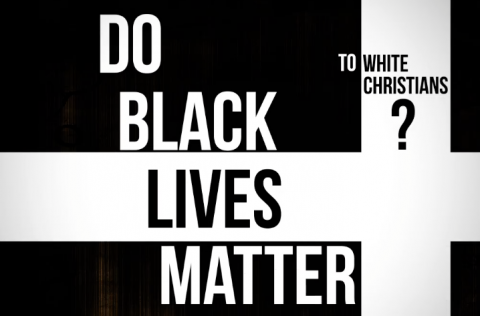 Most polls don't matter much. But this one does. A recent Public Religion Research Institute survey has revealed a devastating truth: While about 80 percent of black Christians believe police-involved killings — like the ones that killed Tamir Rice, Laquan McDonald, and so many more — are part of a larger pattern of police treatment of African Americans, around 70 percent of white Christians believe the opposite … that they are simply isolated incidents.
And before many begin disassociating with the term "white Christians," we should look deeper. The numbers include 72 percent of white evangelical Protestants, 71 percent of white Catholics, and 73 percent of white mainline Protestants. This is about all white Christians.
What's worse? Take away the moniker of "Christian" and the numbers drop to around 65 percent. White Christians are as a whole less likely to believe the experiences of black Americans than non-Christian whites. This is a shameful indictment of the church. We need to change this — and we can.
It's time for white Christians to act more Christian than white.
Watch this powerful video, and share if you agree we have a problem and want to help solve it.
Black Hospital Patients Given Cold Shoulder In Disturbing New Study
Doctors used very different body language when interacting with black and white actors who portrayed dying patients.
David Freeman      Senior Science Editor, The Huffington Post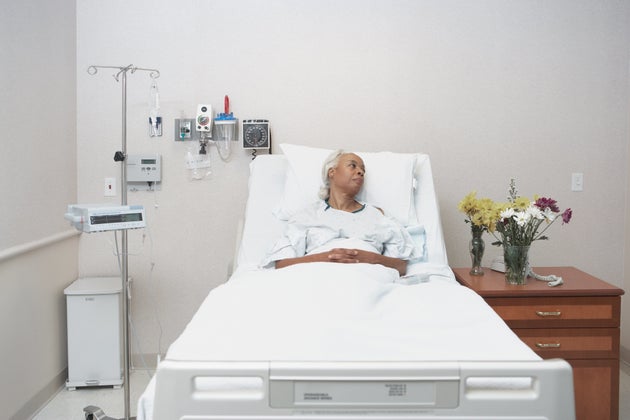 BLEND IMAGES – ERPRODUCTIONS LTD VIA GETTY IMAGES
Could the color of your skin affect the medical care you get at the end of your life?
A disturbing new study published in the January issue of the Journal of Pain and Symptom Management suggests that it might. The research shows that black actors who were asked to portray dying hospital patients received less compassionate care from real doctors than did their white counterparts. Read more here.
Dear Rev. Camp,
I hope all is well and that you had a wonderful holiday season. I am writing to inform you of opportunity to provide youth from Hartford, ages 5 to 9, with free swim lessons at the Downtown YMCA. The program is designed to mitigate youth drowning and promote physical activity. For your reference, I have attached a flyer for the upcoming session (lessons will actually begin on Monday, January 11th); subsequent sessions will be offered later this winter and throughout the spring. Our goal is to serve 500 youth from Hartford by the end of this summer.
We are hopeful that you are able to share this opportunity with your parishioners. I have copied Deirdre Brickhouse, aquatics director for the Downtown YMCA, on this email. If you believe this may be of interest to members of your church, Deirdre can provide you with registration forms and additional information.
Jeff Williams
241 Trumbull Street, Hartford, CT 06103
(P) 860 522 9622 ext 2302 (F) 860 522 1314
(E) jeff.williams@ghymca.org (W) ghYMCA.org
How would you feel if you realized your children's water was being poisoned, and your government didn't seem to care? That's the story of the parents of 8,000 mostly poor and black children in Flint, Mich., (which means most all of the children in urban Flint) that has finally hit our media front pages. The evening news I am watching as I write warns the parents of Flint not to bathe their young children in city water.
But the fact that most Americans realize this would never happen in affluent white Michigan suburbs (or any other white affluent communities in our country), still doesn't penetrate our very souls. This fundamental contrast between black and white experiences in Michigan, just north of my home town of Detroit, points to the structural racism that is still the primary moral contradiction of American life. The news about Flint is just the most recent consequence of America's Original Sin, the title of the new book we have just launched.
The poisoning of the majority-black population of the city is a product of a system failing the people of Flint on many levels over a long period of time. To really start unpacking the historical roots of the crisis, you have to go back to slavery itself, which debased the humanity and devalued the lives of black people from well before our nation's founding; followed by the Jim Crow era of legal segregation, discrimination, and violence against black Americans, which resulted in early 20th century migrations of black people from the segregated south to urban manufacturing centers of the northern United States. When they got there, they found cities without legal segregation, yet with de facto segregation and discrimination alive and well in both white attitudes and systems. The arrival and growth of black populations in northern cities was followed shortly thereafter by white flight to the suburbs, aided by discriminatory housing policies that effectively prevented the vast majority of black people from joining them and blocked the financing of black homes even in the cities.
As manufacturing jobs left cities like Detroit and Flint over the years, unemployment soared, property values declined, and the people who remained found themselves trapped in poverty in cities whose tax revenue was eclipsed by the services these cities are responsible for providing for their citizens. The result? Drastically inferior employment prospects, inferior education, both leading to higher crime, and inferior health outcomes for people of color in many urban centers across the country. Racial ghettos, it must be said and understood, have never been an accident, but are the results of public policy. This is a necessarily short but accurate explanation for a very complex confluence of systems that together represent structural racism. In my new book, I explain in greater depth how some of this came to be, the history behind it, and the moral challenge it presents especially to people of faith.Â

How A Visit To Death Row Turned This Man Into A Crusader For Justice
"All of a sudden, I knew I wanted to help condemned people get to higher ground," says Bryan Stevenson.
In December of 1983, Bryan Stevenson hadn't yet become the renowned equal justice attorney he is today. He was just a 23-year-old law student working in an internship, eager to embark on the first phase of his professional career. That's when he had a life-changing visit to see a convict on death row.
Stevenson had arrived at the Jackson, Georgia, prison all those decades ago to tell a condemned man that he wasn't at risk of execution. Though he was delivering good news, Stevenson was visibly nervous. He recalls the experience during an interview with Oprah for "SuperSoul Sunday."
America Now Thinks Serena Williams Is The Greatest Tennis Player Ever
That's as much a victory for us as it is for her.
Americans now consider Serena Williams the greatest tennis player ever and the fourth greatest athlete of all time, beating out Peyton Manning, Joe Montana and LeBron James in the latter category, according to a new Harris Poll. 
The poll, which surveyed several thousand people online between September 9 and September 17, 2015, was once again headlined by Michael Jordan, who grabbed the No. 1 slot, with Babe Ruth and Muhammad Ali rounding out the top three. Owning the No. 4 spot, however, was Williams, the only woman in this year's top 10 and the highest-seeded still-active athlete. Read more here.

Women are asked to wear something Pink beginning on Second Sunday as part of the study for Black Women's Breast Health Initiative. See Kim Hardy for details.
Why it's so hard to kick your sugar habit
(CNN)It seems like we're always being told to cut down on sugar — but for many of us, that's easier said than done.
Sugar is hard to avoid, even for people who don't consider themselves to have a sweet tooth. Even if you ignore the copious amount present where we expect to find it, like in a soda, sugar is hiding in many of our foods — even those that aren't especially sweet.
According to says Lisa Drayer, nutritionist and author of "The Beauty Diet," some breads can contain six grams of sugar per slice. Some pasta sauces may contain up to 12 grams of sugar per serving, and some low fat salad dressings, which people might associate with healthy eating, can contain 10 grams of sugar per serving.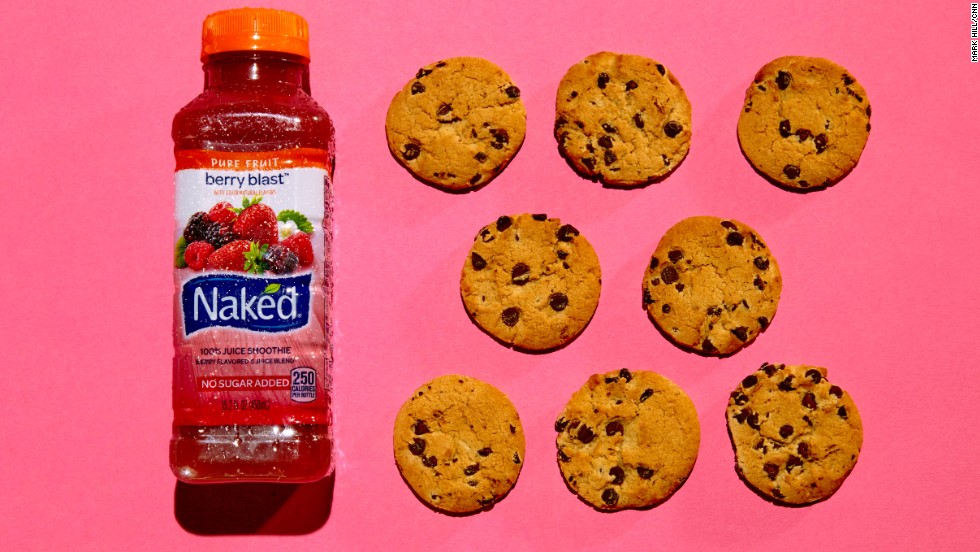 This 15.2 bottle of Naked Berry Blast has 29 grams of sugar. Each of these Chips Ahoy cookies contains about 3.6 grahms of sugar.
"I think a lot of people think that just because something is natural, it's healthy," says Drayer. "So for example, honey is natural, but it's very caloric and a lot of people might not know that a teaspoon of honey, or agave for that matter, has more calories than a teaspoon of sugar or sucrose."
Complicating matters, scientists view some sugars as worse than others.
Natural sugars are found in foods like fruit and milk, in the form of fructose and lactose. The World Health Organization (WHO) says there is no reported evidence of adverse effects from eating these sugars, and fruits and vegetables also contain vitamins, minerals and fiber.
 Added sugars, on the other hand, are included during processing or preparation of food and drinks. These provide no nutritional benefits and can contribute to weight gain and obesity. This can lead to serious problems.
"We've seen an increase in risk of heart disease, stroke, and diabetes, simply by consuming just one to two sugar-sweetened beverages each day," says Drayer.
The WHO recommends adults and children reduce their intake of added sugars to less than 10% of their daily energy intake — and says that reducing it to below 5% is even better. Although national sugar intake guidelines vary by country, the American Heart Association's daily recommendations for consumption of added sugar are a maximum of 24 grams a day for women and 36 grams for men. However, in the USA, the average adult consumes an enormous 88 grams of sugar a day.
Kicking the habit
But it's not just "hidden" sugar that's a problem. Another reason why it's so hard to cut down on sugar is that we simply love to eat it. While it's not known if sugar is actually addictive, some research shows it fires off the same reward centers in the brain as cocaine.
"It seems to induce cravings and hunger that are comparable in magnitude to addictive drugs," says Drayer.
A common indicator of addiction is if a person suffers from a loss of control. Drayer explains: "If a person is obsessing about how he or she will get their sugar fix, and they simply can't focus on anything else, and they have a psychological dependence, then I think you're probably talking about a food addiction." Get more information here.
How White Users Made Heroin a Public-Health Problem
Credit: David Ryder / Reuters
In the past, when users of the drug were disproportionately black, they faced severe punishments.
 Heroin use and abuse in America has dramatically increased over the past decade.  Between 2006 and 2013, federal records reveal that the number of first-time heroin users doubled from 90,000 to 169,000. Some of those users, no doubt, already are gone. The Center for Disease Control and Prevention  announced last month that the rate of deadly heroin overdoses nearly quadrupled between 2002 and 2013.
These troubling figures, and a spate of more recent stories and daunting statistics, have prompted officials across the country to implement bold new policies and practices designed to reduce the harm of heroin use. Although there has been some push to enhance criminal sanctions to combat the surge, much of the institutional reaction to the renewed popularity of the drug has sounded in the realm of medicine, not law.
One public official after another, in states both "red" and "blue," has pressed in recent years to treat increased heroin use as a public-safety problem as opposed to a criminal-justice matter best left to police, prosecutors, and judges. This is good news. But it forms a vivid contrast with the harsh reaction a generation ago to the sudden rise in the use of crack cocaine, and from the harsh reaction two generations ago to another heroin epidemic.
Some experts and researchers see, in the different responses to these drug epidemics, further proof of America's racial divide.
What accounts for the differences? Clearly policymakers know more today than they did then about the societal costs of waging a war on drugs, and dispatching low-level, nonviolent drug offenders to prison for decades. The contemporary criminal-justice system places more emphasis on treatment and reform than it did, say, during the Reagan years or when New York's draconian "Rockefeller laws" were passed in the 1970s. But there may be another explanation for the less hysterical reaction, one that few policymakers have been willing to acknowledge: race.
Marc Mauer, the executive director of the Sentencing Project, a group that targets racial disparities in the criminal-justice system, has been following this issue closely for decades. He agrees there is strong historical precedent for comparing the crises through the prism of race:
The response to the rise in heroin use follows patterns we've seen over decades of drug scares. When the perception of the user population is primarily people of color, then the response is to demonize and punish. When it's white, then we search for answers. Think of the difference between marijuana attitudes in the "reefer madness" days of the 1930s when the drug was perceived to be used in the "racy" parts of town, and then the 1960s (white) college town explosion in use.
It is now axiomatic that although the crack epidemic of the 1980s devastated communities of color, the legal and political responses to the crisis compounded the tragedy. Crack was an inner-city drug, a street-corner drug, a drug of gangs and guns that white America largely experienced from a distance. Powder cocaine, the more expensive version of the drug, found its way to more affluent users. The federal Anti-Drug Abuse Act, passed in 1986, imposed mandatory-minimum sentences that were far harsher on users of crack cocaine than on those found with the drug in powdered form. The Fair Sentencing Act of 2010 reduced that disparity in sentencing from 100:1 to 18:1, but that remains a striking gap.
How the Epidemic of Drug Overdose
Deaths Ripples Across America
Deaths from drug overdoses have jumped in nearly every county across the United States, driven largely by an explosion in addiction to prescription painkillers and heroin.
Some of the largest concentrations of overdose deaths were in Appalachia and the Southwest, according to new county-level estimates released by the Centers for Disease Control and Prevention.
The number of these deaths reached a new peak in 2014: 47,055 people, or the equivalent of about 125 Americans every day.
Deaths from overdoses are reaching levels similar to the
H.I.V. epidemic at its peak.
The death rate from drug overdoses is climbing at a much faster pace than other causes of death, jumping to an average of 15 per 100,000 in 2014 from nine per 100,000 in 2003.
The trend is now similar to that of the human immunodeficiency virus, or H.I.V., epidemic in the late 1980s and early 1990s, said Robert Anderson, the C.D.C.'s chief of mortality statistics.
Creddit: www.essentialhealthtalk.com
For smarter babies, pregnant women should eat more of this
Years before their children enter kindergarten, mothers can do something that will help their kids perform better in school: Eat fish.
A new study suggests that pregnant women who eat fish three times a week give their babies' brains a boost, and the effects last for at least five years.
Researchers in Barcelona, Spain, studied nearly 2,000 mothers and their children from the first trimester until the children turned 5, Reuters News Service reported. They found that the children of women who consumed the most fish performed best on cognitive tests and showed fewer signs of autism.
Moreover, there was no evidence that pollutants, such as mercury, offset the benefits, lead author Jordi Julvez of the Center for Research in Environmental Epidemiology told Shereen Lehman of Reuters.
The women in the study consumed all types of fish, including swordfish, albacore tuna, mackerel, salmon, hake and sole, as well as shellfish. During pregnancy and after delivery, their blood was tested for exposure to mercury and other pollutants.
The neuropsychological development of their children was tested at ages 14 months and 5 years.
Most of the women consumed about three servings of seafood a week — about 500 grams — during pregnancy. For each additional 10 grams of fish the mother consumed, the children's test scores improved, up to about 600 grams, or 21 ounces, after which no further improvement was detected.
The effects were most noticeable in children at age 5.  Read more here.
Environmental Racism
Humankind has so much become one family that we cannot ensure our own security unless we ensure the security of all others." – Bertrand Russell, from Simple Prosperity
"I'm not sure if my involvement in causes, benefits, marches, and demonstrations has made a huge difference, but I know one thing: that involvement has connected me with the good people: people with the live hearts, the live eyes, the live heads. – Pete Seeger, from Simple Prosperity
What You Need To Know
In 1982 the State of North Carolina chose a poor predominantly African American community for the placement of a toxic waste landfill to dispose of PCBs illegally dumped along the roadway of fourteen counties. Residents of Warren County, North Carolina enlisted the support of the United Church of Christ Commission for Racial Justice (CRJ) to engage in a campaign of nonviolent civil disobedience.
In response to this experience, and from others across the nation, the CRJ commissioned a study to examine what was perceived at the time to be the intentional placement of hazardous waste sites, landfills, incinerators, and polluting industries in communities inhabited mainly by African Americans, Hispanics, Native Americans, Asians and Pacific Islanders, farm workers and the working poor. These groups were, and still are, particularly vulnerable because they are perceived as weak and passive citizens who will not fight back against the poisoning of their neighborhoods in fear that it may jeopardize jobs and economic survival.
In releasing the findings of the 1987 study written by Charles Lee, Rev. Benjamin Chavis, CRJ Executive Director, referred to intentionally selecting communities of color for wastes disposal sites and polluting industrial facilities – essentially condemning them to contamination – as "environmental racism." He called on the United Church of Christ to be a champion working for environmental justice across the nation and across the world.
Why Is Environmental Racism an Issue of Faith?
People of faith are called to care for all of our neighbors, regardless of their race, their income level, or their life circumstances. Jesus taught us this behavior in the parable of the Good Samaritan. He was also a student of the Hebrew Scriptures where he learned to "let justice roll down like waters, and righteousness like an everflowing stream." Jesus did not discriminate or separate people into artificial groups, but rather declared that the Kingdom of God is available to all of God's children.
Racism divides people and alienates them against each other based on ethnic origin or color, and environmental racism adds an additional degree of injustice upon people or communities. Since 1987, the environmental justice movement has been trying to address inequalities that are the result of human settlement, industrial contamination and unsustainable development. Through the Environmental Justice Office, the United Church of Christ seeks to educate congregations and communities and to assist groups in organizing, mobilizing and empowering themselves to take charge of their lives, their communities and their surroundings. We also seek to address the issues of power imbalances, political disfranchisement and lack of resources in order to facilitate the creation and maintenance of healthy, livable and sustainable communities.
In the conclusions of the landmark report Toxic Wastes and Race at Twenty 1987-2007, you will read that "people of color are found to be more concentrated around hazardous waste facilities than previously shown." You will see that race matters. Place matters too. Unequal protection places communities of color at special risk. And polluting industries still follow the path of least resistance.
Climate change and global warming bring an additional peril to communities of color or poor communities all over the world. Many who live near the coasts or in lower-lying areas will be the first to feel the effects of rising temperatures and oceans. They will not have the resources to make choices that others can make and may lose their homes andtheir livelihoods and will be displaced as environmental refugees. Hurricane Katrina on the Gulf coast in 2005 was one of the most dramatic examples of what may occur in the future, as those who had no transportation or means of escaping the rising waters became refugees in their own city.
What You Can Do
The environmental justice movement is as much concerned about the environment as any of the traditional environmental groups. There is only one environment. The environmental justice movement is concerned about wetlands, birds and wilderness areas. It is also concerned, however, about urban habitats, about reservations, about the things that are happening on the US Mexican border, about children poisoned by lead in their own homes and about children playing in contaminated parks and playgrounds. The UCC is committed to keep bringing these issues to the attention of environmental groups, communities of faith, and the broader society. Here are a few suggestions about how you can become more aware of environmental racism and work for environmental justice:
Organize a group from your faith community to take a tour of your city and map the neighborhoods, commercial areas, industrial sites, and environmental hazards. Get familiar with zoning laws and urban planning, and see if your community practices any forms of environmental racism.
Organize a study group in your congregation that looks at the historic and current forms of environmental racism. Understand that discrimination is not always obvious and that it is present in social structures and local customs as much as it is present in individuals or organizations.
Attend a Justice LED or Environmental Justice workshop sponsored by the UCC and take what you have learned back to your community.
Join and support national or local organizations that seek to address environmental racism. If you belong to an organization that works to enhance the environment, help to make its members more aware of the issues and effects of environmental racism.
From http://www.ucc.org/environmental-ministries_environmental-racism
More information
A handyman at the Shiloh Commons installs a new water filter in a residence January 21, 2016, in Flint, Michigan. The city's water supply had been contaminated by lead. (Photo by Sarah Rice/Getty Images)
It's not just Flint: Environmental racism is slowly killing blacks across America
Opinion
[…] Unfortunately, Flint is not the only city where African-Americans and people of color are suffering from the onslaught of environmental racism and discrimination. Detroit schools are so heavily infested with rats, roaches and mold that more than 85 schools closed on Wednesday, as teachers staged a sickout in protest to the deplorable conditions. In Baltimore, the levels of lead poisoning among children is three times the national rate. Before Freddie Gray became a victim of racialized state violence in Baltimore, he too was a victim of lead poisoning as a young child; tests showed that his blood lead levels were as high as seven times the reference level given by the Centers for Disease Control.
Louisiana's "cancer alley;" the polluting garbage and medical waste facilities in Chester, Pennsylvania; and the crude oil plant in Richmond, California, are only but a few further examples to show that the water problem in Flint is not an isolated event — the poisoning of Black communities in America is certainly not a new phenomena. Historically and contemporarily, people of color, especially in low-income communities, have been and are continuing to be killed slowly, softly, and silently in their households, in their schools, and on their jobs with impunity – and at a greater rate than police killings and racialized state violence.
Just as with any other facet of society, physical environments are not exempt from institutional racism that also affects environmental decisions, actions and policies, which results in continued racial disadvantages and public health disparities. According to a 2012 NAACP report titled "Coal Blooded: Putting Profits Before People," communities of color disproportionately encounter toxic work conditions, environmental hazards and polluted neighborhoods. The report, which is a systematic study of 378 coal-fired plants in the United States, showed 75 of those plants earned an environmental justice grade of "F." Around those 75 failing plants, a total of four million people live within three miles of these plants, their average per capita income is just $17,500 — which is 25 percent lower than the state average.
Out of those four million people, 53 percent are people of color.
The report also found that amongst the 12 worst plants, two million Americans live within three miles of the plants' locations, having an average per capita income of $14,626.
Approximately 76 percent of these residents are people of color.
Another report by the Environmental Justice and Health Alliance for Chemical Policy Reform, Coming Clean, and the Center for Effective Government also sheds lights on the interconnectedness between race and chemical disasters. The 2014 report titled "Who's in Danger? A Demographic Analysis of Chemical Disaster Vulnerability" shows that more than 134 million Americans live within danger zones around 3,433 chemical facilities. The report also found that 3.8 million live within "fenceline" areas or zones that present greater danger; thus leaving residents near those areas less time to evacuate in an event of a chemical crisis.
In regards to black and Latino communities dwelling in these areas, the study shows that the "percentage of blacks in the fenceline zones is 75% greater than for the U.S. as a whole, while the percentage of Latinos in the fenceline zones is 60% greater than for the U.S. as a whole."
A University of Michigan study also details that minorities on average are exposed to 38 percent percent higher levels of nitrogen dioxide – which is produced by cars and construction equipment – than whites. The findings show that the exposure of increased nitrogen oxide is linked to asthma and heart attacks. According to the Centers for Disease Control, from 2001 to 2009, the greatest rise in asthma rates (a 50 percent increase) was among black children. In 2011, the asthma rate for African-Americans was 47 percent higher than it was for whites.
Approximately nine Americans die from asthma daily.
To address these racist and discriminatory environmental issues, the U.S. Environmental Protection Agency's (EPA) Office of Civil Rights (OCR) in accordance with Title VI of the Civil Rights Act of 1964, was created to "enforce federal civil rights laws that prohibit discrimination against members of the public by recipients of EPA funds, and protects employees and applicants for employment from discrimination." Over the past 14 years, African-American residents in Tallassee, Alabama, have rallied for the removal of Stone's Throw Landfill, which is filled with septic sewage, asbestos, and other toxic materials.
Snyder admitted that he was aware of the crisis for several months before the information was revealed to the public; he refused to acknowledge exactly how long it was ("I'm not sure of the specific date") and when confronted with the fact that the EPA knew in February 2015 that there were extreme levels of lead, Snyder tried to pass the blame off to them,  "I think there are issues at the EPA through the course of all this." However, nobody's buying it. Snyder has run begging for help from the federal government, which designated the area as a "federal emergency" but refused to designate it a "disaster area," as it "does not meet the legal definition of a 'major disaster'" under federal law. "The incident was not the result of a natural catastrophe, nor was it created by a fire, flood or explosion" stated FEMA Administrator W. Craig Fugate. FEMA has thus rejected Snyder's demand for $96 million in emergency funds, allotting them $5 million in emergency funds and passing the onus for more on to Congress. Read more here.
Flint Residents Told That Their Children Could Be Taken Away If They Don't Pay For City's Poison Water
ENVIRONMENT
7 Toxic Assaults on Communities of Color Besides Flint: The Dirty Racial Politics of Pollution
Don't try to tell Dr. Robert D. Bullard that the noxious water disaster in Flint, Mich., is anything but business as usual in the United States.
For 30 years, Bullard, dean of the school of public affairs at Texas Southern University in Houston, has been writing books and journal articles about environmental racism, the fact that sewage treatment plants, municipal landfills and illegal dumps, garbage transfer stations, incinerators, smelters and other hazardous waste sites inevitably are sited in the backyard of the poor.
"I see what's happening in Flint as the classic case and a poster child for environmental racism," Bullard told me. "This is a man-made disaster. It did not have to happen. And it basically tells us that the state of Michigan believes that the residents of Flint don't deserve equal protection. They don't deserve the same rights that would be enforced if they were not largely poor and majority African American."
"Unfortunately, Flint's water scandal is a symptom of a much larger disease," adds Madeline Stano, a staff attorney with the Center on Race, Poverty & the Environment in Oakland, Calif. "It's far from an isolated incident, in the history of Michigan itself and in the country writ large."
Bullard and other researchers have documented scores of examples of environmental feudalism, from California to Pennsylvania, Texas to North Carolina and across the Deep South. Read more here.

Map Hartford's Homicides
To see a map showing the locations of Hartford homicides, click here.
1 
Americans have shown broad and consistent support for expanded background checks for gun purchasers. In July, 85% of the public – including large majorities of both Republicans (79%) and Democrats (88%) – favored making private gun sales and sales at gun shows subject to background checks. There also was substantial bipartisan support for laws to prevent people with mental illness from purchasing guns.
And Pew Research isn't the only polling organization with these findings. In 2013, a number of other polling organizations found similar results about public views of background checks, asking slightly different questions. A review of more recent polls on this question finds it's still the case.
Other proposals were more contentious, however. Fully 85% of Democrats, but just 55% of Republicans, supported a federal database to track gun sales. And while 70% of Democrats favored a ban on assault-style weapons, only about half of Republicans (48%) did so.
2  Background checks have proven to be more contentious in practice than in principle. In May 2013, after the Senate rejected the Manchin-Toomey bill to extend background checks to internet and gun show sales, we found that the public was more supportive of background checks in principle than they were of the legislation aimed at achieving this goal.
At the time, 81% favored expanded background checks, while 73% wanted the background checks bill to pass. Among Republicans – especially Tea Party Republicans – support for background-check legislation was much lower than for the overall proposal: 63% of Tea Party Republicans and leaners supported expanded background checks but just 28% wanted the background-check bill to pass.
When we asked those who supported tougher background checks, but opposed the bill, to describe in their own words why they felt that way, the responses were revealing: Many voiced suspicions that the bill would go too far or that it would be a "slippery slope" toward stricter gun controls.
3 
The Republican Party holds a slight advantage over the Democratic Party in reflecting the public's views about gun control. In December 2015, 43% said the Republican Party can do a better job of reflecting their views "about gun control," compared with 37% who said the Democratic Party would do better.
There were substantial gender, race, age, education and regional differences in these attitudes. Men said the GOP better reflects their views on gun control by 46% to 34%; women were divided (40% said the Republicans and an identical percentage said the Democrats).
Adults with postgraduate degrees are the only educational group that favored the Democrats on gun control (53% Democratic Party vs. 33% Republican Party). Those with less education were either divided or said the Republican Party better reflects their views on this issue.
4
 Views of the National Rifle Association have become more politically and ideologically polarized over the course of a decade and a half. Among conservative Republicans and Republican-leaning independents, a slim share (13%) said the NRA has too much influence over gun control policy in 2015, compared with 32% who said the same in 2000. In July 2015, nearly six-in-ten (59%) said the NRA has the right amount of influence, and 23% said it has too little.
On the other hand, liberal Democrats and Democratic leaners were more likely to say in July that the NRA has too much control than they were in 2000 (68% vs. 57%).
5
  The reasons that some Americans own a gun have changed. In 1999, far more gun owners cited hunting, rather than self-protection, as the main reason they owned guns. By 2013, those attitudes had shifted: 48% said protection was the main reason to own a gun, while 32% pointed to hunting.
In 2013, gun owners overwhelmingly said having a gun in their household makes them feel safer – fully 79% expressed this view. Yet about as many (78%) said having a gun was something they enjoyed.
By contrast, most people (58%) who did not have guns in their homes said they would not be comfortable having a gun. And when asked why they would feel uncomfortable, concern about accidents was the most frequently mentioned reason.
American Deaths From Gun Violence vs. Terrorism, in One Chart
There were more than 316,000 firearm deaths between 2004 and 2013, compared to 313 terrorism deaths (no, that's not missing any zeros)

Read more: http://www.rollingstone.com/politics/news/deaths-from-gun-violence-vs-terrorism-in-one-chart-20151002#ixzz3tE397T7V

Farmer's Markets are Still Open For Business
They accept cash, WIC, SNAP and EBT. For more information: http://www.hartfordfarmersmarkets.org/.
The Billings Forge Farmers Market is Hartford's only year-round Farmers Market. The market is open every Thursday, and depending on the day, you could buy fresh picked produce, meats, jams and jellies, honey, fresh baked breads or cheese. Plus, they've got "The Tasting Table" by the Kitchen at Billings Forge.
Don't Stop Here…. Keep Reading!
Do You Know Someone Who Might Be Being Victimized? Do They Need help?
United States: 1 (888) 373-7888
National Human Trafficking Resource Center
SMS:
233733 (Text "HELP" or "INFO")
Hours:
24 hours, 7 days a week
Languages:
English, Spanish and 200 more languages
Website:
traffickingresourcecenter.org
Read one of King's most important speeches , "The Other America," here.
What's Happening in and around Hartford?
For more information on more events, click here.
Baby Grand Jazz at the downtown Hartford Public LIbrary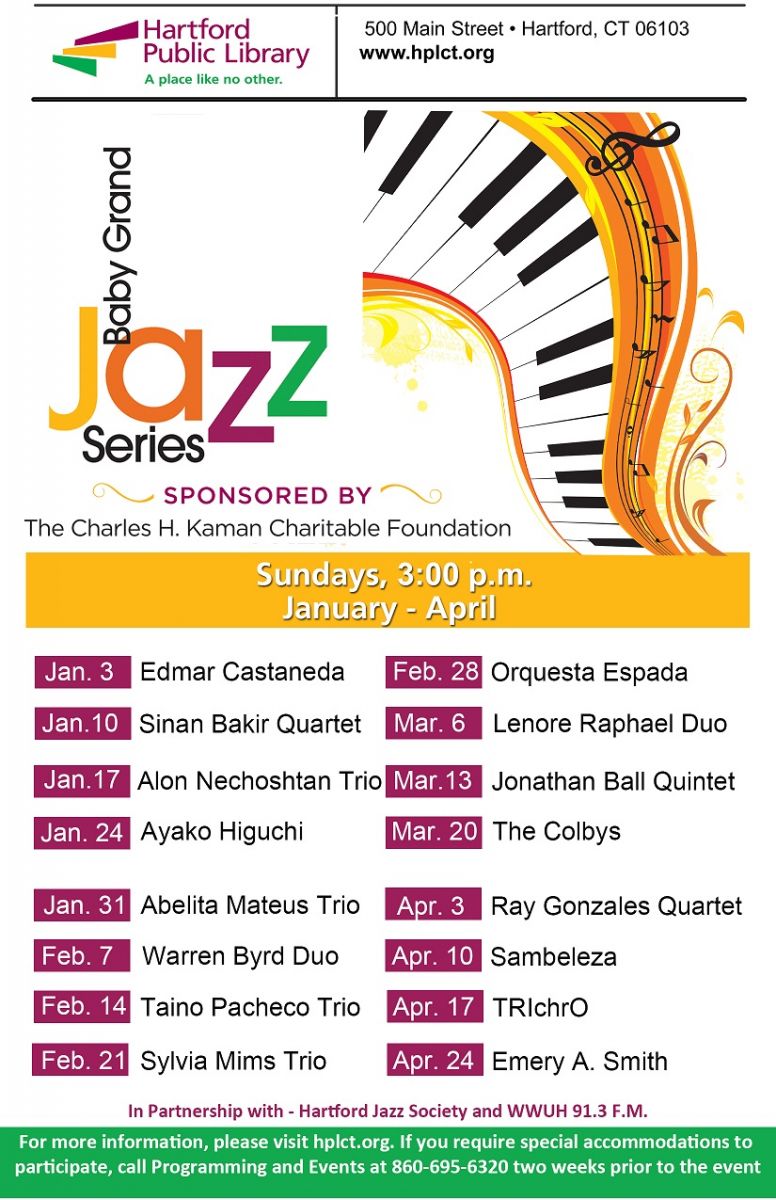 – See more at: http://hplct.org/classes-seminars-exhibits/baby-grand-jazz#sthash.3TnVqKPN.dpuf
Nursery Staffed for Sunday Services
A reminder: the nursery is available when your child is restless or unhappy during service. You may not mind your child's crying, but others would like to hear the service.
Don't forget, Girl Scout Troop 10003 meets on 2nd and 4th Sundays from 1 – 2:30pm.
On Tuesday, Wednesday, Thursday and Friday the Hartford Rescue Mission serves a free meal in Fellowship Hall. Call 860-241-0686 for information.
If you are willing and able to drive the van one Sunday per month or every 6 weeks, please let us know. See one of the deacons for details. You are needed for this important ministry.
If you can help one Sunday per month as an usher, please see Louis Alexander . All that's required is a smiling face and warm welcome to all who come into this house of worship. It's a great way to serve the church and get to know others.
Remember our Sick and Shut-ins. 
Don't forget to send a card or note.
Esther (Jackson) Kyttle                                 Wintonbury Care Center in Bloomfield
Deacon Margaret Robinson                          Hebrew Home in West Hartford
Bobby Ryles                                                       Home