Faith Congregational Church, a vibrant, inclusive Christian community working for social justice through service to God, each other and our neighbors.
Welcome to the Faith Congregational Church website. You will find exciting videos, articles, and information designed to lift your spirit and feed your desire for helpful information. Faith Church is a diverse worship community, an inclusive, justice-minded and unapologetic about our faith and our witness. We celebrate diversity, we celebrate community and we celebrate Jesus Christ. It's that simple, but be clear that there is so much more.
We invite you to explore the many ways we seek to be a faithful church in these challenging days. Ask us your questions, we like questions. Our church may be old, in fact, it is the oldest predominately black church in the city of Hartford, but our thinking is not old at all. We are affiliated with the United Church of Christ, the first mainline church in America to speak out against slavery, the first mainline church to ordain a woman and the first church to ordain a gay person into ministry in our nation. We stand on the side of justice because we want to always seek to be on the right side of history and besides that to do what we believe Jesus our elder brother and head of the church commands.
If you are in the Greater Hartford area, come worship with us. Whoever you are, you are very welcome at Faith. Now explore the website fully, come back to it often and know that we seek your prayers as we go forward in faith.
Pastor Steve
Who We Are – Where We Are Going – What We Believe!
We Celebrate Diversity
We are a church that welcomes all (and we do mean all)! No matter who you are and where you may be on life's journey, you are welcome at Faith Congregational Church. We work toward celebrating all people, young and old, Black, Brown, and White, gay and straight, rich and poor; whomever God sends we will seek to embrace.
We Celebrate Community
We are a church faith community that embraces the wider community and seeks to serve in ways we can. Faith Church is a place where the community can come to talk, to work, to grow. We will be part of the solution,  seeking to address community concerns. We will work for justice, not just us.
We Celebrate Jesus
We will celebrate the presence of Jesus Christ in our lives. We will never apologize for our love of Jesus Christ but will celebrate the faith of others and even those with no faith. For us, Jesus is the way, the truth, and the life. We will invite others to know Jesus and will share the love of Christ whenever and wherever we can.
Monday – Wednesday 9:00 – noon        860-547-0820
Our God who art in heaven, Hallowed be thy matchless name
Let Your Kingdom reign in heaven. Dwell on earth in us, the same
Give us, Lord, this day for worship; Give us manna from on high
Give us bread to serve your kingdom, Lord our name we glorify.
Lord, forgive us, free us, love us, Grant us wisdom to forgive
Lead us not into temptation; grant us grace so we can live
Evil cannot stand against us, Your deliverance we need
Bind us, Lord, in one another, We, Your church, Your love receive.
Thine the kingdom, Thine the power, Thine the glory evermore
Thine all majesty and honor tGod to you we praise, adore
You are God, You reign forever, "Sovereign Holy Lord!" we sing
Our God who art in heaven Lord, eternal King of Kings.
 (Written by Tony McNeil and dedicated to Ebenezer Baptist Church in Atlanta)
 
    Courtesy of AP: Noah Berger
Mark 13:1-8
The Destruction of the Temple and Signs of the End Times
13 As Jesus was leaving the temple, one of his disciples said to him, "Look, Teacher! What massive stones! What magnificent buildings!"
2 "Do you see all these great buildings?" replied Jesus. "Not one stone here will be left on another; every one will be thrown down."
3 As Jesus was sitting on the Mount of Olives opposite the temple, Peter, James, John and Andrew asked him privately, 4 "Tell us, when will these things happen? And what will be the sign that they are all about to be fulfilled?"
5 Jesus said to them: "Watch out that no one deceives you. 6 Many will come in my name, claiming, 'I am he,' and will deceive many. 7 When you hear of wars and rumors of wars, do not be alarmed. Such things must happen, but the end is still to come. 8 Nation will rise against nation, and kingdom against kingdom. There will be earthquakes in various places, and famines. These are the beginning of birth pains.
Marcos 13:1-8
Profecía sobre la Destrucción del Templo
13 Cuando Jesús salía del templo, uno de Sus discípulos Le dijo: "Maestro, ¡mira qué piedras y qué edificios!" 2 Y Jesús le dijo: "¿Ves estos grandes edificios? No quedará piedra sobre piedra que no sea derribada."
Señales antes del Fin
3 Y estando El sentado en el Monte de los Olivos, frente al templo, Pedro, Jacobo (Santiago), Juan y Andrés Le preguntaban en privado: 4 "Dinos, ¿cuándo sucederá esto, y qué señal habrá cuando todas estas cosas se hayan de cumplir?" 5 Y Jesús comenzó a decirles: "Miren que nadie los engañe. 6 Muchos vendrán en Mi nombre diciendo: 'Yo soy el Cristo,' y engañarán a muchos. 7 Cuando ustedes oigan de guerras y de rumores de guerras, no se alarmen; es necesario que todo esto suceda, pero todavía no es el fin. 8 Porque se levantará nación contra nación, y reino contra reino; y habrá terremotos en diversos lugares; y habrá hambres. Esto sólo es el comienzo de dolores.
Nueva Biblia Latinoamericana de Hoy (NBLH)  © 2005 by The Lockman Foundation, La Habra, California
From the Pastor's Study
Dear Faith Family and Friends:
Earl Gardner, Mark Welch, and Patricia Camp are providing a book study on White Fragility by Robin DiAngelo on
 Thursday, November 8 and 29 at
7 pm. Come and join the discussion!
On fourth Sunday November 25 we will celebrate Thanksgiving weekend together as a congregation. If you are in town we hope you will be present for worship. It will be exciting worship at Faith. Advent begins the following Sunday.
So come and be a part. Don't miss a Sunday at Faith. Great thing are happening. Visitors are welcome and members are expected.  Be blessed… Pastor Steve

To forgive is to assume a larger identity than the person who was first hurt, to mature and bring to fruition an identity that can put its arm, not only around the afflicted one within but also around the memories seared within us by the original blow and through a kind of psychological virtuosity, extend our understanding to one who first delivered it. Forgiveness is a skill, a way of preserving clarity, sanity and generosity in an individual life, a beautiful way of shaping the mind to a future we want for ourselves; an admittance that if forgiveness comes through understanding, and if understanding is just a matter of time and application then we might as well begin forgiving right at the beginning of any drama rather than put ourselves through the full cycle of festering, incapacitation, reluctant healing and eventual blessing.

---David Whyte
Need a ride to church? See Deacon Pam Walters for details and to schedule a pickup.
Want a CD of the service? See Bruce MacCullagh.
Know someone in need as we move into the holiday season? Leave a message for Pastor Steve, or with Patricia Gray or Deacon Pam.
Need stewardship envelopes? See Alice Lumpkin, Olga Callender or Barbara Wiggins -or contribute online using the "Donate" button.
Want to learn more about the Bible?
Bible study on Tuesday evening at 7 p.m

. or Sunday morning at 9 a.m.
Want to sing praises? Just come to
choir rehearsal on Wednesday evenings at 7 p.m.
Need more information?  Call the church office  860-547-0820 Monday through Wednesday mornings. Sunday service begins at 10 am.

Regular Events 
@ Faith Church
MEN OF FAITH  Men's Ministry Monday evenings @ 5:30 p.m.   Bible Study, Food and Fellowship! All men are welcome. Call Deacon Al Strother or church office for more information. Next meeting: November 26, 2018.
Don't forget, GIRL SCOUT TROOP 10003 meets on 2nd and 4th Sundays from 1 – 2:30 pm. We are really proud of our girls.

There is a seat for you on Tuesday at Bible study. We start at 7 pm. Great group, great conversation, and great learning!
We have started our Shoe box Ministry for the youth of S.A.N.D. school, so feel free to bring your shoe boxes (or "shoe box" sized plastic container) filled with items they might need (no perishables) to our next meeting. This is an ongoing project, so we appreciate your dedication!
There will also be a discussion concerning a Women's Ministry Fundraiser to benefit Faith's 200th Anniversary.
Remember, Women's Ministry dues are $50 per calendar year, so please write "Women's Ministry Dues" on your envelope and/or the note portion of your check.
The CHOIR could use your voice! It's a great way to serve at Faith Church. Wayne Dixon is waiting. Choir rehearsal on Wednesday evenings 7 pm.     
Sunday School for children has started for the fall. Join us. Volunteer for one Sunday per month. We look forward to seeing you and your children.
Nursery Staffed for Sunday Services
A reminder: the nursery is available when your child is restless or unhappy during service. You may not mind your child's crying, but others would like to hear the service.
Would you like to volunteer? We need Sunday School teachers for the fall,  a historian,  liturgists and just maybe you can think of ways that you too can help! See Pastor Steve or Patricia Hollis for details.
Forgiveness means giving up the hope that the past could be any different.

---Oprah
Remember our Sick and Shut-ins. Don't forget to send a prayer, card or note. If you don't see someone, why not call and see how they are doing?
Deacon Mamie Barnum  @ home  
Gladys Aldes @ home                    
    
Special Events 
@ Faith Church 
Snowy weather causes date change! Instead of November 15, we will meet the last Thursday in November, 11/29/18. Same time, same place. In preparation for our time together, please go to the Implicit Bias test and follow the instructions. Record your score and bring it with you.
A Sociologist Examines the "White Fragility" That Prevents White Americans from Confronting Racism
In more than twenty years of running diversity-training and cultural-competency workshops for American companies, the academic and educator Robin DiAngelo has noticed that white people are sensationally, histrionically bad at discussing racism. Like waves on sand, their reactions form predictable patterns: they will insist that they "were taught to treat everyone the same," that they are "color-blind," that they "don't care if you are pink, purple, or polka-dotted." They will point to friends and family members of color, a history of civil-rights activism, or a more "salient" issue, such as class or gender. They will shout and bluster. They will cry. In 2011, DiAngelo coined the term "white fragility" to describe the disbelieving defensiveness that white people exhibit when their ideas about race and racism are challenged—and particularly when they feel implicated in white supremacy. Why, she wondered, did her feedback prompt such resistance, as if the mention of racism were more offensive than the fact or practice of it?
Read the entire article here.  Read the book and join the discussion at Faith Church on two Thursday evenings in November – November  8th and 29th at 7pm. For more information, email Earl Gardner.
@ 
Our Conference 
Colleagues:
I am keenly aware of the challenges that you face as a pastoral leader in these times. I am so grateful for your faithfulness to the Gospel and to the ways in which you seek to live the love and justice of Jesus.
You may have seen that Sojourner's Magazine published a resource that you might find helpful as well. It is a compilation of 100 sermons and you will recognize many of the pastors who have contributed. Two CTUCC pastors, the Rev. Kari Nicewander and the Rev. George Harris are among those who have made contributions: https://sojo.net/100sermons
As you lead and as you find your way please know that the Conference staff is holding you in our prayers and stands ready to continue to find ways to provide resources and support on this critical issue of justice.
Kent Siladi
Conference Minister
READ THE ENTIRE PASTORAL LETTER HERE.
Winter is HERE.
Leaf Collection Begins – Week of November 4th
Please Do Not Rake/Blow
SCHOLARSHIP OPPORTUNITIES FOR HIGH SCHOOL STUDENTS – DEADLINE 12/7/18
Comcast NBCUniversal Launches 2019-2020 Scholarship Program for Community-Minded High School Seniors
Comcast NBCUniversal invites high school seniors to apply for the Comcast Leaders and Achievers® Scholarship Program. Comcast Leaders and Achievers are students who have been selected for their outstanding community service, academic performance, and leadership skills. The award, funded by the Comcast NBCUniversal Foundation, is a one-time, $2,500 scholarship to be used toward undergraduate education-related expenses.
Since 2001, Comcast NBCUniversal has awarded more than $30 million in scholarships to approximately 28,000 students to help them pursue higher education. For this upcoming year, scholarship guidelines allow students to self-nominate.
High school seniors that meet the eligibility requirements are encouraged to apply for the Comcast Leaders and Achievers Scholarship. If you wish to learn more about the program, please visit the application website at https://www.scholarsapply.org/leadersandachievers.  Please direct all email inquiries toleadersandachievers@scholarshipamerica.org or call 1-800-537-4180.  The application deadline is Friday, December 7, 2018 at 5:00 p.m.
The City of Hartford is currently hiring.   Click HERE for more information.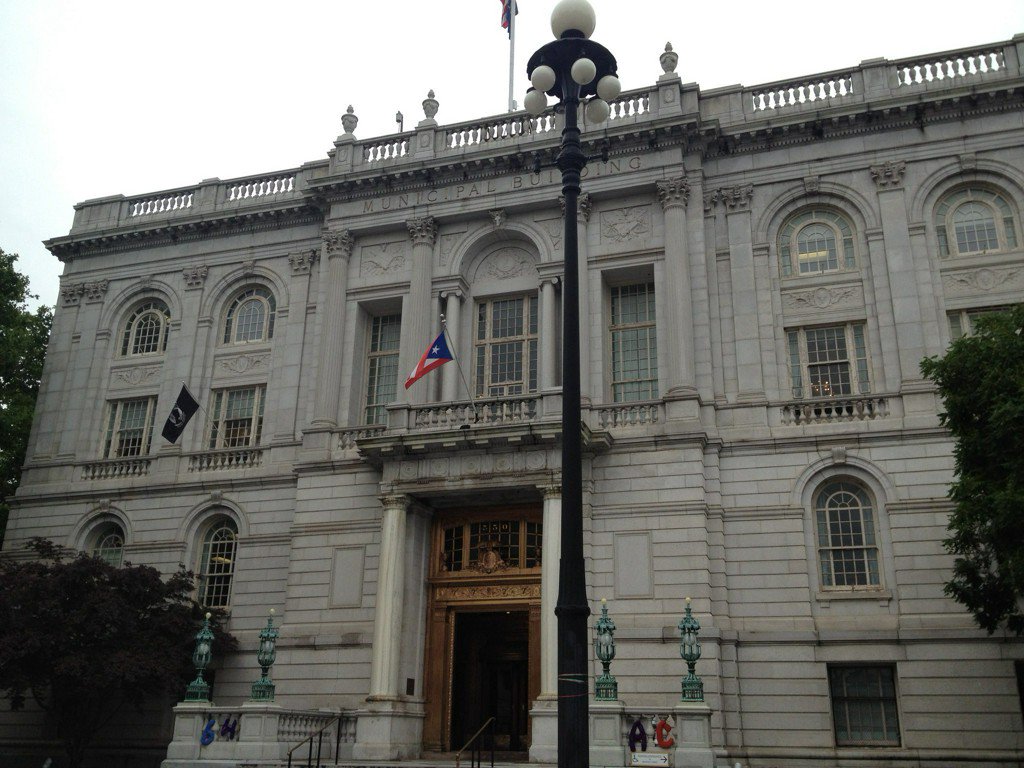 The next Council meeting will be held on Monday, November 26th at 7 PM, preceded at 6 PM by public comments.  All meetings are held in Council Chambers in Hartford City Hall, 550 Main Street, 2nd Floor.
Click Here for a Complete List of Meetings Dates & Agendas
Board of Education Meetings
Regular Meetings
November 20 – SMSA
December 18 – SMSA
January 15, 2019 – Bulkeley High School
---
Workshop/Special Meetings
November 7 – Betances
December 4 – Betances
January 8, 2019 – Central Office (960 Main St)
All workshops are held on the first Tuesday of each month at 5:30pm., and regular meetings held on the third Tuesday of each month at 5:30pm. Workshops will not be held in July and August.  *Meeting dates/locations subject to change.
Click Here for a Complete List of Meetings Dates & Agendas
Hartford Police Department – November Public Comstat
Thursday, November 29, 2018
5:30pm
253 High St.
The Hartford Police Department will be holding another public Comstat meeting. Our meeting will take place in the Hartford Police Department Comstat room at 5:30 pm. We feel strongly about sharing our information with our community. We are opening our doors for you to see what current crime trends our city is experiencing, along with our predictive and preventative efforts. Our Comstat program is a dynamic and informative presentation and discussion. Your ideas, questions and energy are welcomed. Community conversations are encouraged.We are always seeking public input. Please take this opportunity to assist us in our efforts to better serve and protect our city. Please consider attending.
There is plenty of parking in the vicinity. Officers will be on sight to assist and escort you inside HPD.
Coming Soon! CRT will be soliciting contractors to support its statewide Weatherization Assistance Program to help make nearly 700 homes more energy efficient across Connecticut. Get details on CRT's website: http://bit.ly/CRTrfps
The Community Renewal Team (CRT) manages the Weatherization Assistance Program (WAP) contract by the Connecticut Department of Energy and Environmental Protection (DEEP) and the supplemental weatherization barrier removal contract to provide weatherization services to income-eligible residents in Connecticut.
To help fulfill this contract, and to provide much-needed weatherization services that will help people make their homes more comfortable and energy efficient, CRT will soon be seeking Requests for Proposals (RFPs) from qualified and licensed HVAC, weatherization, and environmental contractors throughout Connecticut to support the implementation of its Weatherization Assistance Program to serve nearly 700 homes across the state.

Like Jazz? Want to Keep Up With What's Happening?
You can add the Hartford Jazz Society's events to your calendar automatically HERE.
Open Call for the 2019 Baby Grand Jazz Series
We are now accepting submissions for our 2019 Baby Grand Jazz Series!  The 16th Annual Baby Grand Jazz Series, sponsored by the Kaman Foundation, will feature dynamic jazz bands from around the region and runs 16 Sundays from January through April 2019.  The free, hour-long concerts are held at the Downtown Library at 500 Main St from 3-4 pm. They are presented in partnership with the Hartford Jazz Society and WWUH 91.3 FM.    Go to hplct.org for more information.
Travelers Chorale Holiday Program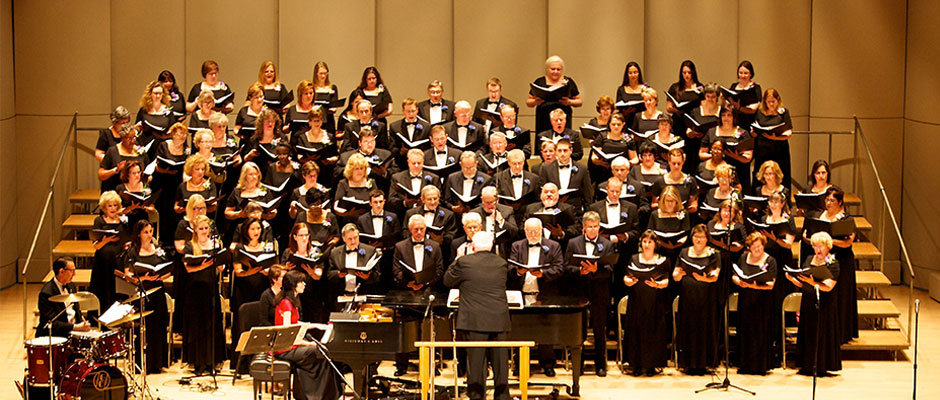 The Travelers Chorale will be performing their annual holiday show on December 6, 2018 at  7:30 p.m. at the Bushnell in Mortensen Hall. Admission is free, and they welcome your non-perishable food donation to local food banks. Can you find Patricia Gray in this picture? (Hint: she's on the left side near the back!)

African American Literature Book Club – New Members Welcome Hartford Public Library
It was a dark and stormy night – Tuesday, October 2, but that didn't stop the African American Literature Book Club from gathering at HPL Downtown – a lively discussion was held on James Baldwin's Another Country – led by Martey Rhine – the book group was started and is organized by Carolyn Korber – they meet the first Tuesday of the month here at HPL Downtown if you are interested in joining contact Carolyn at
cjkorber@gmail.com.

Want to see Hamilton at the Bushnell?
There will be a lottery for Hamilton with limited $10 tickets available for all public performances. Details on the lottery will be announced closer to the engagement. Join The Bushnell eClub for updates/details on the lottery and other information.
IMPORTANT CONSUMER ALERT: Bushnell.org or tickets.com is the ONLY official ticketing site for The Bushnell and its December 2018 engagement of HAMILTON. If you want to be assured your tickets are valid and that you pay the face value price, you must purchase through bushnell.org or tickets.com. The Bushnell is not affiliated nor do we cooperate with any resellers and can't confirm the validity or stand behind tickets purchased from broker/reseller sites. The Bushnell cannot authorize third party Will Call ticket pick up.
For more information, click here.
Live in Hartford? Get Your Free Tickets Today!
Hartford residents who are Hartford Public Library cardholders can now reserve up to 2 free tickets to plays at Hartford Stage as part of our new partnership.
Each of the seven branches of Hartford Public Library will have a two-ticket pass per eligible show. Patrons can check online to see where passes are available, but they must ask for them in person at any of the seven Library locations.
Once you have reserved the tickets at a Library branch, you must confirm the seats by calling the box office at Hartford Stage, 860-527-5151.
Faith is celebrating its 200th anniversary. Every Month is Faith History Month Because Faith History IS American History
Citizens of Color, 1863-1890:
Black society after the Civil War
In the nineteenth century, there were five Black churches. That number was probably due more to the variety of beliefs than a reflection of the number of Black neighborhoods in Hartford.
According to the Hartford Black History Project, "Although the Front Street Black Neighborhood was not the oldest, its Talcott Street Congregational Church (the "African Church") built in 1823 is the first Black Church in the city. The Black population in Hartford until then relied on the white churches if they went to church at all. One suspects that the Talcott Street Church probably arose as a result of the formation of a sense of Black community in Hartford, for it was not only associated with the riot of 1835, but later with the abolitionist movement in the Black community. So, while the Park River Black Neighborhood was probably older, it was perhaps socially less viable than the Front Street Black Neighborhood that arose near all the shipping activity along the Connecticut River."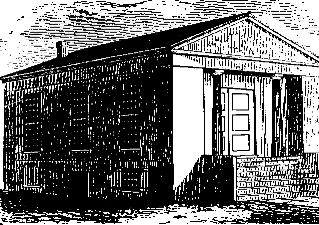 The other primary "African" church in Hartford was the American Methodist Episcopal Zion Church (African), which was established in 1836 at 269 Pearl Street to serve the needs of the nearby Park River Black Neighborhood. In 1857 the church was rebuilt at 91 Pearl Street. The building shown in this lithograph from Geer's Hartford Directory (Connecticut Historical Society Library) is identified as the new church, but on architectural grounds it seems more likely to be the original building of 1836. It was built for $6000 and could seat 445 people. Although it might seem modest today, it was at the time among the City's major constructions.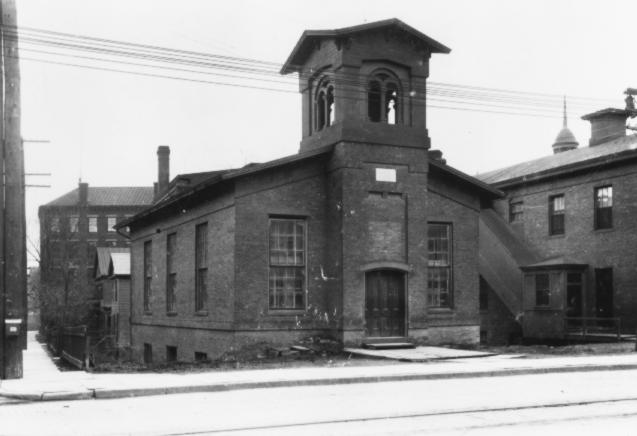 Here in fact is the new A.M.E. Zion church, but in the Italianate style one might expect for 1857. It stood at the southwest corner of Pearl and South Ann Street, right at the northern edge of the old Park River Black Community. At the left of the photo we look south down Ann Street, which ended a block away at the Park River. So we would be looking right into Hartford's oldest Black community, except that by the time this picture was taken in June 1898, the entire neighborhood had been displaced and the church was being relocated to North Main Street. The building seen to the right of the church was the fire department which now occupies the land on which stood the church.
We associate the Baptist religion with the wave of southern migration, and indeed, Shiloh Baptist (not at its present location) was established in 1889. Thanks to the first wave of migration, it became the largest Black Church in Harford and prospered around the time of World War I. The Union Baptist Church, was built on Mather Street a little earlier in 1871. Further investigation might show that while the target of the first wave of southern migration was the Windsor Street Neighborhood, it grew to include the early settlement near Mather Street and what had been called "Nigger Lane." There was also built on Mather Street St. Monica's Episcopal Church in 1912. The absence of an earlier church in the area might be because folk went to the Talcott Street Church, which was closer.
Holdridge Primus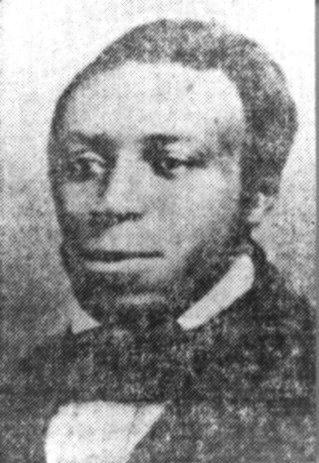 The Primus family can be traced back to a Black freeman, simply named Primus, who was servant and apprentice of a Dr. Wolcott in the mid-18th century East Windsor area. He went on to become a doctor himself. One of his immediate descendents was the sailor, Ham Primus, whose service was so outstanding he gained a status rare for Blacks: American citizenship. He married Temperance Asher, and their children were an important part of Hartford's early Black community. Holdridge Primus was one of their children. This is a photo of him from the article, "The Colored People Who Live in Hartford," in the Hartford Courant of 24 October 1915.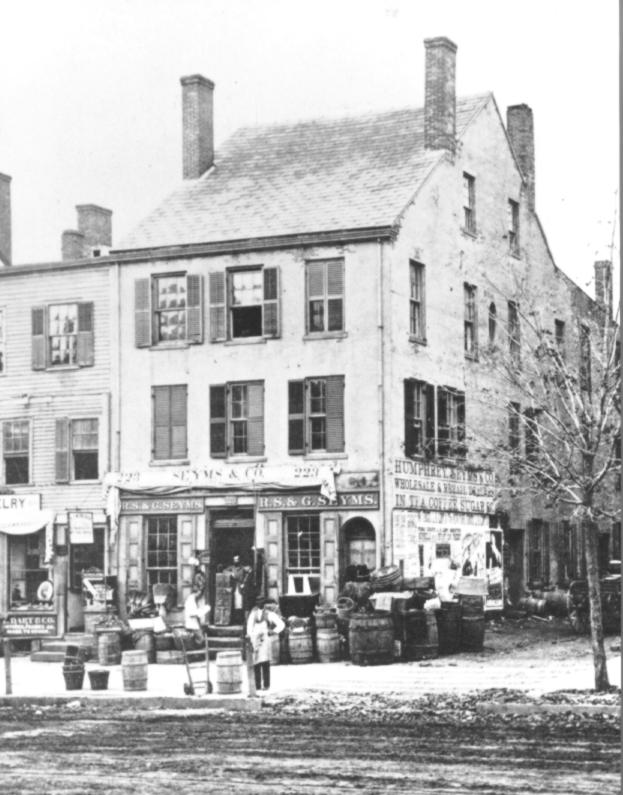 Holdridge was employed as a clerk at Humphrey and Syms, which sold sugar, coffee and tea, during much of his life and eventually became a silent partner. Here he can be seen standing in the light snow in about 1860 in front of the store (Connecticut Historican Society Museum). He married Mehitable Jacobs, a dressmaker and a founder of the Talcott Street Congregational Church. By 1850 the couple had acquired a home at 20 Wadsworth Street, and were considered wealthy for a Black family.

Among their four children was Rebecca, who was a Maryland schoolteacher with the Freedman's Bureau, where she sought to advance the condition of Black people. When she returned to Hartford she married a Charles Thomas and fell into obscurity, but continued to teach at the Talcott Street Church school.
Read more history of Hartford's African American community and Faith Church HERE.
Want to go to the Smithsonian National Museum of African American History & Culture?
Our own Pennington Bible is on loan to the museum and on exhibit.
Same-Day Online
Same-day timed entry passes are available online beginning at 6:30 a.m. ET daily until they run out. Same-day passes are not available via phone.   CHECK SAME-DAY AVAILABILITY
Advance Online
Advance timed entry passes for individuals are released monthly. Advance timed entry passes for individuals are released on the first Wednesday of each month.  The next day for passes to be released will be December 5.   Passes go very quickly when released.
Every Month is Women's History Month Because Women's History IS Everyone's History
Votes for Women means Votes for Black Women
In the lead-up to the 100th anniversary of women gaining the right to vote, images from the 1913 Suffrage March on Washington, DC. have begun to make their rounds on social media. In the wake of the 2017 Women's March, news outlets and bloggers drew visual and ideological comparison between the crowds packing Pennsylvania Avenue. Yet photographs do not tell the entire story. While African American women participated in the march, they are almost entirely absent from event photographs. This is not by accident. Both then and now, African American women have been erased from the narrative of women's suffrage in America.
Since the mid-19th century, African American women fought for the right to vote while facing discrimination from white suffragists who did not want their movement associated with women of color. Carrying, as suffragist and African American activist Mary Church Terrell said, the "double burden" of Blackness and womanhood, African American women approached the suffrage movement with different objectives than their white counterparts. Painfully aware of the restrictions on Black male voting in the south and the social, political, and economic challenges facing their communities, Black women saw their enfranchisement as an opportunity for community uplift as well as personal recognition of citizenship.
In The Crisis, Du Bois challenged suffrage leaders' racist actions. When the National American Woman Suffrage Association ( NAWSA) president Shaw claimed in 1911 that "all Negroes were opposed to woman suffrage," Du Bois opposed the "barefaced falsehood" and criticized the organization for its poor outreach to Black communities. When Shaw responded, claiming that Blacks were not discriminated against in NAWSA, Du Bois countered with instances of discrimination at the most recent annual meeting. Yet Du Bois encouraged his readers to support the movement, despite its obvious shortcomings. "We tend to oppose the principle [of women's suffrage] because we do not like the reactionary attitude of most white women toward our problems. We must remember, however, that we are facing a great question of right in which personal hatreds have no place," Du Bois wrote in 1915. Editorials in The Crisis not only named and shamed suffrage leaders who did not support women of color but warned its readership of regressive views from an otherwise progressive movement.    Read the entire article HERE.
Every Month is Black History Month Because Black History IS American History
U.S. House seats Eliza Jane Pratt, May 25, 1946
@ Justice
Health Care for All is Justice for All

Medicare / Medicaid
Did you know that the open enrollment period for Medicare is from October 15 – December 7? For more information about Medicare, click HERE. At the official Medicare website, if you are on Medicare you can compare plans and make decisions about your coverage. If you belong to AARP, they provide information HERE.  If you don't qualify for Medicare, you might qualify for Medicaid. Click  HERE for more information about our HUSKY health plans.
https://www.yummly.com/recipes/breakfast-burrito
Are You Eating Breakfast?
According to the website WEbMD, the basic formula for breakfast is to pair carbs with proteins. The carbs give your body energy to get started and your brain the fuel it needs to take on the day. Protein gives you staying power and helps you feel full until your next meal.
"Eating breakfast helps keep your blood sugar steadier throughout the day, whether you have diabetes or not. For people with normal glucose test results, this might help you avoid insulin resistance, which can lead to diabetes. Drops and spikes in your blood sugar can also affect your mood, making you more nervous, grumpy, or angry," they write.  If you have diabetes, "Don't skip breakfast," says Osama Hamdy, MD, PhD, with the Joslin Diabetes Center. He says when people with diabetes miss their morning meal, they're more likely to get low blood sugar, also called hypoglycemia. Read more HERE.  Get high protein low carb recipes HERE.   Get breakfast burrito recipes HERE.
Are Your Meds Raising Your Blood Sugar?
If you have diabetes, you probably know some of the things that cause your glucose to go up. Like a meal with too many carbohydrates, or not enough exercise. But other medicines you might take to keep yourself healthy can cause a spike, too.  Here are some possibilities:
Drugs that treat high blood pressure, such as beta-blockers and thiazide diuretics
Statins to lower cholesterol
Adrenaline for severe allergic reactions
High doses of asthma medicines
Check with your doctor about all medications you take, both prescription and over the counter. Don't forget supplements, too! Read the entire article here.

How to be Happier – Every Day!
Surround yourself with nurturing family and friends
Remember, your job is NOT your family
Count your blessings
Live each day as it comes
Learn to forgive
Get some exercise
Free Stuff
Freebooksy.com
sends a daily email with free ebooks for the day. If you read books on a Kindle, Nook, tablet, phone, or laptop, you may fund this useful and cost-effective. 
Go HERE to find free dental care.
  Gun Violence
As of September 8, 2018,  there have been 18 murders in Hartford, a 10% drop from this time last year.  For current crime statistics, click here.  There were 29 homicides in Hartford in 2017, up from 14 in 2016. Twenty-three involved firearms. To see a map showing the locations of Hartford homicides, click here.
No other developed nation comes close to the rate of US gun violence. Americans own an estimated 265 million guns, more than one gun for every adult.
Data from the Gun Violence Archive reveals there is a mass shooting – defined as four or more people shot in one incident, not including the shooter – nine out of every 10 days on average. Click HERE for an interactive map.
 Criminal Justice
America's Other Family Separation Crisis
Sending a mother to prison can have a devastating effect on her children. Why, then, do we lock so many women up?
By Sarah Stillman  writing in Newyorker.com
She writes, "America imprisons women in astonishing numbers. The population of women in state prisons has increased by more than eight hundred per cent in the past four decades. The number of women in local jails is fourteen times higher than it was in the nineteen-seventies; most of these women haven't been convicted of a crime but are too poor to post bail while awaiting trial. The majority have been charged with low-level, nonviolent offenses, such as drug possession, shoplifting, and parole violations. The result is that more than a quarter of a million children in the U.S. have a mother in jail. One in nine black children has a parent who is, or has been, incarcerated."
Stillman states, "Earlier this year, hundreds of thousands of people protested America's policy of separating migrant children from their parents at the southern border. Laura Bush denounced the practice as "cruel," and Senator Jeff Flake called it "un-American." In May, Kirstjen Nielsen, the Homeland Security Secretary, defended the separations by noting how often the same thing happens to families in the criminal-justice system. "In the United States, we call that law enforcement," she said."
Stillman sets out the health and social consequences of incarcerating mothers. "For the children of incarcerated parents, the toll can be profound. The U.S. Department of Health and Human Services has shown that these children have an increased risk of mental health conditions, including anxiety and depression. In adulthood, they have higher rates of asthma, migraines, high cholesterol, and H.I.V./aids, and are more likely to use illicit or prescription drugs. The economic effects are equally devastating. Adolescent boys with an incarcerated mother are twenty-five percent more likely to drop out of school, and have a higher chance of ending up incarcerated themselves."
Read the entire article HERE.
Where do people go when they get out of prison?
Oklahoma now has the highest incarceration rate in the U.S., unseating Louisiana from its long-held position as "the world's prison capital." By comparison, states like Massachusetts and New York appear progressive, but even these states lock people up at higher rates than nearly every other country on earth.
A new report from the Prison Policy Initiative, States of Incarceration: The Global Context 2018, compares U.S. states to 166 countries on incarceration, illustrating how every U.S. state relies too heavily on prisons and jails to respond to crime. A companion report released today compares states to countries in their incarceration of women.  Read the entire article here.
Jesus said, "But I tell you that men will have to give account on the day of judgment for every careless word they have spoken. For by your words you will be acquitted, and by your words you will be condemned" (Matthew 12:36–37)
Watch Beto O'Rourke on NFL protests
Watch President Obama's Mandela Day speech
Watch Oprah's Golden Globes speech
Watch President Obama's farewell speech.