Faith Congregational Church, a vibrant, inclusive Christian community working for social justice through service to God, each other and our neighbors.
Welcome to the Faith Congregational Church website. You will find exciting videos, articles, and information designed to lift your spirit and feed your desire for helpful information. Faith Church is a diverse worship community, an inclusive, justice-minded and unapologetic about our faith and our witness. We celebrate diversity, we celebrate community and we celebrate Jesus Christ. It's that simple, but be clear that there is so much more.
We invite you to explore the many ways we seek to be a faithful church in these challenging days. Ask us your questions, we like questions. Our church may be old, in fact, it is the oldest predominately black church in the city of Hartford, but our thinking is not old at all. We are affiliated with the United Church of Christ, the first mainline church in America to speak out against slavery, the first mainline church to ordain a woman and the first church to ordain a gay person into ministry in our nation. We stand on the side of justice because we want to always seek to be on the right side of history and besides that to do what we believe Jesus our elder brother and head of the church commands.
If you are in the Greater Hartford area, come worship with us. Whoever you are, you are very welcome at Faith. Now explore the website fully, come back to it often and know that we seek your prayers as we go forward in faith.
Pastor Steve
Who We Are – Where We Are Going – What We Believe!
We Celebrate Diversity
We are a church that welcomes all (and we do mean all)! No matter who you are and where you may be on life's journey, you are welcome at Faith Congregational Church. We work toward celebrating all people, young and old, Black, Brown, and White, gay and straight, rich and poor; whomever God sends we will seek to embrace.
We Celebrate Community
We are a church faith community that embraces the wider community and seeks to serve in ways we can. Faith Church is a place where the community can come to talk, to work, to grow. We will be part of the solution,  seeking to address community concerns. We will work for justice, not just us.
We Celebrate Jesus
We will celebrate the presence of Jesus Christ in our lives. We will never apologize for our love of Jesus Christ but will celebrate the faith of others and even those with no faith. For us, Jesus is the way, the truth, and the life. We will invite others to know Jesus and will share the love of Christ whenever and wherever we can.
Monday, Wednesday & Friday  9:00 – noon        860-547-0820
Philippians 4:6-7
6-7 Don't fret or worry. Instead of worrying, pray. Let petitions and praises shape your worries into prayers, letting God know your concerns. Before you know it, a sense of God's wholeness, everything coming together for good, will come and settle you down. It's wonderful what happens when Christ displaces worry at the center of your life.
Filipenses 4:6-7
6 Por nada estén afanosos; antes bien, en todo, mediante oración y súplica con acción de gracias, sean dadas a conocer sus peticiones delante de Dios. 7 Y la paz de Dios, que sobrepasa todo entendimiento[a], guardará sus corazones y sus mentes en Cristo Jesús.
From the Pastor's Study
Dear Web friends,
       Please know that the time has come for retirement and for me to move on from the employ and ministry of Faith church. These eleven years have been both challenging and rewarding. We have accomplished some significant moments of service and we hope helped a few people and situations along the way.
            I am grateful to our webmaster, Patricia Camp, for her tireless work on the Faith Church website. With nearly 3 millions "hits" to the site, it let us know that we were providing useful and relevant information for your faith and your daily life. We are hopeful that the work will continue long after our departure.
            If you live in the Hartford area, we do hope that you will personally visit Faith Church. It is an engaging and warm, welcoming place and you would be welcome in the place as a worship community. Again thank you for your support of the site over the years. May you be blessed and see yourself as blessed each day. 
Pastor Steve
Don't forget,  the annual meeting is  January 26, 2020 immediately after worship service. 
Our God who art in heaven, Hallowed be thy matchless name
Let Your Kingdom reign in heaven. Dwell on earth in us, the same
Give us, Lord, this day for worship; Give us manna from on high
Give us bread to serve your kingdom, Lord our name we glorify.
Lord, forgive us, free us, love us, Grant us wisdom to forgive
Lead us not into temptation; grant us grace so we can live
Evil cannot stand against us, Your deliverance we need
Bind us, Lord, in one another, We, Your church, Your love receive.
Thine the kingdom, Thine the power, Thine the glory evermore
Thine all majesty and honor tGod to you we praise, adore
You are God, You reign forever, "Sovereign Holy Lord!" we sing
Our God who art in heaven Lord, eternal King of Kings.
Written by Tony McNeil and dedicated to Ebenezer Baptist Church in Atlanta, and sung to the tune "Nettleton/Come Thy Fount."
Are you tired of bad news? Impeachment? Murder and mayhem? Try Good Black News for information that makes you feel good.
@ Faith Folks
Gov. Lamont announces first leader of new paid family and medical leave program
In the equivalent of a $400 million start-up CEO, Andrea Barton Reeves was named Thursday as the first leader of the new authority overseeing the state's paid family and medical leave program.
Barton Reeves was selected from a large and talented field that was eventually narrowed down to seven finalists who had in-depth interviews for the job.
Gov. Ned Lamont made the announcement at a news conference that Reeves had been chosen by the board of directors of the Paid Family and Medical Leave Insurance Authority, which was recently created as part of a broader bill on the issue. She has been working since 2013 as the chief executive officer and president of Harc, Inc., a large service provider for those with intellectual disabilities. Its main office is on Asylum Avenue in Hartford, not far from the state Capitol.
@ Alt-Religion from NBC
Pope Francis names first woman to senior Vatican diplomatic post
https://www.google.com/url?sa=i&source=images&cd=&ved=2ahUKEwj5hoiC_ZDnAhVph-AKHQHnB00Qjhx6BAgBEAI&url=https%3A%2F%2Fnews.theceomagazine.com%2Fworld-news%2Fvatican-first-woman%2F&psig=AOvVaw2qLpjXhe6rVkaO3TfM7Jsl&ust=157956837254162
Italian lay woman and lawyer Francesca Di Giovanni, 66, will assume the newly-created post in a division known as the Section for Relations with States where she takes the rank of under-secretary, effectively one of two deputy foreign ministers.  The Roman Catholic Church allows only men to be ordained as priests and women have traditionally been consigned to the shadows of its administration.  However, women's groups, including the International Union of Superiors General (UISG), an umbrella group of Catholic nuns, have long called on the pope to appoint more females to senior jobs within the Vatican bureaucracy.
United Methodist Church looks to split over LGBTQ issues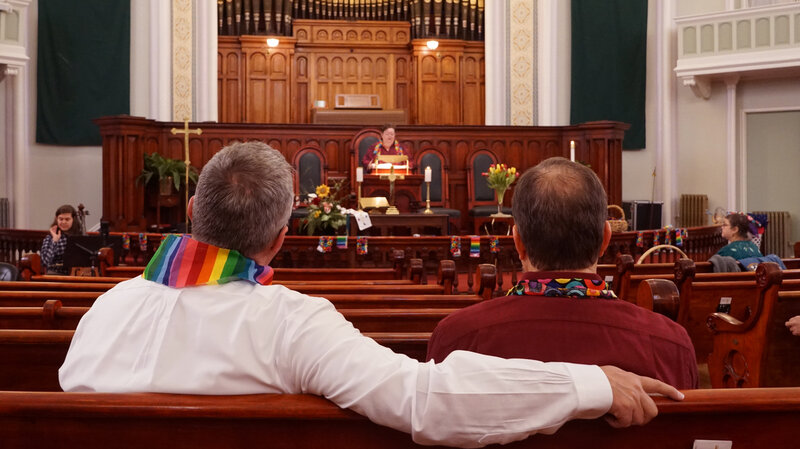 The United Methodist Church has proposed splitting into separate entities in order to resolve long-standing disagreements over the issues of same-sex marriage and the ordination of gay clergy, according to a statement shared Friday by the United Methodist Council of Bishops.  The separation proposal will be voted on at the May general conference in Minneapolis. As it stands now, the UMC is the third largest U.S. religious denomination with 13 million faithful. 
Pope Benedict no longer listed as co-author of new book
Retired Pope Benedict XVI sought to distance himself from an upcoming book that deals with the issue of priestly celibacy and asked that he no longer be listed as its author, his co-author, Cardinal Robert Sarah, said Tuesday.
A French newspaper published excerpts from the book over the weekend, angering some Roman Catholic scholars who said Benedict risked destabilizing the incumbent pope, Francis. Benedict announced his decision to resign in February 2013, citing the physical and psychological strains of the papacy. Francis was elected the following month. At the time of his resignation, Benedict pledged to stay "hidden from the world" in prayer and isolation.
The president's meager support among African Americans has shown few signs of increasing from the 6% of black voters he won in 2016, according to a Pew Research Center analysis. The president's standing with black evangelical Protestants is similarly low. According to AP VoteCast, about 8 in 10 black evangelicals who voted in the 2018 midterm elections disapproved of his performance.  But that isn't stopping the campaign from trying to make inroads, hoping to persuade African Americans to back a president known for racially provocative rhetoric. The campaign's visit to First Immanuel suggests that, as tough as that pitch will be for the GOP, faith-based appeals may provide a valuable way to start the conversation.
Muslim millennial's site dispels stereotypes for millions
"Being bombarded with those headlines growing up and never feeling represented by them, I did what any millennial would do, which was to turn to social media," Al-Khatahtbeh said. "I decided to put my own place out there and create that space for us to talk back." Read more  HERE.
@ Our History
DO YOU KNOW YOUR personal HISTORY? AFRICAN AMERICAN GENEOLOGY RESOURCES
@ History & Culture
Want to go to the Smithsonian National Museum of African American History & Culture?
SAME-DAY ONLINE
Same-day timed entry passes are available online beginning at 6:30 a.m. ET daily until they run out. Same-day passes are not available via phone.   CHECK SAME-DAY AVAILABILITY
ADVANCE ONLINE
Advance timed entry passes for individuals are released monthly. Advance timed entry passes for individuals are released on the first Wednesday of each month.  Passes go very quickly when released.
Want to take a road trip?
African American Museum in Philadelphia, PA
National Underground Railroad Freedom Center in Cincinnatti, OH
Negro Leagues Baseball Museum in Kansas City, MO
National Civil Rights Museum in Memphis, TN
International Civil Rights Center and Museum iin Greensboro, NC
Tuskegee Airmen National Historic Site in Tuskegee, AL
Northwest African American Museum in Seattle, WA
National Center for Civil and Human Rights in Atlanta, GA
The Legacy Museum  in Montgomery, AL
Birmingham Civil Rights Institute in Birmingham, AL
DuSable Museum of African American History in Chicago, IL
National Memorial for Peace and Justice in Montgomery, AL
Every Month is Women's History Month Because Women's History IS Everyone's History
'Clemency'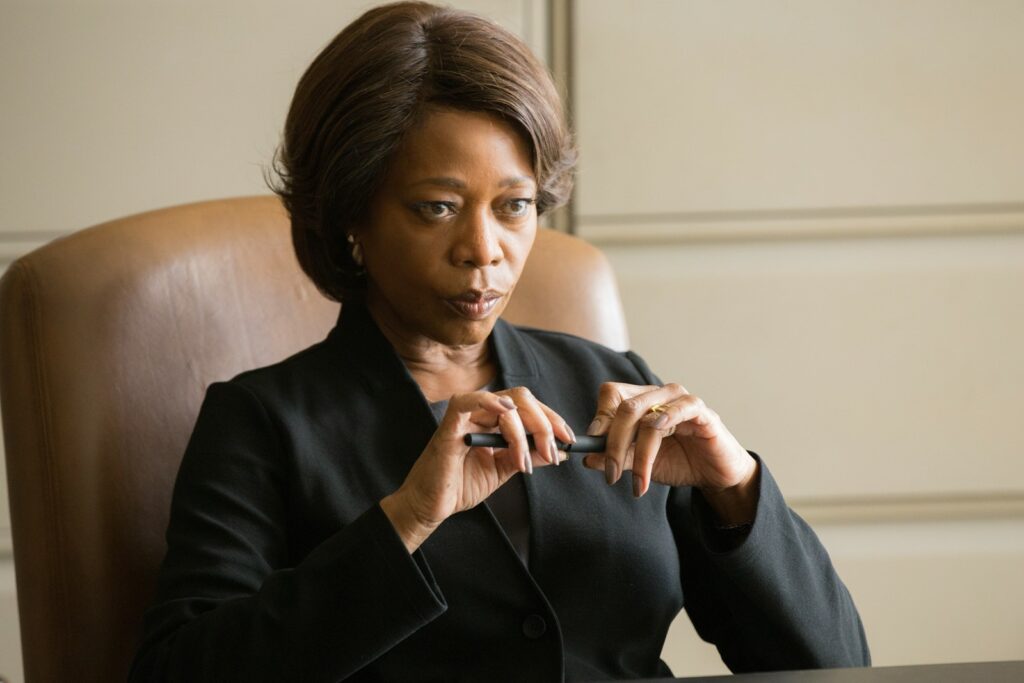 In Chinonye Chukwu's "Clemency," Alfre Woodard plays a death-row prison warden. (NEON)
By Justin Chang     Los Angeles Times
In "Clemency," Chinonye Chukwu's gripping new movie, Alfre Woodard plays a death-row prison warden so deeply absorbed in her work that she often appears to be lost in thought. Her job requires both concentration and composure, an ability to maintain stillness and authority in the face of grim everyday realities. More than once a colleague will gently nudge her ("Warden … Warden") and receive no response. Only when the warden hears her name ("Bernadine!") will she snap out of her trance, as though suddenly reminded that she is, in fact, a human being and not just a cog in the grinding machinery of death.
The humanity of the condemned those who await death behind bars and those who are there to guide them through it is of crucial importance to this spare, somber drama, which won the grand jury prize for U.S. narrative films at Sundance this year. Festival awards have never been a guarantee of quality, much less a harbinger of commercial success. But "Clemency," opening quietly in limited theatrical release amid bigger, noisier entertainments, deserves a wider audience than it's likely to find: It's a sterling piece of American realism, powered by the transfixing spectacle of a great actor at the peak of her powers. Read the entire review HERE.
In Hamlet and in Life, Ruth Negga Does Not Hold Back
The Ethiopian-Irish actress returns to a "completely destroying" stage role. Next: a film adaptation of a 1920s novel about passing for white.
By Robert Ito  
LOS ANGELES — What stage actor wouldn't jump at the chance to play Hamlet? Ruth Negga, for one. 
"Nothing helps you play Hamlet," she laughed.
Negga ultimately took the role, however, earning rave reviews. The Guardian praised her "priceless ability to savor the language," while the Irish edition of The Times of London called her performance "a stunning gift for Irish theatergoers."
If she made it all look easy, however, it was anything but. "It nearly killed me," said Negga, who is perhaps best known for her Oscar-nominated turn in the 2016 biopic "Loving," in which she played a woman who endures jail time and exile for the then-crime of being married to a white man in 1950s Virginia.  Read more HERE.

A new collection of short stories by the author of "Their Eyes Were Watching God" includes eight selections that were recently discovered in archives and periodicals. The stories here deal with race, class, migration and love, and are an invaluable window into African-American experiences during the Harlem Renaissance.
[ Read our review. ]
Every Month is Black History Month Because Black History IS American History
Before Michael B. Jordan Played Him in 'Just Mercy,' Bryan Stevenson Was a Kid Who Loved to Read
By Elisabeth Egan   Jan. 23, 2020
FREEDOM FIGHTER "Just Mercy" has been in theaters for six weeks, but the book it's based on has been in the world for six years — including 188 weeks on the paperback nonfiction best-seller list, where it is now No. 1. Bryan Stevenson's powerful memoir of fighting for the rights of wrongly convicted death row inmates has also made appearances on the hardcover nonfiction list and the young adult list, among others — despite the fact that he wasn't sold on the idea of writing a book in the first place. ("I wasn't persuaded a book was a good investment of my time.")
Stevenson, who is the founder and executive director of the Equal Justice Initiative, explains, "For the first 20 years of my career, I sought anonymity because I believed it was the most effective way I could help the people I'm trying to help. We had to be covert, going into prisons and getting people off death row; it was like running the underground railroad. But about 10 years ago, I realized we needed to get outside the courts and start talking about these issues. The criminal justice system is so insulated from review, and that lack of access has created a lack of accountability. Until we hold people accountable for so much of this unfairness and unjustness, we're not going to get the kind of change we need."
Overlooked No More: Earl Tucker, a Dancer Known as 'Snakehips'
Tucker was a name attraction in Harlem nightclubs in the 1920s, and his moves were echoed by Elvis Presley and Michael Jackson.
Earl "Snakehips" Tucker in about 1930. His dancing was entertainment that played to the illicit appeal of Harlem nightclubs.Credit…NYPL Schomburg Center for Research in Black Culture
Overlooked is a series of obituaries about remarkable people whose deaths, beginning in 1851, went unreported in The Times.
There are many mysteries about the dancer Earl Tucker, but the meaning of his stage name isn't one of them. To understand why he was called Snakehips, you have only to watch him move.
Take his solo routine in the 1930 short film "Crazy House." About 30 seconds in, Tucker rolls his hips to one side. He rolls them so far that his torso tilts in counterbalance, his ankles sickle over, and his whole body bends into an S-curve of improbable depth. Read the entire obituary HERE.
Navy Aircraft Carrier to Be Named for Black
Pearl Harbor Veteran
Doris Miller was the first African-American sailor to receive the Navy Cross, for his bravery during the Japanese attack on Pearl Harbor.
Credit...

National Archives
Doris Miller was working as a mess attendant on the battleship West Virginia the morning of Dec. 7, 1941, when the Japanese attacked Pearl Harbor. An alarm sounded, and as the ship drew heavy fire, Mr. Miller raced to assist the West Virginia's fatally wounded commanding officer. He also fired a machine gun against enemy planes. 
For his bravery and "distinguished devotion to duty" that day, Mr. Miller was awarded the prestigious Navy Cross, the second-highest military decoration, in 1942, making him the first African-American to receive the medal. Read more
here
. 
Rutgers to Name Its First Black President, School Official Says
 

Credit...

Sam Hodgson for The New York Times
Jonathan Holloway, the provost of Northwestern University, is expected to take over leadership of Rutgers University next week, becoming its first black president, a school official said on Sunday. Read more HERE.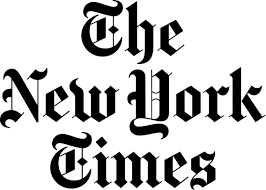 Are you aware of the series "1619" in the NY Times?  According to the NYT, "The 1619 Project is a major initiative from The New York Times observing the 400th anniversary of the beginning of American slavery. It aims to reframe the country's history, understanding 1619 as our true founding, and placing the consequences of slavery and the contributions of black Americans at the very center of the story we tell ourselves about who we are." Read, watch and listen HERE. 
A poem by Clint Smith
In Aug. 1619, a ship arrived in Point Comfort, Va., carrying more than 20 enslaved Africans, the first on record to be brought to the English colony of Virginia. They were among the 12.5 million Africans forced into the trans-Atlantic slave trade, their journey to the New World today known as the Middle Passage.
Over the course of 350 years,
36,000 slave ships crossed the Atlantic
Ocean. I walk over to the globe & move
my finger back & forth between
the fragile continents. I try to keep
count how many times I drag
my hand across the bristled
hemispheres, but grow weary of chasing
a history that swallowed me.
For every hundred people who were
captured & enslaved, forty died before they
ever reached the New World.
I pull my index finger from Angola
to Brazil & feel the bodies jumping from
the ship.
I drag my thumb from Ghana
to Jamaica & feel the weight of dysentery
make an anvil of my touch.
I slide my ring finger from Senegal
to South Carolina & feel the ocean
separate a million families.
The soft hum of history spins
on its tilted axis. A cavalcade of ghost ships
wash their hands of all they carried.
Clint Smith is a doctoral candidate at Harvard University and the author of the poetry collection "Counting Descent," as well as a forthcoming nonfiction book, "How the Word Is Passed." Photo illustration by Jon Key. Diagram: Getty Images.

What Do We Believe?
We believe in God:
Who created and is creating, who has come to us
To reconcile and make new, who works in us and others by his spirit. 
We trust him.
Jesus calls us to be his church:
To celebrate his presence, to live and serve others,
To seek justice and resist evil, to proclaim Jesus,
Crucified and risen, our judge and our hope.
In life, in death, in life beyond death, God is with us.
We are not alone.
Thanks be to God. Amen.
(from United Church of Canada)
History @ Faith Church

Faith Celebrated Its 200th Anniversary!
Faith Congregational Church in Hartford, Connecticut began in 1819 as a place for African Americans to worship on their own since they were previously only able to worship in the backs of churches and in church galleries (balconies). Unable to sit in the main sanctuary and tired of second class treatment, a group of African Americans began worshipping in the conference room of the First Church of Christ in Hartford, Connecticut, which is now known as Center Church. Our ancestor congregation moved to a building on State Street in 1820 and formed the first black Congregational Church in Connecticut and the third oldest in the nation. (According to Mary M. Donohue and Whitney Bayers writing for Connecticut Explored at connecticuthistory.org, Dixwell Avenue Congregational Church in New Haven was founded in 1820 as the African Ecclesiastical Society by Simeon Jocelyn, a white abolitionist, and 24 former slaves.)
The church, now known as Faith Congregational Church, initially called itself the African American Religious Society of Hartford and vowed to create a place of worship where there would be no assigned seating and where anyone was welcome to worship. The congregation purchased property in 1826 where it built a stone-and-brick church on the corner of Talcott and Market Streets.  For more information, read HERE  
MEN OF FAITH  Men's Ministry Monday evenings @ 5:30 p.m.   Bible Study, Food and Fellowship! All men are welcome.  .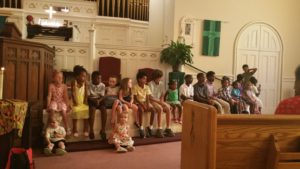 Don't forget, GIRL SCOUT TROOP 10003 meets on 2nd and 4th Sundays from 1 – 2:30 pm. We are really proud of our girls.

There is a seat for you on Tuesday at Bible study. We start at 7 pm. Bill Hollis is leading. Great group, great conversation, and great learning!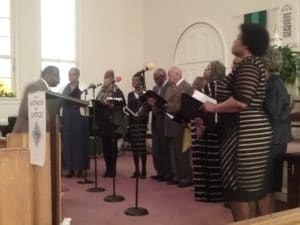 The CHOIR could use your voice! It's a great way to serve at Faith Church. Wayne Dixon is waiting. Choir rehearsal on Wednesday at 7 p.m.  
Sunday School for children is in the fall/winter term.  Join us. Volunteer for one Sunday per month. We look forward to seeing you and your children.
@ Faith General Info
Faith Church cookbooks are still available for purchase, $20 each. See Jennifer Robinson.
Want a CD of the service? Give Bruce MacCullagh a written request or send him an email.  
Need a ride to church? See Deacon Pam Walters for details and to schedule a pickup.
Know someone in need? Leave a message  with Patricia Gray or Deacon Pam.
Need more information?  Call the church office  860-547-0820 Monday,  Wednesday or Friday mornings. Sunday service begins at 10 am.
Nursery Staffed for Sunday Services
A reminder: the nursery is available when your child is restless or unhappy during service. You may not mind your child's crying, but others would like to hear the service.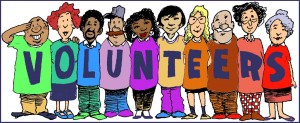 Would you like to volunteer? We need Sunday School teachers,  a historian,  and just maybe you can think of ways that you can help! See Patricia Hollis for details.
Remember our Sick and Shut-ins. Don't forget to send a prayer, card or note. If you don't see someone, why not call and see how they are doing?
Deacon Mamie Barnum  @ home
Annie Holmes    @ Touch Point, Farmington
Jim Williams @ Meriden
Rachel Taylor @ home
Lunnie Butler @ Mt Sinai

@ 
Our UCC Friends
Southern New England Conference Begins
  1/5/2020 – Together, As One
The Southern New England Conference officially came into being with the New Year, and the change is becoming more and more visible.
At the end of December, the Conference's Articles of Incorporation were filed with the Massachusetts Secretary of State's office, establishing it as a nonprofit. On Jan. 1, employees of the three historic conferences became employed by the Southern New England Conference.
Perhaps more visibly, the Conference launched a new Facebook page and new website  – sneucc.org – and all staff now have email addresses that end in sneucc.org (last name first initial @ sneucc.org, such as vailt@sneucc.org).  
Conference staff had their first all-staff meeting together over two days in December. They will now be organized under the new, transitional structure, with news lines of supervision and new team configurations. (Related: Transitional Realignment of Staff Planned, July 28, 2019)
Staff (with the exception of those from the historic Rhode Island Conference – see related article here) continue to work out of the same offices in Framingham, MA, and Hartford, CT, where they have been working. Contact information can be found on the new website staff directory.
History? Of Course…

REUTERS/Desmond Boylan
Amistad
The Amistad was and is many things:
It was a Cuban coasting schooner,

It was a famous court case,
It was an historic event that shaped the nation and the United Church of Christ,
It is a contemporary floating museum,
It is a special Sunday in the United Church of Christ,
It is an inspiration.
History
In 1839, a group of enslaved Africans broke free while being transported around the island of Cuba aboard the coasting schooner Amistad. They attempted to sail the small vessel back to Africa, but where captured by the US Revenue Brig Washington off the coast of Long Island, charged with mutiny, and threatened with return to slavery.
Connecticut Congregationalists formed the Amistad Committee, which organized a legal defence, eased the captives confinement during the lengthy court case, and eventually funded their return to Africa after winning a favorable decision from the US Supreme Court. [Faith Church's ancestor congregation played an important role in the entire event, raising money to assist in the defense, and sent 2 missionaries to accompany the former captives back to Africa.]
The Amistad Committee became a seed for wider advocacy for the abolition of slavery in the United States. In 1846, Lewis Tappan, an Amistad Committee leader, founded the American Missionary Association, the first abolitionist organization with integrated leadership. After the Civil War, the AMA went on to found schools, churches, libraries and universities for the newly freed African Americans of the South.
Freedom Schooner Amistad
In 2000, a two-year building project sponsored in part by the UCC climaxed in the launch of the Freedom Schooner Amistad, a reconstruction similar to the schooner of 1839, as a floating museum about the Amistad Incident and the history of slavery. Homeported in New Haven, Connecticut, she sails the Atlantic coast on her mission of education and reconciliation. The non-profit organization Amistad America operates the schooner.
Amistad Sunday
The UCC commemorates the 1839 struggle for freedom, the Amistad Committee, and the American Missionary Association's heritage on Amistad Sunday, typically held the second Sunday in March.
Amistad Videos
Go to an annotated bibliography of Amistad videos available through the Ruth Dudley Resource Center
@ In Our Community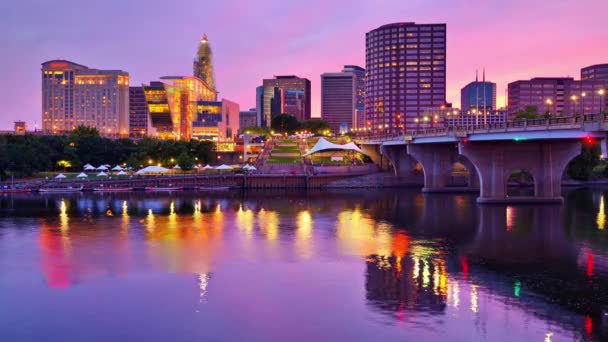 https://depositphotos.com/30561155/stock-video-downtown-hartford-connecticut-skyline.html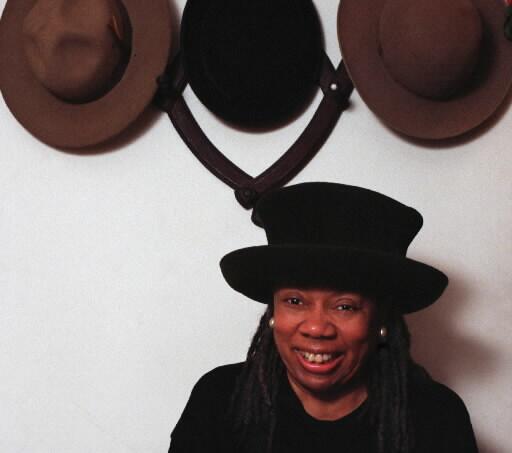 A grateful city celebrates the life of
The Honorable
Mayor Carrie Saxon Perry
August 30, 1931 – November 22, 2018
63rd Mayor of the City of Hartford
Memorial Service
The Artists Collective, 1200 Albany Avenue,
Hartford
Wednesday, February 5, 2020 at 5:30 P.M.
Reception to follow
This event is open to the public as building capacity allows
Attendees are encouraged to wear hats in honor of Mayor Saxon Perry
African American Literature Book Club
Monthly 1st Tuesdays
6-7:30 pm

, Classroom 141, Downtown 
Tuesday, February 4, 2020: Tears We Cannot Stop by Michael Eric Dyson.
The AAL Book Club is for anyone interested in reading and discussing African American literature, both fiction and nonfiction, as well as sharing information and learning about the African American experience.  It is an opportunity for us to get to know each other while we engage in lively and stimulating discussion of topics of interest to us all.
Please RSVP to Carolyn Korber at cjkorber@gmail.com.
Encounters: Public Punishment & Race Remembrance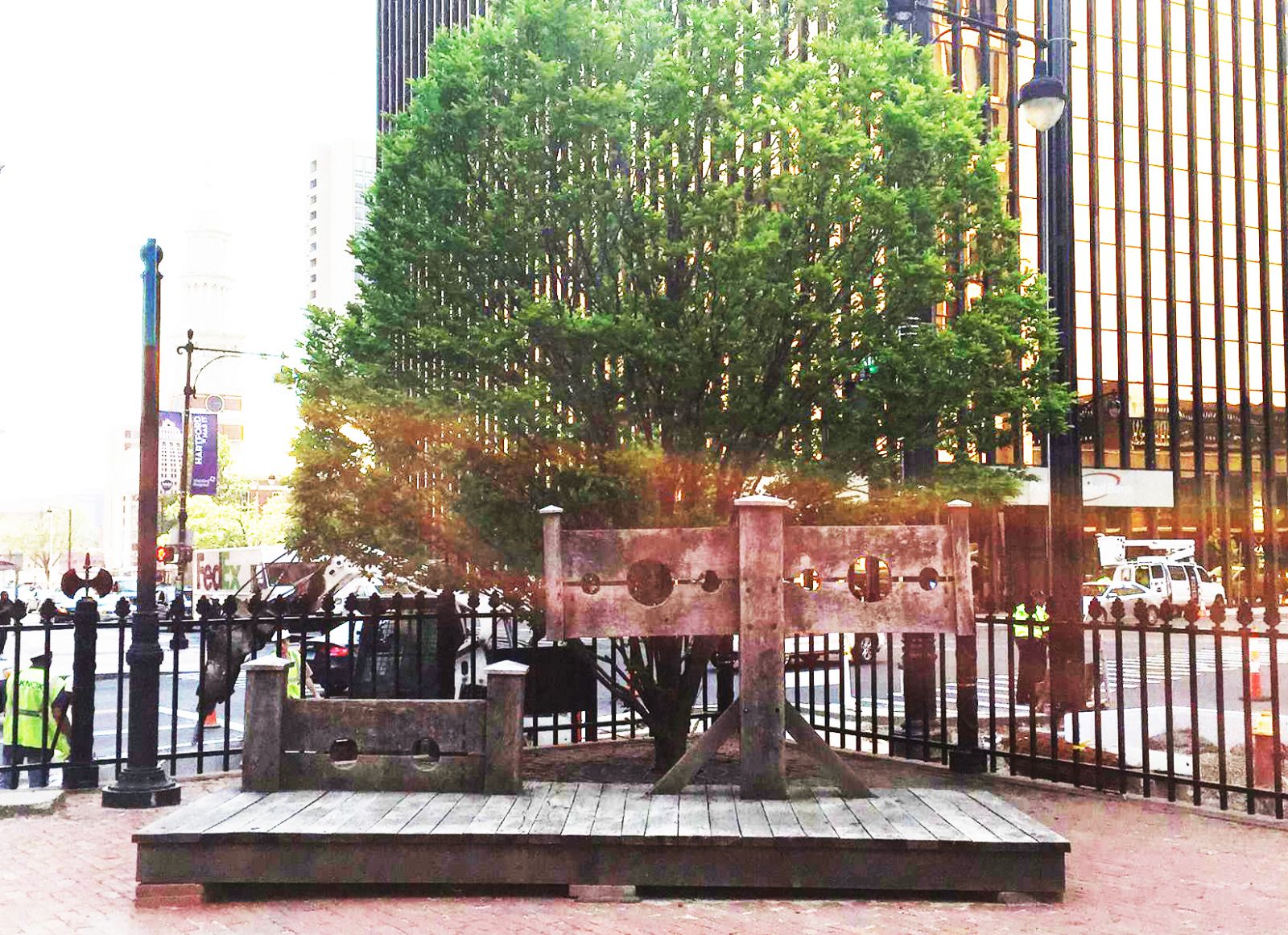 Saturday, January 25th: 10 a.m. -1 p.m.    Old State House
What does the history of punishment in Connecticut mean for us today? Join us for conversation and lunch.
@ Jobs/Education


Be a Census Worker! Extra income, flexible hours, weekly pay and paid training. Visit the information desk on the Main Floor of the Hartford Public Library, 500 Main Street, for more information.
City

 of 

Hartford

 Job Opportunities
The City of Hartford is currently hiring:
Corp Counsel – Asst Corp Counsel
Public Works –  Carpenter
Public Works –  Superintendent
Emergency Services & Telecommunications – Dispatcher Trainee
Families, Children, Youth & Recreation – Early Learning Teacher Assistant
Families, Children, Youth & Recreation – Life Guard (Seasonal)
Public Works – Maintenance Mechanic
Emergency Services & Telecommunications – Public Safety Communications Supervisor
Police Department – Re-Entry Services Specialist
Families, Children, Youth & Recreation – Recreation Assistant (Seasonal)
MHIS – Senior Systems Analyst
Click here to learn more and apply
SNAP SCHOLARSHIPS

The Community Renewal Team is hiring preschool teacher assistants and teacher aides!

Please bring your teaching credentials to the job fair.
On-the-spot interviews for qualified candidates!
Call 860-560-5665 for more information and to RSVP.
Apply online at www.crtct.org
Come to our Job Fair  on Wednesday, Jan. 22 from 2-6 p.m. @ 555 Windsor Street in Hartford.
@ Hartford
Public Works – Snow/Ice Removal Reminder 
Office of Community Engagement – Fall/Winter Resident Guide Now Available in English and Spanish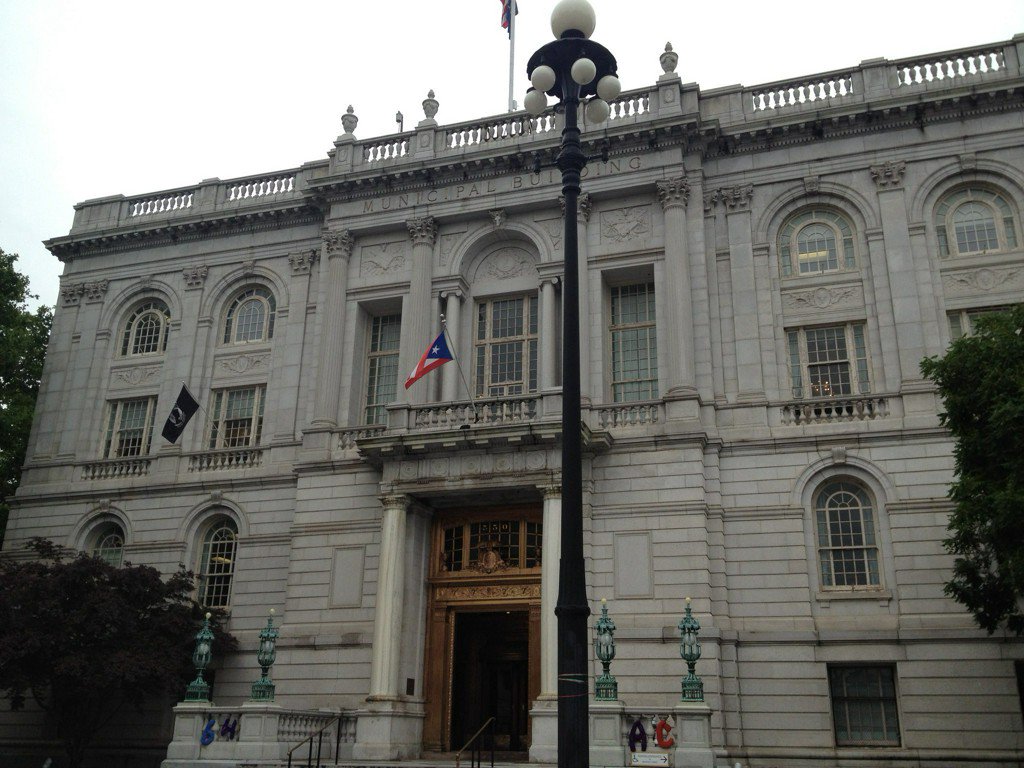 The next 2 Council meetings will be held on Monday, February 10 and 24, 2020 at 7 PM, preceded at 6 PM by public comments.  All meetings are held in Council Chambers in Hartford City Hall, 550 Main Street, 2nd Floor.
Click Here for a Complete List of Meetings Dates & Agendas  
Assessors Office – Important Revaluation Data Mailer
The assessor's office has begun the 2021 real estate revaluation process with a mailing to residential real estate owners requesting verification of the physical descriptions of their properties. Please review the information on the mailer and return it to the assessor's office in the envelope provided with any corrections that you believe necessary or none if you believe the general description to be accurate.
The information will be used as the foundation for an October, 2021 city-wide reassessment. Revaluations, mandated by Connecticut State Statute, must be conducted every five years. They are required to re-align real estate assessments with current market values and correct any assessment inequalities that may have developed since the previous revaluation in 2016.
Board of Education Meetings

Like Jazz? Want to Keep Up With What's Happening?
You can add the Hartford Jazz Society's events to your calendar automatically HERE.
Baby Grand Jazz Is Back

The 17th Annual Baby Grand Jazz Series, sponsored by the Kaman Foundation, runs January 5  through April 26. The free, hour-long concerts are held at the Downtown Library at 500 Main St from 3-4 pm. They are presented in partnership with the Hartford Jazz Society and WWUH 91.3 FM. 
The last performance (April 26) will take place in the Atrium. All other performances until then will take place in the Center for Contemporary Culture on the main floor. The CCC has a seating capacity of 240. When the auditorium is full the doors will close. The CCC will open at 2 pm.  Overflow crowds can watch the livestream of the concerts in Classrooms 140-141, down the hall from the CCC.
View the concert live on Sundays from 3-4 pm on the Library's Facebook page.

The 2020 National Arts Program
®
 is Now Accepting Submissions
Professional and Amateur Artists from
Middlesex and Hartford counties are invited to participate in this annual art show; it is free to register and offers cash awards for winning work
HARTFORD — For nearly 30 years, the Community Renewal Team (CRT) has hosted an annual National Arts Program® (NAP), providing an opportunity for all local artists to showcase their art within the community. Youth, teens, amateurs, intermediate and professional artists from both Middlesex and Hartford Counties are invited to submit their work now for the 2020 art show, which will be on display at Capital Community College (950 Main Street in Hartford, CT) from February 13 – March 2, 2020. All forms of visual arts are accepted for this show; from paintings and photographs to sculptures, crafts and textiles.
Entries submitted must be the original work of the applicant and completed within the last three years – up to two entries per artist. Participants must be current residents of Hartford or Middlesex County, or an employee or family member of an employee of CRT.
Artists can submit their work for free to this show. By removing the financial and commercial requirements of most exhibitions, this special show creates a sense of community and artistic fulfillment for all participants.
The deadline to register for the 2020 National Arts Program in Central Connecticut is Friday, February 7, 2020.
To register for the show, please visit the NAP registration page: https://www.nationalartsprogram.org/hartford/
Artists In The Area
February 5 – 9, 2020 
Dee Dee Bridgewater

, Blue Note, 131 W. 3rd St,  New York, NY 10012, 212-475-8592, http://www.bluenotejazz.com
Saturday, February 8, 2020
Cécile McLorin Salvant

, The Bushnell, 166 Capitol Avenue, Hartford, CT

 
Saturday, February 8, 2020 
Dianne Reeves

  Berklee Performing Arts Center, 136 Massachusetts Ave, Boston, MA 02115
March 28, 2020  8:00 PM   
Leslie Odom Jr

. Fox Theater, Foxwoods Casino

 
Live in Hartford? Get Your Free Tickets Today!
Hartford residents who are Hartford Public Library cardholders can now reserve up to 2 free tickets to plays at Hartford Stage as part of our new partnership.  Each of the seven branches of Hartford Public Library will have a two-ticket pass per eligible show. Patrons can check online to see where passes are available, but they must ask for them in person at any of the seven Library locations.  Once you have reserved the tickets at a Library branch, you must confirm the seats by calling the box office at Hartford Stage, 860-527-5151.
What's Playing Now? 

@ General Info

Want to improve your vocabulary painlessly? Subscribe to Word of the Day  or Merriam-Webster's Word of the Day. Or get the Word of the Day app at the Google Play Store or the Apple app store.
**********************************************************
Free Stuff
Free college classes at Coursera. 
Go to Bargain Booksy for free or inexpensive ebooks.
Go to GreaterGood.org to help others for free.
Go HERE to find free dental care.
Improve your vocabulary and donate rice to help hungry people HERE.
Not free but cheap!!!  CheapOAir!
Go here to find free stuff like paper towels, beauty products, etc.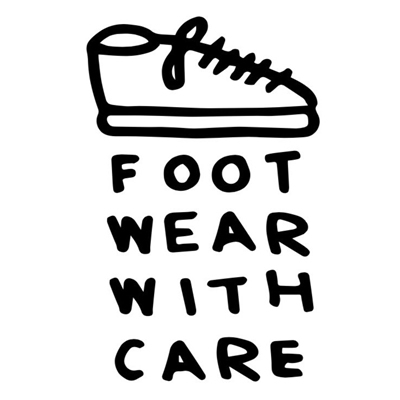 Do you know about this? Footwear with Care provides new shoes and socks to homeless folks. Read all about their work and look for the next date if you know someone who might need shoes.

Top 10 Internet Safety Rules & What Not to Do Online
1. Keep Personal Information Professional and Limited
2. Keep Your Privacy Settings On
3. Practice Safe Browsing
Read all 10 rules HERE.
5 Warning Signs of Pancreatic Cancer
US Rep. John Lewis, D-Georgia, was diagnosed with stage 4 pancreatic cancer, his office announced Sunday December 29, 2019. The civil rights icon was diagnosed following a routine medical visit. What are the warning signs of pancreatic cancer?
jaundice
nausea and vomiting
weight loss and loss of appetite
light-colored or greasy stools
abdominal pain
For more information check out these sites:

https://q1medicare.com/q1group/MedicareAdvantagePartD/Blog.php?blog=Understanding-the-2020-Medicare-Part-D-Donut-Hole&blog_id=766&category_id=9
Medicare's Part D Doughnut Hole Has Closed! Mostly. Sorta.
The drug coverage gap was widely loathed, but the new scheme may still leave some older Americans holding the bag.
With the new decade comes this long-awaited milestone: the Medicare Part D doughnut hole has closed. Two cheers.
More than 61 million Americans are Medicare beneficiaries, and about 46 million of those are enrolled in Part D. The doughnut hole, more formally called the coverage gap, has been one of Part D's more detested features since the drug benefit took effect in 2006.
"It's great that the doughnut hole is closing," Dr. Neuman said. "But people will continue to be exposed to very high drug costs without Congressional action."  Read the entire article HERE.      
What You Need to Know About Part D Prescription Drug Plans
Questions? Read this article on the AARP website HERE. 
DO YOU LIVE ALONE? ARE YOU COOKING FOR 1 OR 2 INSTEAD OF 4-5? DO YOU NEED SCALED DOWN RECIPES SO YOU DON'T WASTE FOOD?
Check out this website  onedishkitchen.com and this recipe for seafood gumbo for 1. Yum!
Win at Weight Loss Using Mindful Eating
Being more present with what's on our plates can help us eat less and shed pounds. Here are 7 easy ways to do it.
Why Sitting Too Much Is Bad for Your Health
Do you sit all day like I do? If so, you need to look at this slideshow  or watch this video. Get up and get moving.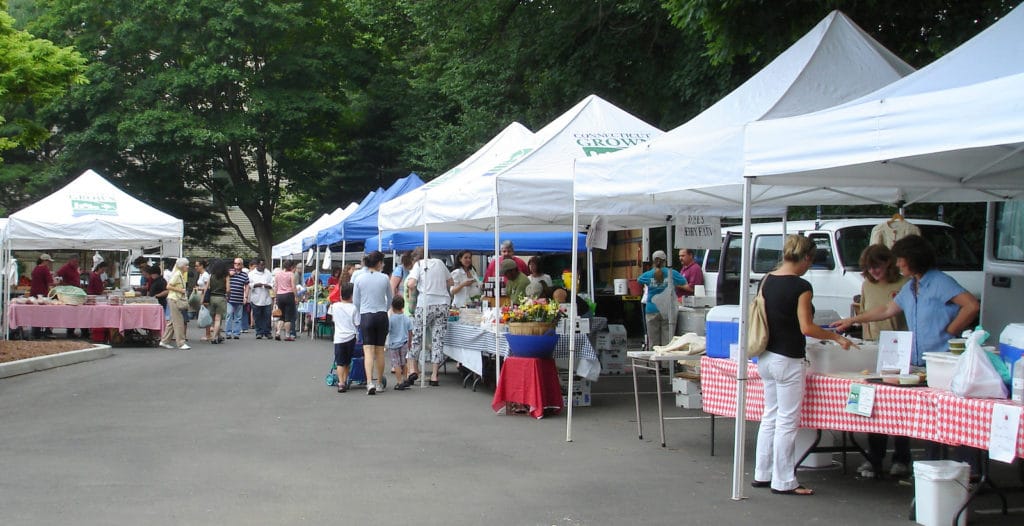 Winter: The Studio, 563 Broad Street   Hartford, CT   Phone: 860-548-9877
 The indoor winter market offers meat, cheese, coffee, breads, preserves, root and winter crop vegetables, and greenhouse-grown greens. 
Winter dates and hours: early November through May, Thursdays, 11 a.m.-2 p.m. at Billings Forge, 563 Broad Street.
Gun Violence
Trump abandons proposing ideas to curb gun violence after saying he would following mass shootings
President Trump has abandoned the idea of releasing proposals to combat gun violence that his White House debated for months following mass shootings in August, according to White House officials and lawmakers, a reversal from the summer when the president insisted he would offer policies to curb firearm deaths.
Trump has been counseled by political advisers, including campaign manager Brad Parscale and acting chief of staff Mick Mulvaney, that gun legislation could splinter his political coalition, which he needs to stick together for his reelection bid, particularly amid an impeachment battle.
Read the entire article HERE.
Criminal Justice
Activists press for new law abolishing solitary confinement and capping inmate cell time at 16 hours daily
Against a backdrop of heightened scrutiny over the Department of Correction's use of solitary confinement, a group of seasoned activists, lawyers, clergy and parents is pressing for a law this legislative session that would abolish the practice and limit an inmate's maximum cell time to 16 hours a day.
Inmates who are isolated under one of DOC's several versions of solitary confinement are now locked in their cells up to 23 hours a day. The U.S. Department of Justice is investigating the use of solitary confinement at the Manson Youth Institute in Cheshire, and a federal judge in August ruled that the isolation and other conditions of confinement of a former death row inmate at Northern Correctional Institute amounted to cruel and unusual punishment. The judge ordered the state to relax some of those conditions. Read the entire article HERE.
Billionaire's prison telecom says it will make changes
Tom Gores, owner of Securus, has hired a new CEO for the prison telecom company. (Carlos Osorio/AP )
By Laurence Darmiento    Los Angeles Times
LOS ANGELES — A prison telephone company owned by billionaire Tom Gores has brought in a new chief executive and pledged to implement a series of reforms under pressure from criminal justice activists who have targeted the firm and its owner.
Dave Abel, a former IBM executive and PwC partner, has been named chief executive of Securus Technologies, which has been a lightning rod for criticism since Gores' Beverly Hills private equity firm, Platinum Equity, acquired it for $1.6 billion in 2017.
The activists have accused Securus, based outside Dallas, of charging excessively high rates for calls. Those costs are typically borne by inmates and their families, a population that is disproportionately poor and minority. Read the entire article HERE.
REALM – A New Way to Participate
Our church is moving to a new kind of church record keeping solution called Realm®. It primarily serves the administrative needs of our staff, but it also offers some exciting opportunities to support the way you are involved in our church. Not only will this improve work life for our ministry staff, it will make it easier for our church family to connect with each other, keep up with what's going on, and grow as a connected community of believers.
There are three things you should know before we highlight what you can do:
1. We're updating the administrative tools our staff uses to run the daily operations of our church.
2. We're adding more ways to communicate and connect as a church, all while leaving current methods in place.
3. You determine how much you want to make this part of your experience with our church, but we encourage you to participate.
To get the app at iTunes, click HERE. 
To get the app at Google Play, click HERE.
OR click on the QR below.