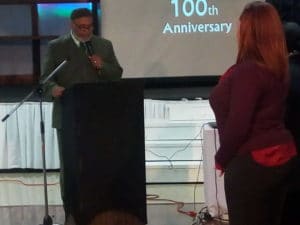 Muslim President of Hartford, Connecticut NAACP branch.
By Imam kashif Abdul-Karim                                                         Muhammad Islamic Center of Greater Hartford, Connecticut
In the year 2017 the Hartford chapter of the NAACP will be celebrating its one hundredth anniversary. It was founded in October of 1917 during a period when African Americans were fighting racism, lynching and segregation. The NAACP was often in the forefront for defending and protecting the rights of the African American people. The president of the Hartford chapter in the capitol of Connecticut is Imam Abdul Shahid Muhammad Ansari. There has been 35 presidents in the Hartford Branch and he is the 36th president in Hartford. He is serving his 4th and last term. He is the first Muslim Imam in Connecticut to hold the position of branch president and maybe the first Imam in the country. Imam Ansari was sworn into office for his last term on 12/16/2016. He was sworn into office by Imam Kashif Abdul-Karim, resident Imam of Muhammad Islamic Center of Greater Hartford. The ceremony began and ended in the Islamic tradition of Al Fatiha and Sura Asr. The receptive officers were also sworn in by imam Kashif and given a positive charge to go forward as leaders. The swearing in ceremony was supported by Connecticut State President; Scott Esdaile who encouraged the officers to move forward in the way of excellence. The history of the NAACP in Hartford was presented in a detailed power point presentation by Annette Shack.
After the historic installation of Imam Muhammad Ansari and the officers of the NAACP, Imam kashif met with Imam Ansari to gather his perspectives on the NAACP.
Imam Ansari began by talking about the importance of this year's 100th anniversary and it being his major reason for wanting to remain another term. This is a historic time for African Americans in Hartford. His next term is for two years. He has already served for six years. He feels the most important accomplishment he has brought to the NAACP since 2010 was bringing youth into the organization. He said in 2010 most of the member were in their 60s and older. He's been able to bring youth back to the NAACP.
As we look to the future He feels there is a need for the state branch under the new president elect Donald trump to prepare itself and the community for whatever comes because of Mr. Trumps rhetoric. He feels that we must prepare to do the things the NAACP was founded upon. He said "we must ready ourselves to fight for civil rights, justice and equality for all people." He stated "we must wait and see what the new president elect actually does and respond in kind. The NAACP have done this historically. We were prepared when we were being lynched, etc. We should be able to prepare ourselves now. We were founded on principles fighting for people of color and we will continue to do that regardless of who's in office. We have to meet the challenges."
In terms of voter suppression, the imam said; "Voter suppression is an issue for the national office. It has been given great attention nationally but it's not a local problem. The Governor in CT has helped to make it easy here in CT but we know it is a problem in some other states. The NAACP takes some of these concerns to the streets in terms of marches and protest. But the uniqueness of the NAACP is that these fights are also in the courts and in state houses. We have legal battles as well."  Imam Ansari emphasized that the NAACP in Hartford had a wonderful registration and get out to vote campaign.
Imam Kashif Abdul-Karim mentioned that he believes Imam WD Mohammad was a Lifetime member of the NAACP, Yet many Muslims seem to be lackadaisical about getting involved with the NAACP. Imam Ansari responded by saying; "Imam WD Mohammad interest is what motivated me, made it all right" he continued "I am Muslim myself so I get people involved by doing so directly. I have reached out to Muslims directly to become members since I've been president. I realize there was a time when the Muslim community did not favorably see the NAACP. There also wasn't an effort to bring the Muslim community in. There has however been a change. I'm an imam perhaps the first we know of here. The organization is more receptive now. The organization also has a desire to make the goals, missions, and objectives more present to the Muslim community and to others. Our communities collectively may find these are things we can support as well. The ideas we don't support we should not get involved in but the projects we do support we should help in and try to make better. We should not find a conflict here. This is a way for us to identify with common concerns. Like education. We both believe all people should have equal access to quality and equal education. Education that is not inferior. This is a common principle we can agree with. As more Muslims become more knowledgeable about what the NAACP is really all about, the more Muslims will join and get involved."
In closing Imam Ansari stressed the need for us to also move toward coalition building in Connecticut. He said "We should work toward building relationships and alliances with those who want the common good for all people. Muslims should find out where the local branches are meeting. The Muslims have a lot to offer any organization. If we're practicing the religion and we're sincere, then we should be wanting to change our environment. If we're following the example of our prophet we will be a powerful influence in any organization. We'll even find ourselves becoming leaders within the organizations, over committees we join. We can stand out in these venues by helping the good causes. We can make the organizations better."
The community in Hartford thank Imam Abdul Shahid Muhammad Ansari for his contributions. We enjoy seeing him representing the NAACP in the churches, protests, legal and government settings. Although he is representing them, he is also representing us. Job well done. We pray his next 2 years are a continued success.